Russell Westbrook following in Kobe Bryant's footsteps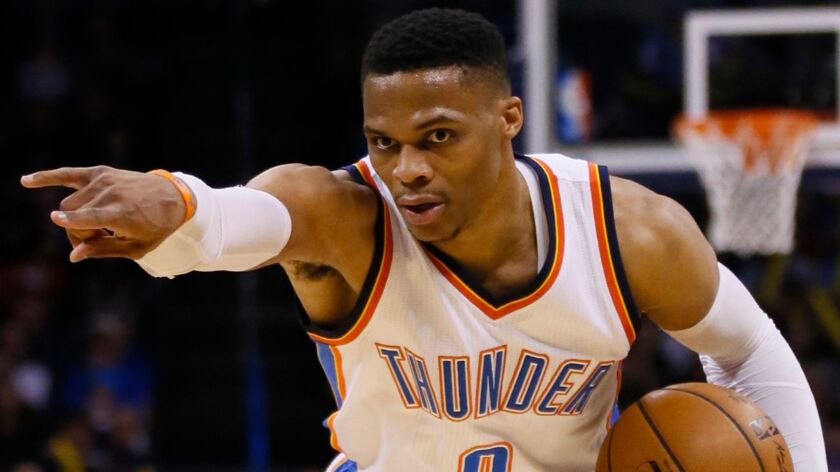 Russell Westbrook's star figured to be that rare supernova, exploding onto the scene this season in high-speed, luminous fashion with a flame-out certain to follow.
There could be no way Westbrook would sustain his stardom with the Oklahoma City cast that Kevin Durant's departure left . . . except that the Thunder won its first four games as Westbrook posted the first 50-point triple-double game in NBA history (51 points, 13 rebounds, 10 assists).
Reality surely would come once the Thunder lost seven of nine games in November … except that Westbrook then posted seven consecutive triple-doubles and the team won the first six of those games.
The unseen demands on Westbrook certainly would wear him down in January, when he shot 39.2% . . . except that he has taken on a higher usage rate since the All-Star break than before it.
Kobe Bryant set the NBA record for usage rate, ending 38.7% of the 2005-06 Lakers' possessions (by field goal, free throw or turnover). Westbrook this season is above 41% and rising. The category does not even account for his full impact, which includes 10 assists per game.
Oklahoma City recently struggled but Westbrook only took on more, attempting 30 or more shots in three of this month's first four games, scoring a career-high 58 points on Tuesday and recording triple-doubles Thursday and Saturday. That gave him 32 for the season to pass Wilt Chamberlain's 1967-68 total for the second-most in an NBA season to Oscar Robertson's 41 in 1961-62.
Robertson played in 79 games that season. Westbrook has played in 66 games and would have to pick up his pace pass him, needing 10 triple-doubles in the last 16 games to break the record.
His team requires Westbrook carry the load of a freight train. The Thunder lost a most valuable player when Durant left but might have also gained one.
At 6 feet 3, Westbrook has carried a mediocre Thunder crew with unyielding tenacity and uber-competitive wherewithal.
More minutes, more shots, more burden. And the output remains as steadily high as his effort.
Not feeling it at all?
"Nah, I just go out and compete," Westbrook said in a mantra he has carried from South Los Angeles to UCLA to stardom. "My job is to continue to play and try to help my team win."
Only James Harden gets as many opportunities as Westbrook, with each averaging nearly 100 touches per game, according to NBA.com
Westbrook remains on a remarkable pace to average a triple-double (31.9 points, 10.5 rebounds and 10.1 assists per game), which last occurred 55 years ago when Robertson did it in a league that averaged 25 more possessions per game.
"It don't mean nothing if we don't win," Westbrook said. "You gotta win. You gotta win and compete at a high level every night and that's my main focus."
Westbrook is used unabashedly on the court but Thunder Coach Billy Donovan does control his minutes to slightly less than 35 per game, in line with Westbrook's 34.4-minute averages of the previous two seasons with Durant as a teammate.
"He's going to play the game with that kind of passion and energy and intensity," Donovan said. "People talk about the usage of the way he plays but that's the way he plays and that's who he is. I certainly don't want to take that away from him. He makes people around him better. I think he raises the level of our team so I feel comfortable with what he's doing."
When he was a Lakers assistant, Charlotte Coach Steve Clifford saw how daily 6:30 a.m. August individual workouts enabled Bryant to handle a tremendous in-season burden. He said Westbrook has similar conditioning and intensity to sustain excellence late into a season.
"Oh, God, he's a killer worker," Clifford said of Westbrook. "I was in that gym [in Santa Monica] and his workouts are legendary. He's a terrific athlete but I think he's got an incredible work ethic and drive. You put that together and he can handle a big burden.
"Even for this league, you're talking about guys with a different mind-set and level of commitment."
Durant's departure necessitated a Westbrook-centric system. It also meant more rebounds to help Westbrook's triple-double-average chances. He grabs three extra uncontested rebounds per game over last season but the pace-oriented Thunder can justify that to quicken their transition game. The assists are most essential, with the Thunder going 8-20 when he records fewer than 10.
Westbrook is a dynamo of kinetic style who makes a sixth-place team worth watching. His lifelong loyalty to those who earn his trust was seen again last summer when he signed a three-year, $86-million extension after Durant left Oklahoma City, a team that went 3-29 to open Westbrook's career.
Taj Gibson appreciated Westbrook's aggression as a college rival for two years and a NBA foe for 7½ years. Since being traded to Oklahoma City last month, Gibson has seen more.
"Now I realize he's a great teammate, super cool, strong leader," Gibson said. "He reminds me of old-school ways of believing that you always have enough to win. You want to go to battle with him because he's going to battle to the end.
"He's a super freak as far as his explosiveness, physicality, quickness and strength. You push the issue with him because he makes everyone better. That's a real superstar."
---
Get the latest on L.A.'s teams in the daily Sports Report newsletter.
You may occasionally receive promotional content from the Los Angeles Times.