Column: One of NBA's coldest cities is becoming a hot spot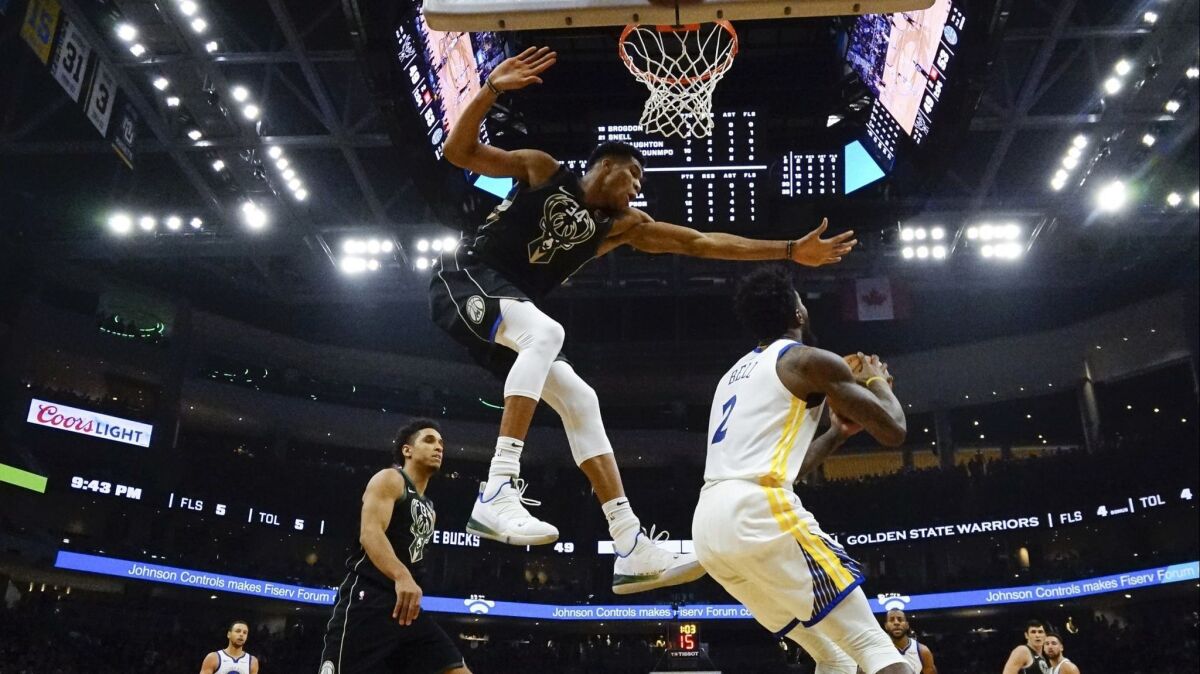 Reporting from Milwaukee —
They piled in through the doors of the new, downtown Fiserv Forum on Friday night, escaping the piercing cold to go to a basketball game — a big basketball game. Their parkas were unzipped, exposing jerseys and T-shirts with the local team's logo.
Their Bucks were hosting the Golden State Warriors, the defending NBA champions, in their $525-million building. As fans walked through the main entrance, team president Peter Feigin stood at the railing one level above, scanning the crowd for the right colors.
During his first season with the team, after it was bought by a new ownership group led by Wes Edens and Marc Lasry in April 2014, Feigin watched Bulls fan after Bulls fan, wearing the wrong shade of red, walk into the Bradley Center, invading after a 75-minute drive from Chicago.
It gnawed at him. He'd almost rather be out of business than running that kind of an operation.
So Friday, in between handshakes with employees and fans, in between greetings with architects and vendors, he took a minute to survey the scene.
The Warriors are a merchandising juggernaut. There could've been Stephen Curry jerseys and Kevin Durant T-shirts everywhere. When Golden State comes to town, that's often the case. But Friday, there wasn't a lot of blue and gold grabbing Feigin's eye.
"This," he said, "is a good sign."
With a combination of public funds and $200-plus million from past and present ownership, Fiserv Forum opened this season — perfectly timing the opening of its doors with the most promising Bucks team since the turn of the century.
Basketball is alive and well in Milwaukee — Friday's ticket considerably hotter than the climate. Once inside, fans bought more food and beverages and more merchandise than any other day in the building's young history, according to a Bucks official.
"All summer, all last year, all anybody would talk about was the new arena, what it's doing for the city," said Warriors forward Kevon Looney, a Milwaukee native. "The Bucks, I can see a difference. …You can tell."
Two years ago the Bucks were 27th in attendance. This year they're 17th. It's a big success for a franchise that, very conceivably, could be located in Las Vegas or Seattle if things had gone differently.
A desire to keep the team in Milwaukee led to a provision in the sales agreement that would transfer ownership to the control of the NBA if the team was unable to secure a new building in Milwaukee.
"The team would've moved if you couldn't figure out how to build an arena in near time — get it done in 20 to 36 months," Feigin told the Times. "We would've relocated."
It was the same message he sent to legislators when votes for public funding were needed. Maybe it was a sincere desire to deliver a top-rate arena to Milwaukee; maybe it was merely a way to secure public money for the building. Either way, so far, the Bucks have delivered.
Teams in the market for new homes, the Clippers included, have sought advice.
The arena is filled with pictures, paintings and sculptures commissioned from local artists. The premium clubs are pristine while staying true to Milwaukee (it might be the only club in the NBA to serve a bratwurst and beer cheese plate). More options will come in the next few years as the area around the arena controlled by the team gets developed into a full-fledged entertainment district.
It's a start in changing the stigma that Milwaukee is one of the worst trips on the NBA schedule, a belief widely held by players. Now, with a top-tier team — even after Friday's loss to the Warriors, the Bucks (16-8) are clearly a top-three team in the East — a new home and a transcendent talent in a global star and most valuable player candidate Giannis Antetokounmpo, perceptions might be changing.
"There are more billboards around the city. … You look at the whole dynamics of the team, the new arena, you can tell it's just a new feel here in Milwaukee," Durant said. "And, they're rallying behind their star. They have a lot of great pieces that make this thing work."
Coach Mike Budenholzer's arrival this summer was a big piece that fell into place partly because of the team's new arena and a two-year-old practice facility across the street.
"It just felt like everything was in a great place, including a new arena and a very new practice facility," Budenholzer said. "But ultimately, the most important thing is the roster and the guys you're going to be coaching and the relationship you have with the GM in Jon Horst and the front office and ownership. You've got to look at all that stuff."
Antetokounmpo, who turned 24 on Thursday, is having a career year, the rare NBA player leading his team in points (26.8), rebounds (13.0) and assists (6.0), and he's getting to the rim and dunking at a historic rate. He's surrounded by outside shooting, and the team added a key reserve Friday in veteran point guard George Hill as part of a three-team, five-player trade that cleared about $20 million in salary-cap room next summer, putting the Bucks in good position to get even more help.
"This is a team we could play later on," Warriors coach Steve Kerr said, an endorsement of the Bucks' chances to reach the NBA Finals.
Whether it happens or not, Feigin still will find his pregame perch. While making sure everything is going smoothly as he can, he'll get to that second-level railing. He'll look down. He'll see Bucks fans. In downtown Milwaukee.
And he'll be positive that the building he's in had a lot to do with that.
Twitter: @DanWoikeSports
---
Get our high school sports newsletter
Prep Rally is devoted to the SoCal high school sports experience, bringing you scores, stories and a behind-the-scenes look at what makes prep sports so popular.
You may occasionally receive promotional content from the Los Angeles Times.