Column: Sacramento Kings have legit chance to end NBA's longest playoff drought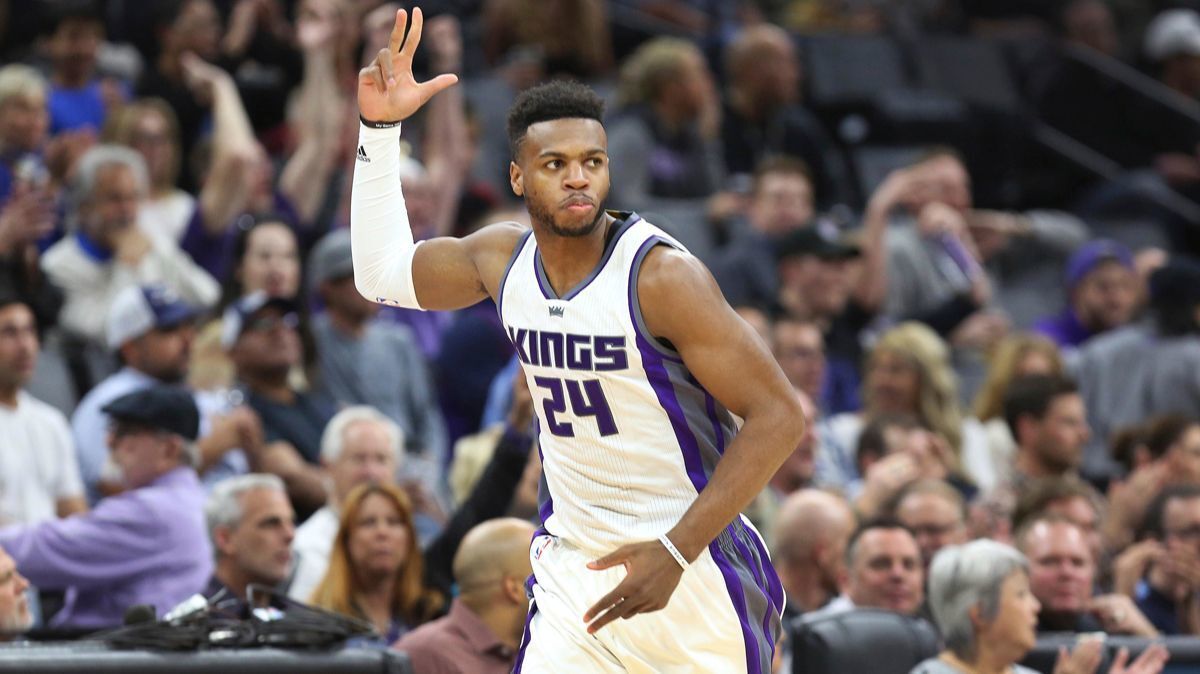 Some of the dinner is gluten free. The meatballs are keto-friendly. The food outside of the Sacramento Kings' locker room at Staples Center isn't getting any warmer, though.
And it's not going to matter to guard Buddy Hield.
"Losing sucks," Hield said after last week's 127-118 loss to the Clippers. "Especially when you want to get to the playoffs and you have a pretty good chance to get there. This just leaves a bad taste in my mouth."
Imagine that, a Kings player talking about losing like it matters, talking about a desire to make the postseason, talking about it like it's more of a probability than a pipe dream.
All four of California's NBA teams sit in position for the playoffs — a surprising step forward for the Kings, who once looked like they would be headed for a permanent spot at the bottom of the Western Conference standings.
Over the last dozen years, no team has been more accustomed to losing than the Kings, who haven't made the playoffs since 2006, the longest postseason drought in basketball. In the dozen years since, they finished last in the conference once, second to last three times and third to last three times. Sacramento never finished with more than 38 wins. The Kings managed to place 10th in the conference just once.
It was a lot of bad basketball with nine different coaches trying to figure things out. The most recent of whom, Dave Joerger, has the team set to take a winning record into the new year — a real accomplishment for a team that doesn't have a true star since trading its last one almost two years ago.
Hield is a high-volume scorer, a player who was beloved for his shot taking at Oklahoma before landing in New Orleans as the No. 6 overall pick in the 2016 draft. He was sent to Sacramento as part of the Kings' trade of star center DeMarcus Cousins and has established himself as a legitimate scoring threat, averaging 19.7 points this season, more than six points a night better than last season, excelling in the Kings' running, gunning style.
"He's a confident dude," Kings point guard De'Aaron Fox said. "He's going to shoot the ball."
Joerger jokes that the difference with Hield is that he's a year older — a reference to the recent discovery that his age had been mistakenly listed on the team's roster as 25 instead of 26.
Hield's improvement, though, is about style.
"The number of possessions we're playing allows him to get more shots. We're playing more free, more loose," Joerger said. "The way we're constructed to play fast and encourage quick shots as good shots — well, a lot of shots are pretty good shots for him. He's got the freedom to take some shots. I think it's just helped him find a rhythm."
In the visiting locker room at Staples Center, the Kings had nicknames written on athletic tape stuck to the top of each stall. Above Hield's locker it said, "Buddy Buckets."
The best bet for a star on the roster might be Fox — it said "That Man Fast" above his locker. Fox, a second-year guard out of Kentucky with plenty of zip and bravado to match, has played very well in his sophomore season, giving the team a true leader in the backcourt who seems a long-term fit.
"We're on the right path," Hield said.
That doesn't mean that path has been without bumps. Earlier this season, Joerger reportedly kicked the team's assistant general manager, Brandon Williams, out of a practice. According to league sources, the relationship between Joerger and management is far from good.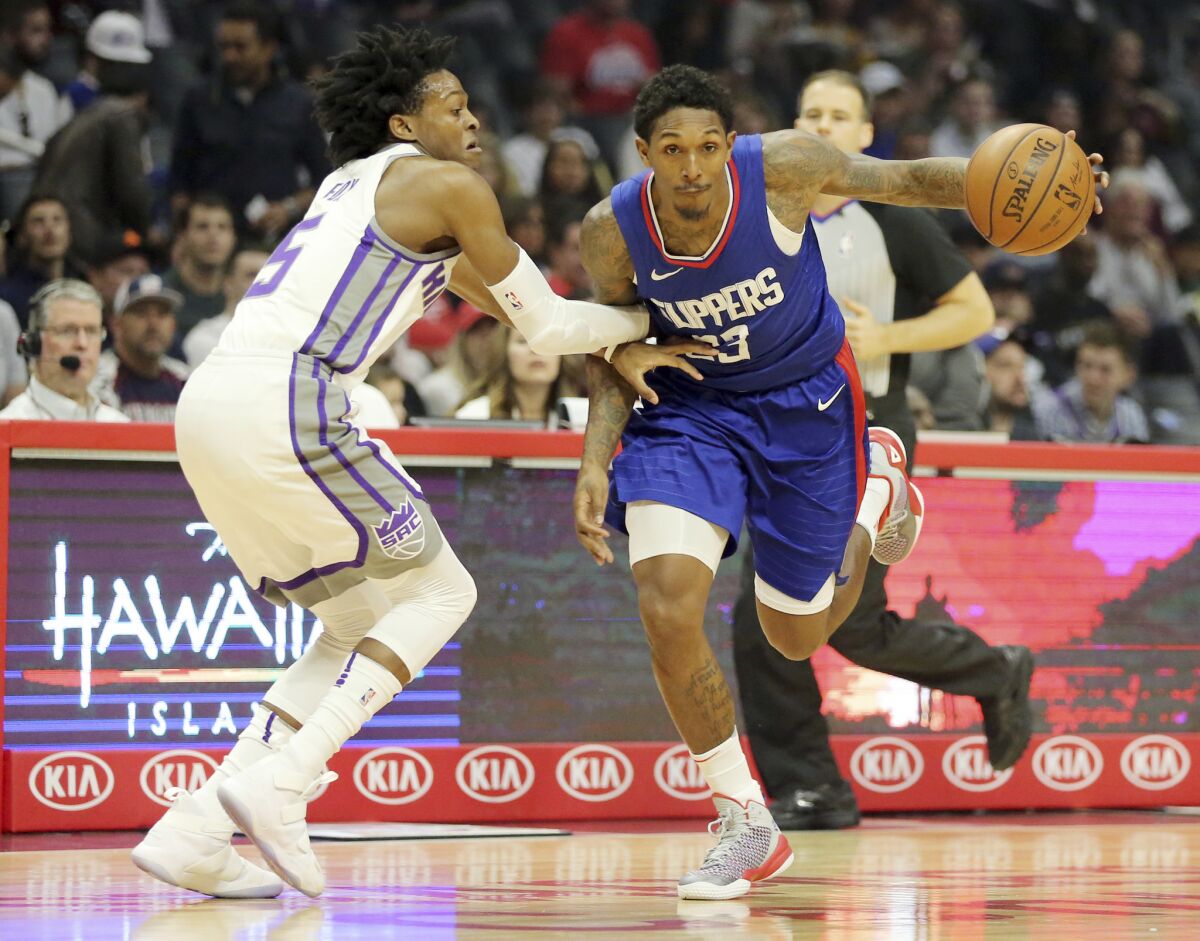 The rift could threaten the continuity the team is trying to build, with years of failed draft picks finally giving way to the promise of young players like Fox, Hield and this year's first-round pick, Marvin Bagley, who is out with a bone bruise.
There's a feeling of stability — at least by Kings standards — that hasn't existed in a long time, so much so that Joerger still said he's operating with a long-term view, one that extends three years from now, an eternity in the lifespan of a Sacramento coach.
They're playing a style that's fun with young, promising talent and plenty of spirit and fight. They've come back from down 10 points or more eight times (the Warriors, an all-time comeback team, had done it in seven games entering Saturday).
"It's more fun to play this way," Joerger said. "Not to say anyone wants to take losses, but if you're going to take some losses as a young team, would you rather we score 89 or go have fun and get it up and down the court? Defense takes a lot longer to learn. … It's a lot more fun to come to work every day."
With the team in contention, even the fun losses are no longer good enough.
Twitter: @DanWoikeSports
Get our high school sports newsletter
Prep Rally is devoted to the SoCal high school sports experience, bringing you scores, stories and a behind-the-scenes look at what makes prep sports so popular.
You may occasionally receive promotional content from the Los Angeles Times.