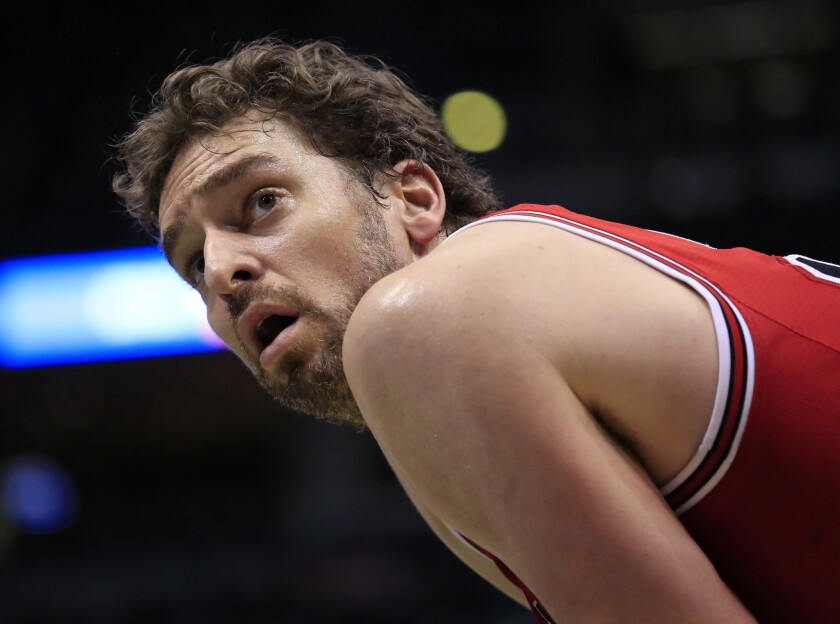 Pau Gasol sent out a tweet Tuesday that confirmed news that had been widely reported the previous day – he's signing with the San Antonio Spurs.
Gasol, who won two NBA titles with the Lakers, reportedly will earn $30 million over two years. ESPN reports that Portland, Minnesota and Toronto were also involved in a bidding war for the services of the veteran forward, who spent the last two seasons with Chicago.
After spending his first seven-plus seasons with Memphis, Gasol was traded to the Lakers midway through the 2007-08 season. He went on to help Kobe Bryant lead the team to three straight NBA Finals, losing the first to Boston and winning the next two against Orlando and the Celtics.
Gasol left for Chicago via free agency following the 2013-14 season. He was an All-Star once with the Grizzlies, three times with the Lakers and twice with the Bulls.
Retired Spurs star and Hall of Famer David Robinson welcomed Gasol via Twitter on Monday night.
MORE FROM SPORTS
Dodgers Dugout: Could losing Clayton Kershaw be just what the Dodgers needed?
Lakers great Jerry West is helping create a Warriors dynasty, and that hurts
Kevin Durant opts for the Golden State Warriors in a free agency upset
---