Column: Draymond Green and depleted Warriors still believe they can beat the Raptors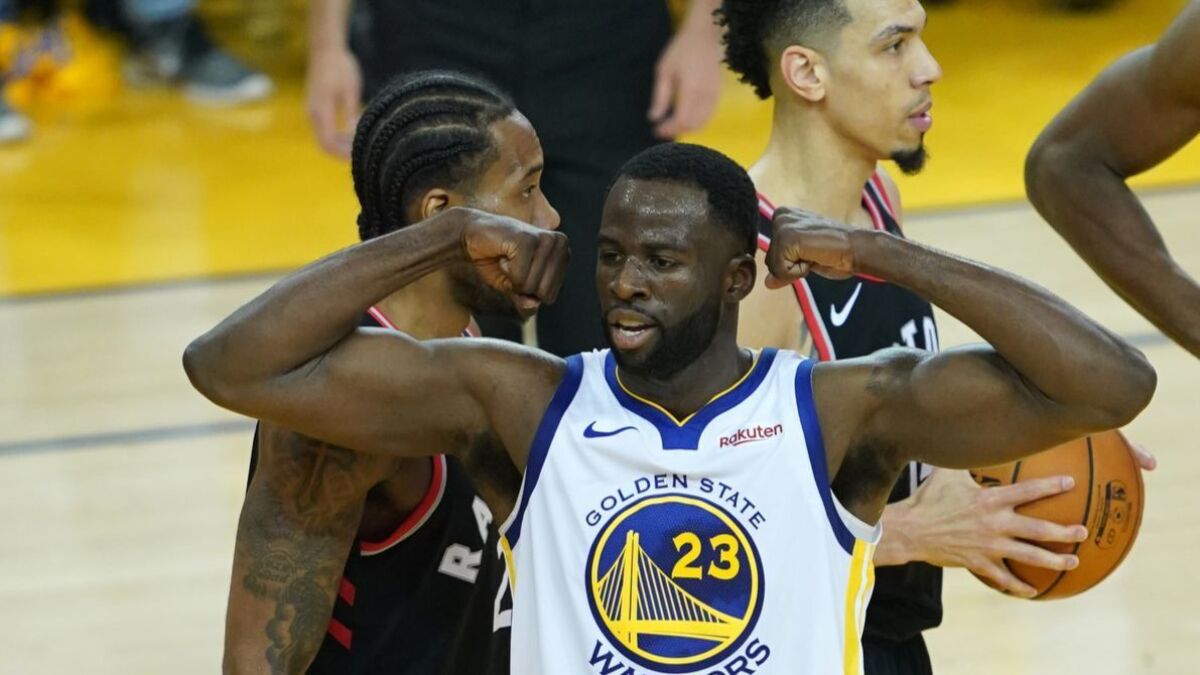 Reporting from Oakland —
Draymond Green walked through the hallways of Oracle Arena, past the locker room where LeBron James celebrated Cleveland's only NBA title, past the hole in the wall that Dirk Nowitzki put there by heaving a trash can during the 2007 playoffs, toward the locker room where he celebrated his team's 2017 championship.
There's history in this building, history in this city — all of it hanging perilously in the balance of these NBA Finals, thanks to sore calf muscles and strained hamstrings.
As he walked, Green remembered some of the Warriors' challenges, the 3-1 deficit to Oklahoma City in 2016, a 3-2 deficit to the Rockets in the Western Conference finals a year ago, the need to win a Game 7 on the road, the mental and physical grind of playing in the NBA Finals every year.
None of them seem this bad, this dire.
They trail the Toronto Raptors 2-1 in the best-of-seven championship series. They will be without All-Star forward Kevin Durant again for Game 4 on Friday. All-Star guard Klay Thompson will certainly be limited as he returns from a hamstring injury. Center DeMarcus Cousins is rusty after missing more than a month because of a quadriceps injury. And Kevon Looney, a valuable member of the Warriors' frontcourt rotation, won't play either, barring a second opinion that allows him to play despite a cartilage fracture in his chest.
Two more losses, the season is over. No more Oracle Arena. No more Oakland. Maybe no more Durant, who can become a free agent.
Sign up for our daily sports newsletter »
Green, though, walked through those Oracle hallways with confidence in each step. The "We Believe" Warriors, the ones that unseated Nowitzki, were unlikely underdogs.
These are the "Why Shouldn't We Believe" Warriors.
"It's our makeup," Green told the Los Angeles Times. "We don't need to go and pull from all that older stuff. We just don't. We're made up a certain way. And when things get rough, it shows."
It's going to have to.
Warriors coach Steve Kerr ruled out Durant for Game 4 on Thursday afternoon after the team didn't clear him for scrimmage work. Even if he's somehow able to return for Game 5 in Toronto, it'll have been a month since he's been on the court for an NBA game.
"It's just about when the training staff tells me he's ready," Kerr said. "He's been doing individual work on the court, he's been in the training room, in the weight room. He's been doing lots of different things, training staff said he's not ready to play in a game yet."
Thompson's return should give the Warriors some optimism. It was jarring to try to watch Stephen Curry operate surrounded by Green, Cousins, Shaun Livingston and Andre Iguodala — non of whom would qualify as "shooters." Thompson's presence on the court, even if he's hobbled, should alleviate some of that.
But Thompson's hamstring was injured enough to keep him out of the final moments of Game 2. If It was bad enough for him to miss the first playoff game of his career, can we reasonably expect it to be good enough 48 hours later?
But maybe "reasonably" doesn't have anything to do with it. Yeah, the Warriors are talented — more talented than any other team in the NBA. No other team could lose someone as good as Durant and still be championship contenders.
Yeah, they make shots like no one else, but they're also tough as hell.
"It just feels like business as usual, honestly," Kerr said. "I hope that doesn't sound arrogant, but the benefit of having been through five years of this is we have literally seen everything. We have lost a 3-1 lead in a heartbreaking fashion. We have come back from 3-1 down. We have had to win a Game 7 on the road. We have been without Steph Curry for a series. We have been without Kevin Durant. We were without Klay last night. Our opponents have been without key players. So you can name it and we have seen it."
Still, this is a little different, a mass erosion of talent with which the Warriors haven't had to deal.
"We got to keep our perspective and our focus on what we can control," Livingston said. "We can't control any of that. So, no, we haven't been there before, but we have been down in a series, so we look at it from that standpoint, right? We have been down."
Until now, they've always gotten back up.
"I think when you're hit with a little adversity, whether it's being down 2-1 or whether it's being down 17 or 12 [points] or whatever it is, your true colors show," Green said. "I think that's just kind of the makeup of us, that's our DNA. Our backs are against the wall, we continue to fight. We have a lot of firepower. So all of a sudden we continue to fight, and then we go on a run."
With the Raptors playing well, with momentum on their side, with possibly only one game left at Oracle Arena, a run might not be enough.
They might need to sprint.
Twitter: @DanWoikeSports
---
Get our high school sports newsletter
Prep Rally is devoted to the SoCal high school sports experience, bringing you scores, stories and a behind-the-scenes look at what makes prep sports so popular.
You may occasionally receive promotional content from the Los Angeles Times.