Spurs' Kawhi Leonard prefers to fly under radar even as his NBA star continues to rise
Every so often Kawhi Leonard looks up from his seat and answers questions in a measured and low-key tone during an interview after a recent San Antonio Spurs practice.
He is quiet by nature, preferring to shun the spotlight despite his rapidly increasing exploits on the basketball court.
But Leonard's evolution as a player is so obvious — he started for the West in the All-Star game — that it is becoming impossible for him to go unnoticed as he emerges as perhaps the best two-way player in the NBA.
See the most-read stories in Sports this hour>>
"The guy is in the running for MVP and he's probably the best defensive player out of all of them," his San Antonio teammate Boris Diaw said. "So, yeah, he's the best two-way player in the league if you ask me."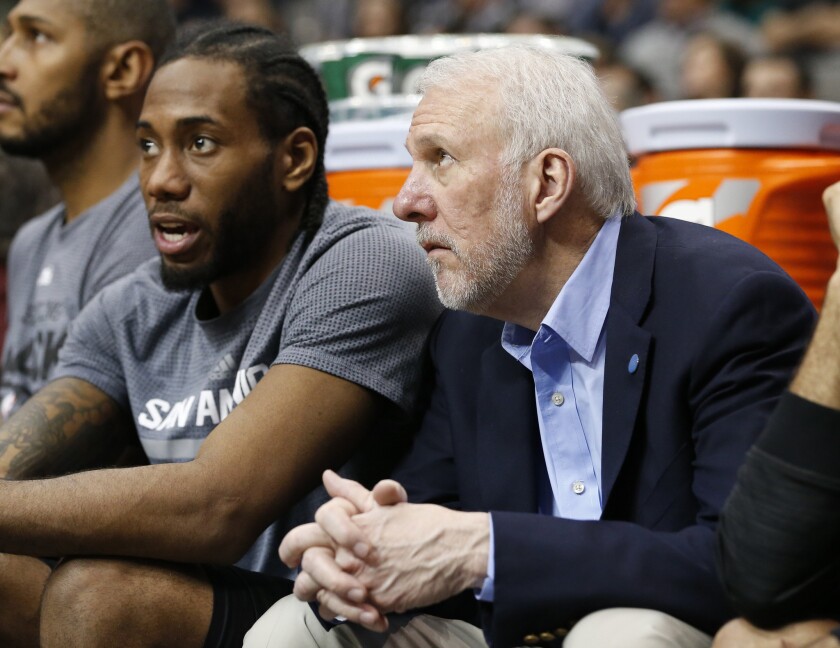 Last season, just his fourth in the NBA, Leonard was named the league's defensive player of the year.
His game has progressed each season. Leonard averaged 7.9 points as a rookie in 2011-12, 11.9 points his second season, 12.8 his third, 16.5 last season and and now 20.2 this season as he's become the Spurs' leading scorer.
He also leads the team in steals (1.8 per game), is third in rebounds (6.7) and fifth in assists (2.5), and is shooting 51% from the field.
Leonard's offensive repertoire has expanded, with a post-up game and the ability to slash to the rim. He is also shooting 48.2% from three-point range, which led the NBA going into the weekend. And his 25.79 player efficiency rating was fifth-best in the league.
"You know, he maybe is the best two-way player in the NBA," said TNT analyst Grant Hill, who played 18 seasons in the NBA. "He's kind of doing what maybe a young Kobe [Bryant] would do. I hate to throw out comparisons. But remember how Kobe would defend the top players when Shaq [O'Neal] was here in L.A. in the early 2000s and Kobe was also like the closer and would do things on the offensive end?
"LeBron [James] has done that a little bit. But Kawhi is doing it on both ends. He's their stopper and he's their go-to guy. It's not many guys really in the history of the NBA that have both of those responsibilities."
"He's one of the best two-way players in the league," former Clippers and Chicago Bulls coach Vinny Del Negro said. "His game just continues to evolve."
When told about that praise, Leonard acknowledged it sheepishly.
"I'm just happy people are starting to recognize how hard I'm working," he said. "I'm just happy that people like the way I play."
Leonard announced himself to the basketball world during the 2014 NBA Finals when the Spurs defeated the Miami Heat in five games.
He was named the Finals MVP after averaging 17.8 points per game on 61% shooting, and for his defense on James and Dwyane Wade.
Since then, the quiet young man from Riverside King High and San Diego State has had a hard time escaping attention on the court.
Still, Leonard, 24, doesn't embrace the notoriety.
"It's just the game itself that drives me," he said. "I just want to be able to compete at a high level. Winning is motivation."
His high school coach at King, Tim Sweeney, said Leonard was the same way during their two years together.
"I think [the reason] he's so great is because he works harder than anybody in the NBA," Sweeney said. "He's always done that. He saw what Kobe and Michael Jordan did.
"Kawhi doesn't take a summer off. He's not out partying. He's not out clubbing. He tirelessly works on being great. That's his goal."
Leonard played just two seasons in college but he left a big impression.
"When I first recruited him to San Diego State, the first thought was that he could play with anybody," Aztecs assistant coach Justin Hutson said. "But it didn't take long to figure out that his work ethic was unmatched. We always tell stories about his work ethic to the younger players coming up on our team. His talent level is unbelievable, but his work ethic was something else."
And Hutson quickly discovered that Leonard didn't say much.
"Oh, yeah, he was always quiet when I recruited him," Hutson said. "I used to just roll down from San Diego to see him, when we were allowed to, because he wasn't going to answer your phone calls a whole lot and talk to you."
Leonard hasn't changed much since joining the Spurs.
"He has his moments, but he's pretty quiet," Diaw said. "You can tell him jokes and he's going to laugh, give you a line back too."
Mostly, Leonard just wants to work on his game and keep improving.
The 6-foot-7, 230-pound Leonard has seen how contemporaries such as James, Kevin Durant and Paul George have improved over the years.
Leonard doesn't want to be left behind.
"Everybody in the NBA works on their game," he said. "I just tried to follow that lead when I was in high school, college — and now."
Follow Broderick Turner on Twitter @BA_Turner
---
Get our high school sports newsletter
Prep Rally is devoted to the SoCal high school sports experience, bringing you scores, stories and a behind-the-scenes look at what makes prep sports so popular.
You may occasionally receive promotional content from the Los Angeles Times.