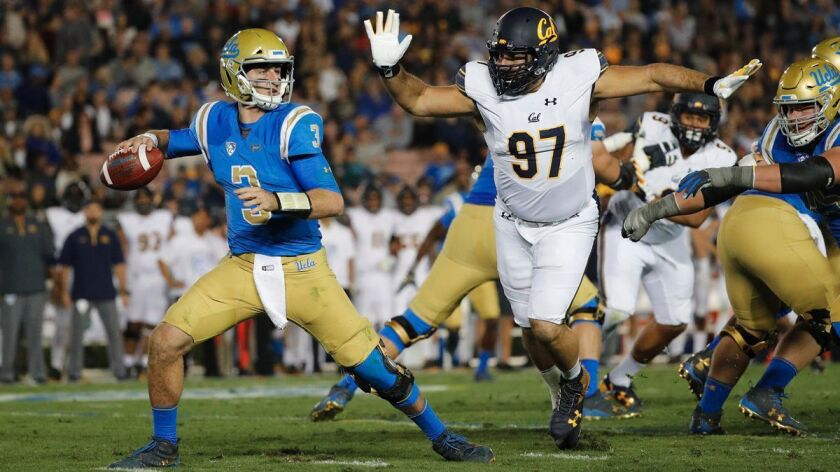 UCLA has its football coach. The next most pressing concern is who will play quarterback next season.
Troy Aikman said he hopes it's Josh Rosen.
"Selfishly for UCLA and what Chip's trying to build, I hope he comes back," Aikman, the former Bruins star, said of Rosen after new coach Chip Kelly was introduced on campus Monday. "I'll certainly talk to him about the pitfalls and all that can occur in the NFL, but at the end of the day, he'll make the decision that's best for him."
Rosen would likely be a top pick in the NFL draft should he decide to make himself available after a junior season in which he ranked fourth nationally with 3,717 passing yards, despite missing parts of three games because of injuries.
Aikman was selected No. 1 overall in the 1989 NFL draft after his senior season at UCLA. He spent his entire 12-year professional career with the Dallas Cowboys, becoming a six-time Pro Bowl selection who was later inducted into the Pro Football Hall of Fame. (Aikman is also a member of the College Football Hall of Fame.)
Aikman, 51, suggested that playing three years in college, as opposed to four, could make the transition to the NFL more difficult for a quarterback.
"I think the hard thing for Josh is just having played three years," Aikman said. "And it's a big jump. … I think when you look at the history of the NFL and those guys that have really given themselves the best chance for success, they have been longer-term guys in college, and so I think that's something he has to take a hard look at.
"I think the more experience you can get, the better off you are. So why wouldn't you then wait? Well, injuries are a factor. You know, we've seen it, we've seen it in this city where guys have not come out, they've waited and then for whatever reasons, they don't play as well, the team around them's not as good and their stock drops. So it is a business decision when you're trying to make that determination."
Aikman seemed to be referring to USC quarterbacks Matt Barkley and Matt Leinart, who played for the Trojans as seniors before going on to underwhelming NFL careers.
Both Kelly and Aikman dismissed the notion that Rosen would not be a good fit for Kelly's spread offense, which has often featured a highly mobile quarterback.
"Nick Foles was not a guy who could run, and yet he put up huge numbers [with the Philadelphia Eagles] and that offense was one of the top-scoring offenses in the league," Aikman said. "So he's got a lot of different ways of coming after a defense and he understands it very well."
Kelly said he briefly met with Rosen on Monday and would advise him in the same manner he had with other top players when he coached at Oregon.
"Our job is to compile all the information for you," Kelly said, "and then help you make an educated decision on what's the best decision for Josh Rosen."
Should Rosen opt for the NFL, the top candidates to start at quarterback for the Bruins in 2018 would be incoming freshman Dorian Thompson-Robinson and current backup Devon Modster, who would be a redshirt sophomore next season. Rosen's return would negate any quarterback quandary while positioning Kelly for a quick turnaround in his first season at the school.
"If Josh Rosen's coming back," Aikman said, "that makes that job a whole lot easier."
Beginning of the end
UCLA athletic director Dan Guerrero said the sagging performance of the football team under recently fired coach Jim Mora first caught his attention two years ago, when the Bruins closed the season with three losses in their last four games.
"We started looking at football probably at the end of 2015 when it started to slip a little bit, and over the course of the last two years, we certainly haven't performed at the level that we all want to see," Guerrero said, "so I needed to make the determination that it was time to make a change" before hiring Kelly.
UCLA awarded Mora a two-year contract extension in June 2016.
Time to bowl
UCLA is expected to learn Sunday where it will head for its bowl game. CBS Sports' Jerry Palm has projected the Bruins to play Texas in the Heart of Dallas Bowl on Dec. 26. ESPN analysts predicted UCLA would either play Florida State in the Independence Bowl on Dec. 27 in Shreveport, La., or face Wyoming in the Arizona Bowl on Dec. 29 in Tucson.
Twitter: @latbbolch
---