Reporting from Toronto —
Nick Nurse had the perfect anecdote for the perfect moment.
His Toronto Raptors had just taken a 3-2 lead over the Philadelphia 76ers in the Eastern Conference semifinals thanks to a 36-point blowout and were now the favorites to wrap up the series in Game 6.
Nurse remembered a championship series in 2011 when another team he coached had just blown out its opponent and was one win away from a title.
As he prepared to tell the Raptors this story, about the 2010-11 Iowa Energy, Kawhi Leonard interrupted him.
"'In the D-League?" Leonard asked.
Nurse was going to explain how excited Des Moines was for the Energy to be one win from the title. How they already were planning a parade and shopping for championship rings. And how, while everyone was looking ahead, the Energy got their butts absolutely kicked.
"If this is a D-League story," Nurse remembered Leonard saying, "I'm not listening."
Sign up for our daily sports newsletter »
Nurse laughed when he recounted the story inside of his office after the Raptors practiced Saturday on the eve of Game 2 of the NBA Finals. The office in Toronto has to feel pretty far from the ones in Des Moines and Rio Grande Valley of the developmental league, or the handful in England, where he also coached. But the lessons from those stops, the championship experiences, have helped him navigate his first trip through the NBA playoffs.
It's maybe the hardest thing a rookie NBA coach has to do.
Golden State coach Steve Kerr, who won a title in his first season on the bench after earning five as a player, said managing the postseason was the biggest challenge he faced when he took over as the Warriors' coach.
"It was stressful," Kerr told The Times. "It was mostly my experiences as a player that helped me. Going through that journey that first year, I kept thinking about my days in Chicago, my days in San Antonio and what the playoffs were like. But I had never led the charge. The biggest things for me were the big adjustments we made. …
"In the regular season, these things are non-factors. You lose the game, you go, 'Maybe we should have doubled James Harden,' and then you go play Atlanta the next night. You move on and nobody cares."
But in the playoffs, the big adjustment or the failure to make one can decide a series.
He remembers risking his credibility with the Warriors by moving center Andrew Bogut onto Memphis forward Tony Allen with the Warriors trailing the Grizzlies 2-1 in the 2015 conference semifinals.
"Draymond [Green] later told me everyone thought I was crazy," Kerr said.
He did it again in the NBA Finals that spring, moving Andre Iguodala into the starting lineup with the Warriors again down 2-1.
You make that move too soon, Kerr said, and you look panicked in front of your team. You make it too late or not at all and you've failed.
"That was the hardest thing for me, to understand when to make an adjustment and why," Kerr said.
He didn't have the same kind of experience as Nurse, who like Kerr reached the Finals in his first season as an NBA coach, but unlike Kerr had already coached four different teams to titles.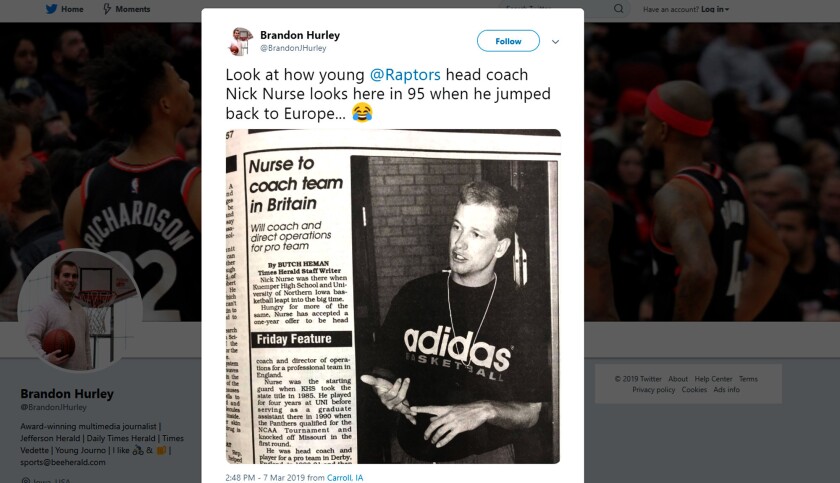 Nurse did it before he turned 30, coaching the Birmingham Bullets to a British league championship in 1996. He won again in 2000 with the Manchester Giants before adding a pair of D-League titles with Iowa and Rio Grande Valley.
"We had Tony Dorsey and Nigel Lloyd in Birmingham. That's Kawhi and Kyle [Lowry] exactly," Nurse said in comparing them to his Raptors stars. "That's what they were in the locker room, on the court, on the play call board. One was a great leader of the team, which was Nigel Lloyd. And one was a go-to scorer, which was Tony Dorsey."
The win in Iowa, though, is the most special. It happened in his home state. It happened with a team that he helped build from the ground up. It happened with Kerr, then the Suns general manager, taking some of the team's best players back to Phoenix with him.
"We were kind of depleted, our team. We lost our best handful of guys to NBA call-ups. We had the best record in the league and then we lost all our guys," Nurse said. "We kind of limped through the playoffs to make it to the finals. And Rio Grande was going to kick our ass. We went down there and won Game 1 by 17. And then everyone was like 'Holy …. We're going to win the title.' And everyone got a little ahead of themselves. And we did too. And we got our ass kicked."
It made for a perfect lesson, D-League or not.
"Don't let people take you ahead of where you are at," he told the Raptors.
After telling the Raptors the story, Nurse had to show Leonard a picture of the arena, 14,000-plus spectators for a D-League game.
The pictures from those titles, they're easy to find.
Above his desk in his office, there's one from his high school team that won a state championship with him as the point guard. There's one from Birmingham, one from Manchester, one from Iowa and so on.
"I love those team pictures, man," Nurse said. "It was the world to you then. … It's really similar, really similar [to now], man. It was just all scaled down."
Another championship team photo is three wins away, though no one is thinking about where to put that picture yet. Nurse wouldn't be much of a coach if he didn't listen to his own advice — even if it's from a D-League story.
Twitter: @DanWoikeSports
---