College football's national championship game coming to Inglewood stadium in 2023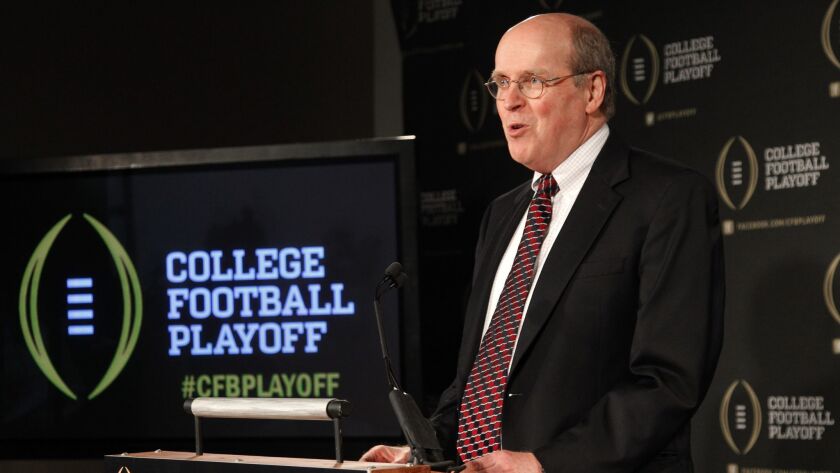 The powers-that-be in college football have known for several years that they wanted to bring their national championship game back to Los Angeles — now they have a venue and a date.
The $2.6-billion stadium that Rams owner Stan Kroenke is building in Inglewood will host the College Football Playoff final in 2023, officials announced Wednesday.
"We know what a tremendous destination it is," said Bill Hancock, the CFP's executive director. "The new stadium will just have so much to offer."
Three other hosts were named in the announcement, with Miami-South Florida getting the championship in 2021, Indianapolis in 2022 and Houston in 2024.
This won't be a first for Southern California — the Rose Bowl has been in the rotation for semifinal games and the former BCS system held its title game in Pasadena four times between 2002 and 2014.
The CFP made its way back as part of a long-ranging plan. Officials had previously said they wanted to play in 10 cities over the course of their new system's first 10 years.
Hoping to save time and money on both sides of the deal, they quietly contacted the four cities named Wednesday. Whereas conventional bidding might have taken a year, these talks concluded within four months.
The streamlined process stood in contrast to L.A.'s recent two-year, $60-million bid for the 2028 Summer Olympics.
"This is an emerging trend, I think, in our industry — that is, identifying cities and negotiating directly with them," Hancock said, adding that "once we realized we knew where we wanted to go, it would have been inappropriate and probably unethical for us to have conducted a traditional bid process."
While Inglewood will be the official host, L.A. officials plan to help with related events around championship week in January 2023. Mayor Eric Garcetti said: "Los Angeles has always been where the world's best athletes come to make history on the biggest stage."
The CFP title game will add to an already impressive roster for Kroenke's project.
The stadium, set to open in 2020, already has been tabbed to host the 2022 Super Bowl and be part of the opening and closing ceremonies for the 2028 Games.
"This will be a world-class facility," Hancock said. "I can't wait for college football fans to get to experience it."
Follow @LAtimesWharton on Twitter
---
Get the latest on L.A.'s teams in the daily Sports Report newsletter.
You may occasionally receive promotional content from the Los Angeles Times.