Darnold-Rosen matchup is one for the NFL scouts' books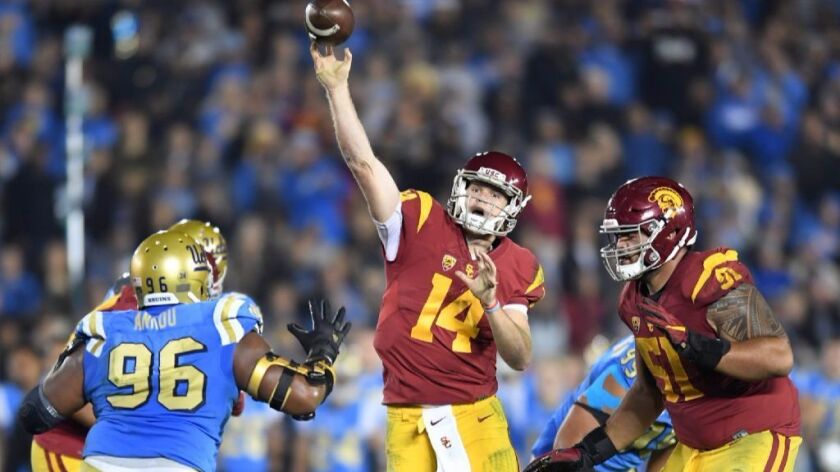 Scouts representing 20 NFL teams will line the second row of the Coliseum press box Saturday for the UCLA-USC game. They'll have their laptops open, colored pens at the ready, and binoculars held to their faces. They won't be watching like typical spectators; these scouts are focused on nuance, gathering information on body language, how the players interact with their teammates, and how they act if their team falls behind.
"We aren't going to be writing down, 'Five-yard gain,'" one explained this week. "We want to see what we can't see on the film."
This year, that means zeroing in on the quarterbacks, who are center stage. UCLA's Josh Rosen and USC's Sam Darnold are both potential top-10 draft picks. Only once in the past 50 years have quarterbacks from UCLA and USC been selected in the same draft — in 1989, the Bruins' Troy Aikman was taken No. 1 overall by Dallas, and the Trojans' Rodney Peete went in the sixth round to Detroit.
Typically, NFL scouts are secretive about their observations and evaluations. It's a highly competitive business, so information is guarded closely. However, as has been the case for more than a decade, three team evaluators — identified as scouts 1, 2 and 3 — agreed to anonymously share their opinions on the potential NFL players in this annual crosstown showdown.
The quarterbacks differ greatly in their skills and personalities.
"It's not as strong a quarterback class as people thought at first," Scout 1 said. "But when you look at the Chargers, Pittsburgh, Arizona — and those aren't even the obvious ones — there are probably 10 teams that are going to need a quarterback. It's going to be crazy. Guys are going to get over-drafted like they do every year. This year is going to be a seller's market."
Each player has his distinct selling points. Rosen, a junior, has rare polish and accuracy as a passer. The way some evaluators put it, he makes Sunday throws on Saturday. He's smart, talented, and — in the eyes of many scouts — has a bloated ego.
"He's got a cocky swagger to him, like, 'Hey, I can make this throw,'" Scout 2 said. "And that's what gets him in trouble. That's why he's going to be intriguing after the season. You want to sit down and get to know him, because people don't know him.
"Is he just an immature 20-year-old kid who's going to be different when he's 25, 26, 27 and getting into his prime? You'll have him for five years if you draft him in the first round, and then maybe he hits his prime in his second contract."
The game video scouts watch shows plays in quick succession, alternating sideline and end-zone views. The extraneous footage is removed. That's one reason being at the game is so valuable for these evaluators.
"First, when you're gauging arm strength, you can't tell on tape all the time," Scout 2 said. "It's nice to see someone's arm live in pregame and during games. You want to see how they carry themselves on the field. Do they have a confidence about them, a poise on the field? How do they interact with their teammates on the sideline? What's the communication like at the line of scrimmage? The stuff you can't see on tape.
"The body language on Josh Rosen, he may not know that, but that's what scouts are looking for. The way he acts on the sideline. The way he carries himself. If they fall behind, is he over there working with his teammates trying to keep them in the game, or is he going over to sit on the bench by himself?"
The third scout said this is a unique opportunity for the people in his line of work.
"How many franchise quarterbacks are there — 10, 12?" Scout 3 said. "You're looking at two guys on the same field, on the same Saturday, that a lot of people believe will be in that group, in that top 12. If you have one of them, you're like, 'Hey, we've got a chance every week.' If you don't have one, you're looking.
"This is a special, exciting situation. It's got some buzz in the scouting community, for sure."
For the most part, evaluators are enamored with Darnold's attitude and leadership. But they're quick to acknowledge he doesn't have Rosen's arm talent.
"He's got good enough talent but a winding release," Scout 1 said. "He's not real comfortable in the pocket all the time. He's most dangerous making off-schedule throws, on the move. He's unique in his ability to create and find open receivers on the move. You do question his ability to sit in the pocket and work through the progressions patiently. He's so hoppy and jumpy in the pocket."
Although Darnold has 15 touchdowns and three interceptions in the past six games, he struggled early this season with the football winding up in the hands of defenders.
"You question his field vision," Scout 1 said. "He'll lock on receivers. He's not protecting the ball the way he was last year. Too many negative plays."
Scout 2 said Darnold, a redshirt sophomore, "has a decision to make," and should carefully weigh the pros and cons of leaving early for the 2018 draft, even though he figures to make millions.
"He'll go in the first round almost certainly," Scout 2 said. "But I'm not so sure he isn't better off staying in school for another year. The holes that he has in his game are decision-making, and that's something he can improve on with live game reps.
"Practice speed is one thing — it's intense, we're going — but it's different in a game. You're under pressure. You're thinking, managing line calls. There's chaos everywhere, and you've got to keep your level head and make quick decisions. He's not going to get that as a backup. We don't have NFL Europe anymore, so USC is about as good a place as you can get it."
Follow Sam Farmer on Twitter @LATimesfarmer
---
Get our high school sports newsletter
Prep Rally is devoted to the SoCal high school sports experience, bringing you scores, stories and a behind-the-scenes look at what makes prep sports so popular.
You may occasionally receive promotional content from the Los Angeles Times.