Former USC linebacker Su'a Cravens radiates mystery at NFL combine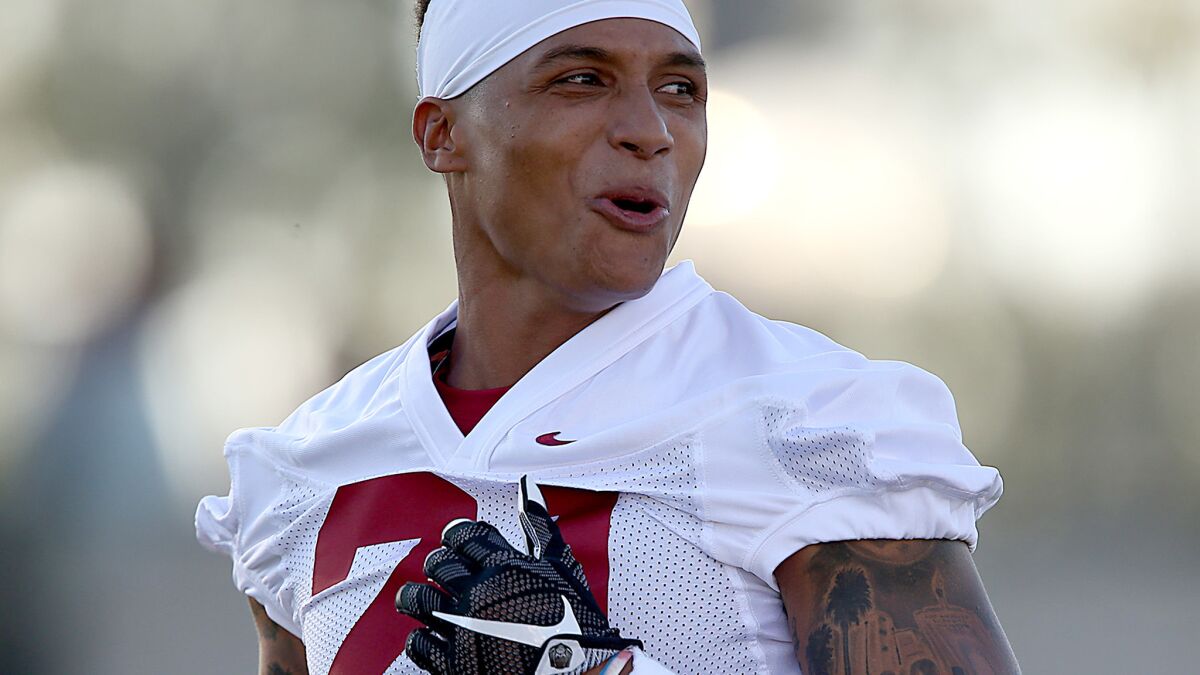 Reporting from Indianapolis —
Standing at a podium before reporters Friday, former USC linebacker Su'a Cravens radiated confidence.
And a bit of mystery.
In the months leading up to the NFL scouting combine, Cravens spoke of wanting to show NFL scouts his speed in the 40-yard dash. He said Friday that he would not run the 40 this week and would wait instead until USC's Pro Day workout on March 23.
"I ran a fast time before I came here," he said, "and I guess it surprised my agent and my trainer and they said, 'Well, we think you can go faster than that.' So they wanted me to wait till Pro Day."
What was his time?
"I can't tell you that," he said, grinning. "It wouldn't be fun if I told you."
Cravens, like all of the more than 300 prospects at the combine, has been doing plenty of running around at Lucas Oil Stadium.
The 20-year-old has undergone medical tests and sat for multiple team interviews. Linebackers are prepping for on-field workouts on Sunday.
The 6-foot-1, 226-pound Cravens is caught somewhat in the middle at the combine.
He was a Freshman All-American safety for the Trojans before changing positions at the behest of coaches and becoming a two-time All-Pac-12 linebacker.
His black combine-issued sweats are emblazoned with an "LB" insignia. But he is not certain what position he will play in the NFL.
"I did about 20 informal interviews [Thursday]," he said. "It was half linebacker, half safety."
Cravens considered that a positive sign.
"They see the versatility," he said, "and I guess it all just depends what the team wants. I'm going to play wherever they put me."
The interview process offered a few clues and also a few surprises.
Asked to recall the "weirdest" question asked by a team, Cravens repeated the inquiry and then paused before answering.
"I've been asked if I'm a prima donna," he said. "I get that coming from USC. People think a lot of USC guys are entitled. But things have changed since the glory days.
"So I think I'm a hard-working guy, to answer that, with a little swallow of my pride right there."
Defensive lineman Antwaun Woods, also among seven Trojans players at the combine, said Cravens was a "warrior" and a playmaker.
"He's a different personality," Woods said. "He may not scream and shout a lot, but when he plays football his play speaks for him."
Cravens appears to possibly fit the hybrid role that is becoming in vogue in the NFL. He respects the style employed by Phoenix Cardinals linebacker Deone Bucannon, who played strong safety at Washington State. Cravens said he has been studying film of Bucannon.
"Just the way he plays physical," Cravens said.
Cravens said his experience playing more than one position at USC helped him prepare for the challenge of the draft process. During Trojans practices, he honed backpedaling technique in one drill, covered slot receivers in another and also took on tight ends.
He said he would perform linebacker and defensive back drills during his Pro Day workout next month, along with finally running the 40.
But he reiterated that his resume is on video from his three seasons at USC.
"I put everything that I could possibly put onto my tape, and people that know how to look at film and break down film, I think they see that," he said, adding, "I don't think I'm doing anything that's going to really change what their mind's already made up about me."
Twitter: @latimesklein
Get our high school sports newsletter
Prep Rally is devoted to the SoCal high school sports experience, bringing you scores, stories and a behind-the-scenes look at what makes prep sports so popular.
You may occasionally receive promotional content from the Los Angeles Times.