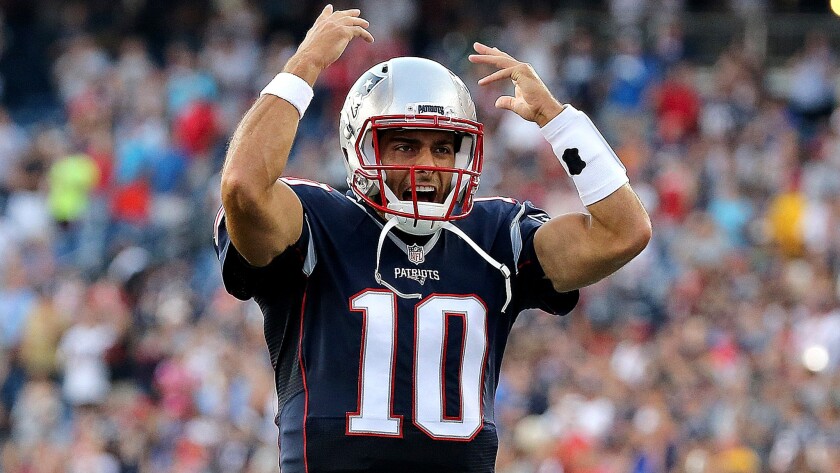 Jimmy Garoppolo made his preseason debut, spreading the ball around for 168 yards, and Jamie Collins added a 43-yard interception return for a touchdown as the New England Patriots beat the New Orleans Saints, 34-22, on Thursday night.
Garoppolo played the entire first half as he preps to start the first four games of the regular season in place of Tom Brady, who will be serving a suspension for his involvement in the "Deflategate" case. Brady was not in the building Thursday, excused by the team to attend memorial services for a family member.
Saints running back Mark Ingram had an early fumble, but also had two 1-yard touchdown runs in an extended night that saw him play most of the first half. Second-year quarterback Garrett Grayson threw an early interception, but completed a few long passes to finish 10 for 16 for 133 yards.
Defensive end Kasim Edebali had two first-quarter sacks.
After a slow start, Garoppolo completed several long passes and finished 11 of 18. He converted a fourth-down run.
Trey Flowers added a 17-yard return of a fumble recovery for a touchdown in the fourth quarter, scooping up the loose ball created by his sack of Luke McCown.
Other games
Mark Sanchez made a strong opening argument for Denver's starting quarterback job, throwing for 99 yards and a touchdown in the first quarter in the defending Super Bowl champion Broncos' 22-0 victory over Chicago. The former New York Jets quarterback completed 10 of 13 passes in the first quarter and led a game-opening 76-yard touchdown drive. ... Cam Newton directed a 68-yard drive in his only series, then stepped aside in Carolina's 22-19 loss loss to Baltimore. Graham Gano kicked four field goals for the Panthers. ...
Blake Bortles led Jacksonville on two scoring drives, the second capped by Chris Ivory's one-yard run against his former team, in a 17-13 loss to the Jets. ... Matt Schaub made a successful return to his first NFL home, passing for 179 yards and leading three scoring drives in Atlanta's 23-17 victory over Washington. Falcons starter Matt Ryan was 0 for 4 and could not manage a first down on two possessions. ...
Philadelphia needed 1:37 to score its only touchdowns in beating sloppy Tampa Bay, 17-9. Ryan Mathews and Chase Daniel had short runs after fumbles. No. 2 overall draft pick Carson Wentz played just more than a half at quarterback for the Eagles, completing 12 of 24 passes for 89 yards. He also went flying acrobatically on a fourth-quarter run after a tackle by rookie cornerback Javien Elliott.
Etc.
Buffalo Bills safety Aaron Williams and wide receiver Dez Lewis were injured Thursday night following a hard collision at practice. Williams is being treated for a "suspected concussion," the team said after practice. There was no update on Lewis.
---