Four weeks into NFL season, top four rookie quarterbacks starting to make progress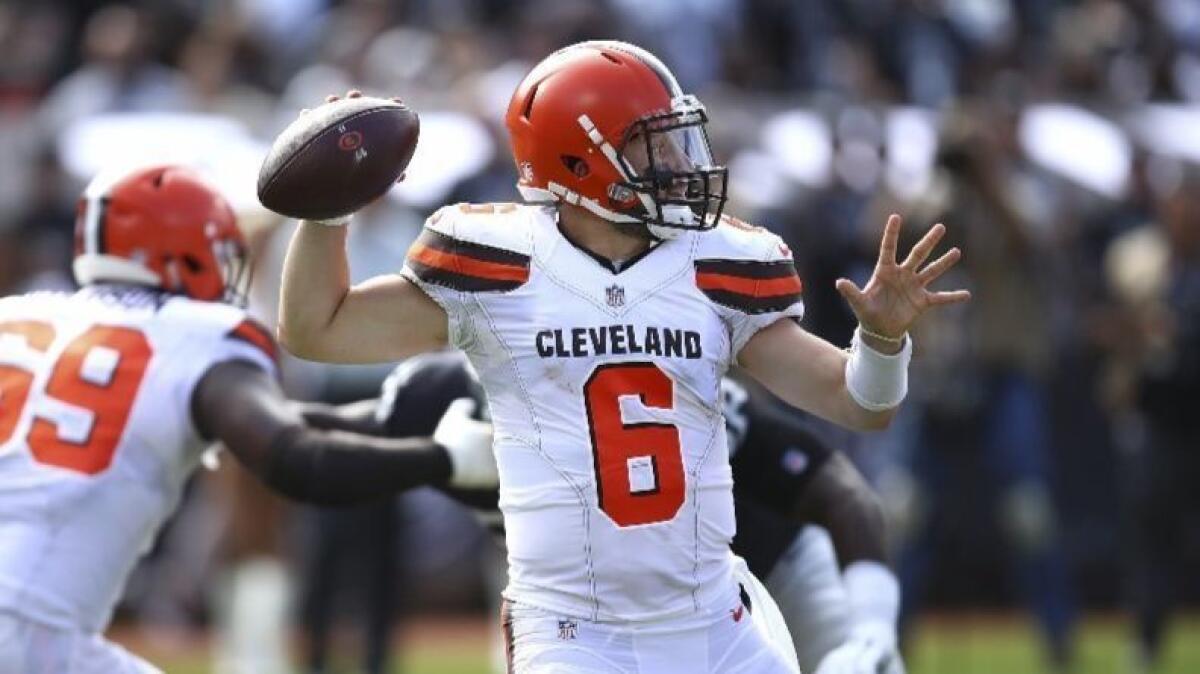 With four weeks in the books, the quarter pole of the NFL season, this is an opportune time to examine the four rookie quarterbacks who are starting.
Each was selected in the top 10 last spring — No. 1 Baker Mayfield (Cleveland), No. 3 Sam Darnold (New York Jets), No. 7 Josh Allen (Buffalo), and No. 10 Josh Rosen (Arizona) — and three have an NFL victory.
A look at how they're doing so far:
Mayfield
Cleveland is filled to the brim with Baker Backers, and it's easy to understand why. The No. 1 pick was tremendous in the Week 3 comeback victory over the Jets, breathing new life into a franchise that had gone 1-33 in the past two-plus seasons.
That buzz wore off a bit with last Sunday's 45-42 overtime loss at Oakland when Mayfield had four turnovers — two interceptions, two fumbles — although they weren't entirely his fault.
On the first pick, rookie receiver Antonio Callaway slipped and the ball glanced off his hands. There was also a fumbled snap from center JC Tretter. That's not surprising, as Mayfield did not work with the first-team offense in training camp.
The Browns' offense has issues. The offensive line is fairly solid, but Mayfield has a rookie left tackle in Desmond Harrison, who was away from football for three years before playing one season last fall at Division II West Georgia. Imagine, that's the player replacing future Hall of Famer Joe Thomas. Harrison has done a respectable job so far.
Receiver Josh Gordon is gone, and even though the Browns have Jarvis Landry, most of the other pass catchers are raw.
Mayfield is a rookie too, of course. But he played 46 games in college, so he has uncommon experience and poise for a first-year player. He's backed up by a good running game — one that will be even better as the Browns lean more on rookie Nick Chubb — and a playmaking defense.
In the next quarter of the season, the Browns have home games against Baltimore and the Chargers, followed by road games at Tampa Bay and Pittsburgh. In Sunday's game against the Ravens, Harrison has the daunting task of blocking Terrell Suggs, who has 128 career sacks.
Mayfield has a chance to lead Cleveland to its first AFC North win since 2015, when the Browns won one of six, 33-30, over Baltimore in overtime.
Darnold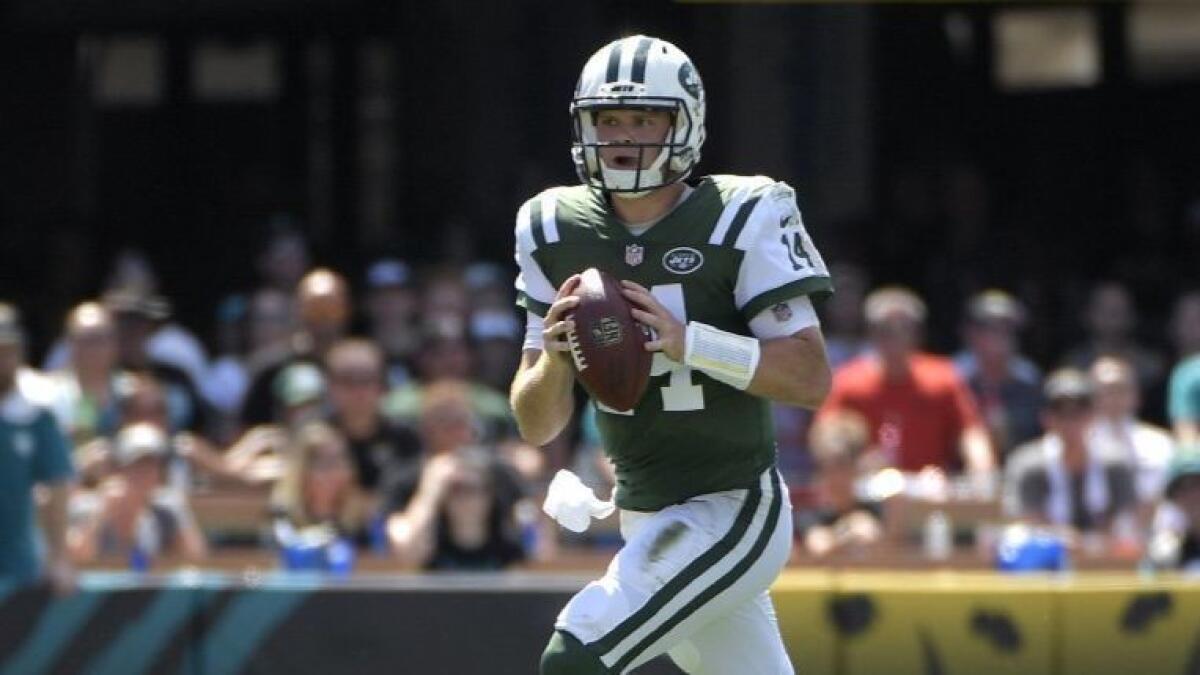 Darnold was the only one of these rookies to start in Week 1 and he was tremendous, overcoming a pick-six on his first pass to lead the Jets to a 48-17 rout at Detroit. Not surprisingly, New York overreacted. He was the next Joe Namath.
Since, the former USC standout has taken a step or two backward as the Jets have lost three in a row. He showed promise in a Week 2 game against Miami, becoming the youngest quarterback to throw for 300 yards, then regressed against Cleveland and a strong Jacksonville defense. For the Jets, the season started with a flurry — three games in 11 days.
In the last three weeks, he has been the NFL's lowest-rated passer (63.8). It hasn't been as bad as those numbers suggest. Last week was his first without an interception, although the Jaguars dropped two would-be picks and had a third wiped out by penalty. Like most rookie quarterbacks, Darnold tends to lock in on receivers.
He doesn't have the greatest supporting cast, although the Jets have been healthy and he's starting to get more aggressive with multiple down-the-field throws against the Jaguars. The Jets like what they see in him, even though the results are less than ideal.
When it comes to work ethic, Darnold is as advertised. He's not a diva and has a blue-collar quality that teammates and coaches appreciate. He and veteran Josh McCown are virtually inseparable and, for instance, went directly from the stadium to the Jets' facility after the Miami loss so they could study video for the Thursday night game in Cleveland.
Next up, the Jets have three consecutive home games, starting with Denver on Sunday. After that, Indianapolis and Minnesota. As he continues to get comfortable with the playbook and step-up in speed, Darnold appears poised to take another step forward.
Allen
The Bills weren't thinking Allen would play this early, but Nathan Peterman played so poorly in the opener, a 47-3 loss at Baltimore, that they had to try the rookie.
This could be a long year for Allen. The Bills are on pace to give up 84 sacks, which would be second in league history to the 1986 Philadelphia Eagles, who surrendered a jaw-dropping 104 with Randall Cunningham at quarterback. Only six NFL teams have yielded more than 70 sacks in a season.
The Bills need to be careful this doesn't become a David Carr situation, with a promising young quarterback absorbing so many hits early in his career that he's never the same.
Buffalo's lone victory so far was confounding: a 27-6 upset at Minnesota. The 6-foot-5, 237-pound Allen had a Superman-style dive for the pylon in that game, showing off his impressive wheels. He completed just 56% of his passes at Wyoming, and isn't the most accurate passer, but he can run. He hurdled linebacker Anthony Barr in that game, and stiff-armed him another time, and currently leads the team in rushing with 116 yards.
Another impressive aspect of Allen is he's accountable. He hasn't shied from accepting the blame for Buffalo's offensive shortcomings, and he doesn't seem rattled by that pressure.
On the downside, he looks confused at times and tends to hold on to the ball too long. He was sacked seven times in Sunday's loss at Green Bay, and the Packers came into that game with just six sacks.
Coming up for the Bills is a healthy dose of the AFC South, with consecutive games against Tennessee, then at Houston and Indianapolis. That's a relatively soft part of the schedule before Buffalo plays host to New England at the end of the month in a rare Monday night game at New Era Field. The Bills are retiring Thurman Thomas' jersey that night, and Allen will be across the field from a boyhood idol, Tom Brady, so the rookie could be as tight as piano wire.
Josh Rosen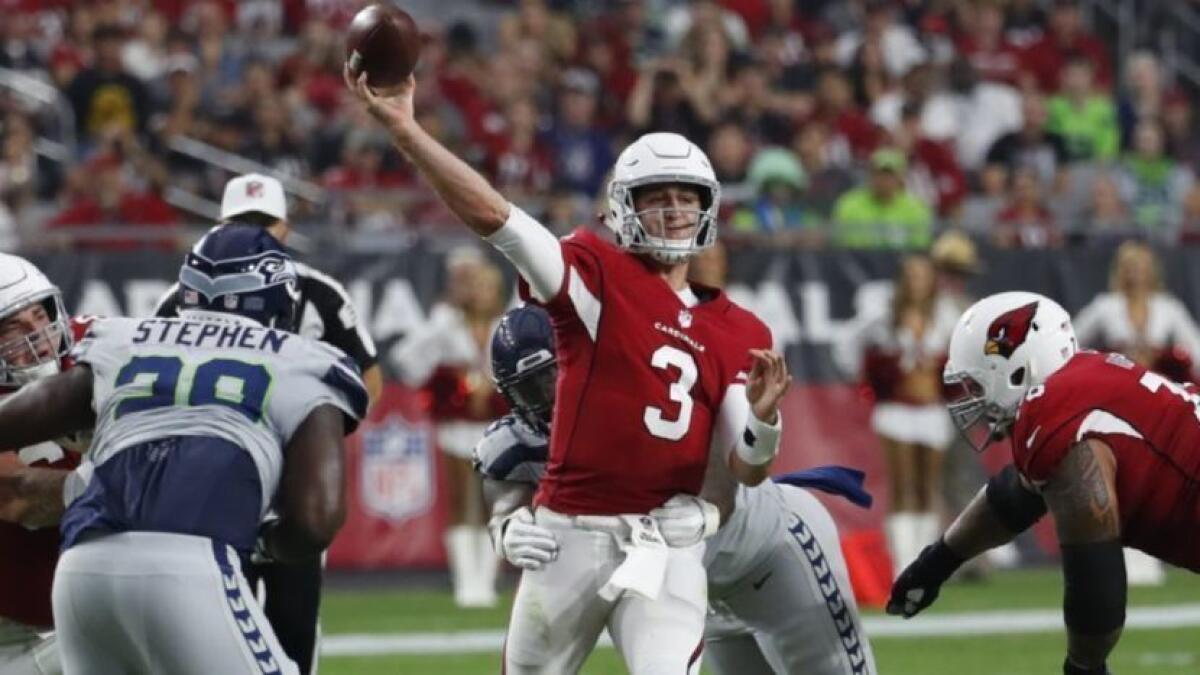 At 0-4, Arizona is the league's only winless team, and it doesn't look as if there's a stunning turnaround in the offing.
The good news for the Cardinals is their No. 10 overall pick looks promising. Rosen entered for the ineffective Sam Bradford late in the fourth quarter against Chicago two weeks ago and was unable to make the most of his opportunity in a 16-14 loss.
Against Seattle on Sunday, the former UCLA standout became Arizona's youngest starting quarterback (21 years, 232 days) and turned in a respectable performance in a 20-17 defeat. Although his numbers were ho-hum — 15 of 27 for 180 yards and a touchdown — Rosen threw some passes that require both arm strength and touch, including two pinpoint-accurate ones to tight end Ricky Seals-Jones.
Cardinals receivers had four drops, at least two of which could have been touchdowns. A couple of Rosen's best plays came when he threw the ball away instead of taking a sack, something that distinguishes him from Bradford.
Cameras caught Rosen looking relaxed and smiling during the game, an indication this isn't too much for him, and the rookie was the first to console Phil Dawson after a critical missed field goal. Dawson is twice his age.
The Cardinals play the 49ers twice in the next four games, in Santa Clara on Sunday and in Arizona on Oct. 28. Each of those games are potentially winnable for the Cardinals, as both clubs have significant issues.
Follow Sam Farmer on Twitter @LATimesfarmer
Get our high school sports newsletter
Prep Rally is devoted to the SoCal high school sports experience, bringing you scores, stories and a behind-the-scenes look at what makes prep sports so popular.
You may occasionally receive promotional content from the Los Angeles Times.