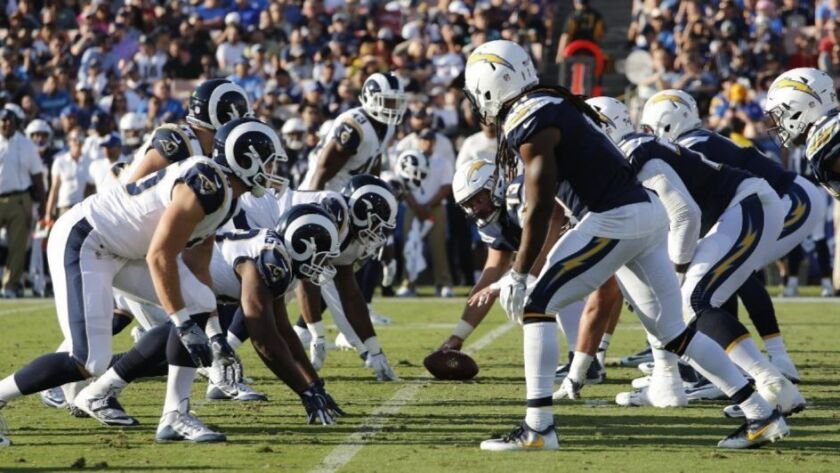 In a couple of years, they'll share a stadium.
For now, they'll share the stage.
The Rams and Chargers will play each other at the Coliseum on Sunday, meeting for the first time since their relocation to Los Angeles in a game that actually means something. Both are talented teams widely favored to win their respective divisions, and potentially make deep postseason runs.
So which team has the better roster?
For that, the Los Angeles Times turned to two personnel executives who work for uninvolved NFL teams to weigh in anonymously, position group by position group, on which players they would prefer. Each is a seasoned evaluator and, in the interest of clarity, we refer to them as Scouts 1 and 2.
On to the breakdown:
Quarterback
Both evaluators give the Chargers' Philip Rivers the nod here, based on his years of experience. That's not to suggest they don't like Jared Goff, because they do, but the Rams' quarterback has turned in one impressive season whereas the 36-year-old Rivers has been consistently good for more than a decade.
As Scout 1 said: "If you're building a team and you're a young team like the Rams, you obviously want Goff. But if you take the play caller out of it, take [Rams coach] Sean McVay out of it, and Goff has to call the game on the field by himself? I'm taking Philip Rivers. If the communication headset goes down, and you're in a two-minute offense and everything's going really fast, I'm taking Philip Rivers. But that's not a knock on Goff. He might be that guy in a couple years."
Scout 2: "Goff is going to be good. I don't know if he'll ever be as good as Rivers. Goff is in the perfect scheme with the perfect coach."
Advantage: Chargers
Running back
No question here: It's the Rams' Todd Gurley over Melvin Gordon. That's not surprising, considering Gurley is the defending NFL offensive player of the year, and the darling of every fantasy league.
"To me this one's not close," Scout 1 said. "I would take Gurley every day. I think Gordon's good, but I think Gurley is special. From his explosiveness to his vision, he runs with power, he can catch the ball. He's got breakaway speed in the open field. He's the perfect back. He's in the top three or four in the league."
Advantage: Rams
Receivers
The Rams were the pick in this category, although each scout lavished praise on the receivers of both teams.
Scout 1 sees the Chargers' Keenan Allen as a cut above the rest, an elite receiver, with Mike Williams as a rising star, but still feels the Rams' combination of Robert Woods, Brandin Cooks and Cooper Kupp is more effective.
Scout 2 agrees: "They have one of everything. They have the deep vertical guy in Cooks, a good run-after-catch guy in Woods, and Kupp is a really quick possession guy in the slot."
Neither scout is wowed by the tight ends: Virgil Green of the Chargers and Tyler Higbee of the Rams. Good but not great.
Advantage: Rams
Offensive line
Once again, the evaluators are on opposite sides of the fence, with Scout 1 giving the edge to the Rams and Scout 2 taking the Chargers. The scouts made positive mention of both Chargers tackles, Russell Okung and Joe Barksdale. Both lines got respectable but not phenomenal grades.
Scout 1 praised Rams left tackle Andrew Whitworth: "He's the ultimate pro, a leader who has toughness. He's the epitome of what an offensive lineman should be."
Scout 2, who sees improvement in the Chargers line, said he's waiting to see more from the Rams: "They have played some bad teams that haven't gotten near Goff."
Advantage: Split decision
Defensive line
Both are on the same page: Combine the Chargers edge rushers of Joey Bosa and Melvin Ingram with the Rams interior linemen of Aaron Donald and Ndamukong Suh, and you'd have the new-age Fearsome Foursome and then some.
There's no debate between the evaluators that Donald, the 2017 defensive player of the year, is the brightest star of the group.
"He's in the top three defensive players right now, with maybe [Denver's] Von Miller and [Chicago's] Khalil Mack," Scout 2 said of Donald. "You just can't block him one-on-one."
Said Scout 1 of Donald: "It's his leverage, his power, his quickness, his hand use. He can get skinny in the hole, he can play the power game. His whole pass-rush repertoire is unbelievable. If he continues at this level, he's a Hall of Famer."
When healthy, Bosa is a dominant force too.
"He's strong, physical, gets upfield as a rusher. Bosa is a difference-maker," Scout 1 said. "Ingram is quick off the ball, he can bend, good hand use, closing speed."
Advantage: Rams interior linemen, Chargers edge rushers
Linebackers
This isn't an apples-to-apples comparison, because when Wade Phillips was changing the Rams from a 4-3 scheme to a 3-4, the Chargers were transitioning the other way, from a 3-4 to a 4-3, under Gus Bradley. So the assignments are different.
"The one thing I've noticed about the Chargers is they've gotten a lot faster at the position," Scout 1 said. "That's something that Gus Bradley has really pushed. He loves speed at linebacker."
Seeing as Bosa (currently injured) and Ingram line up as defensive ends for the Chargers, Scout 2 favored the Rams linebacking group that includes Mark Barron, Cory Littleton, Samson Ebukam, Dominique Easley and Matt Longacre by the slightest of margins.
Scout 1 likes the Chargers' group that includes Denzel Perryman, Kyle Emanuel, Jatavis Brown and rookie Uchenna Nwosu.
Advantage: Split decision
Cornerbacks
This one was easy. The evaluators took the Rams' combination of Aqib Talib and Marcus Peters over the Chargers' Casey Hayward and Trevor Williams.
Scout 1: "I really like the playmaking ability of Marcus Peters, his ability to jump routes, his aggressiveness, lot of swagger and emotion on the field. He sees it quickly and is a big-time gambler but he knows when to take his shots. He and Aqib are very aggressive and similar, even though Peters is a lot younger."
Advantage: Rams
Safeties
The scouts praised the Rams' combination of John Johnson and Lamarcus Joyner, but give the edge to the Chargers in this department with Jahleel Addae, Rayshawn Jenkins and, in particular, rookie first-round pick Derwin James.
Advantage: Chargers
Special teams
Even with injuries to Rams kicker Greg Zuerlein and returner Pharoh Cooper, the scouts give the Rams the upper hand, largely because of the outstanding punting of Johnny Hekker and coaching of John Fassel.
Advantage: Rams
Follow Sam Farmer on Twitter @LATimesfarmer
---