Column: Players from 'Greatest Show on Turf' era keeping track of these unbeaten Rams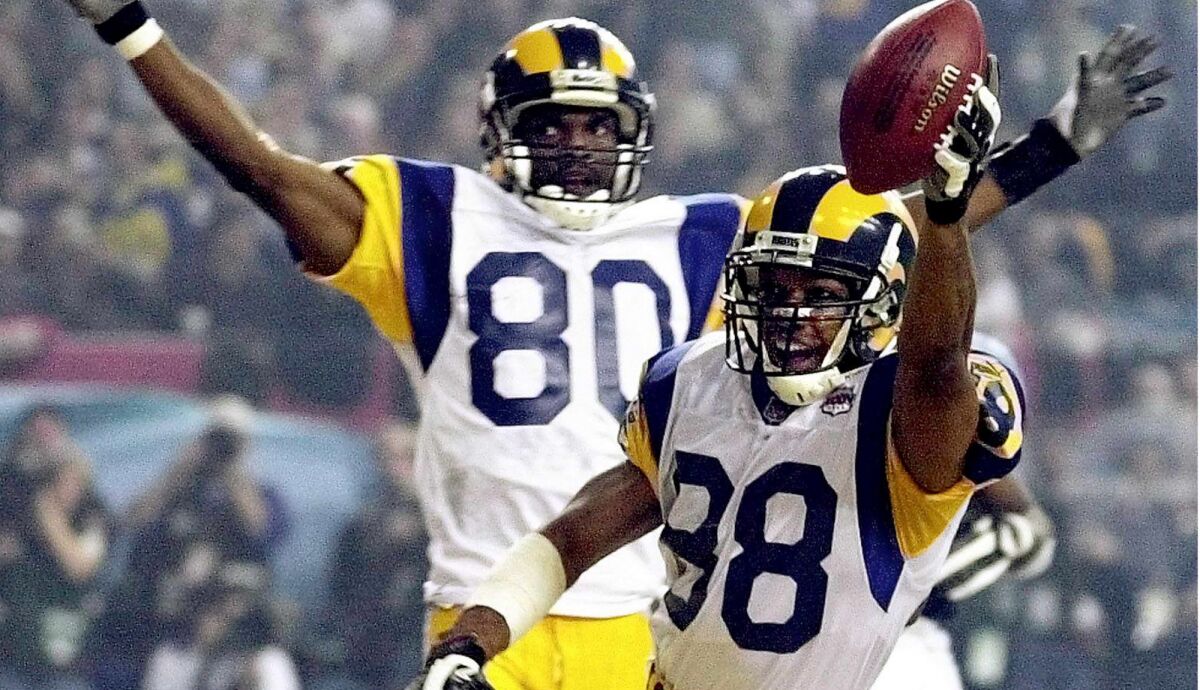 They tune in from all time zones and every corner of the country. They watch with their eyes, root with their voices, pull with their hearts.
They are the "Greatest Show on Turf" Rams, who won the franchise's only Lombardi Trophy as members of the St. Louis Rams in 1999, and they are paying keen attention to every snap of this season's 7-0 team.
"I'm a huge fan of those guys and what they're doing, so I'm glued in every week," Hall of Fame tackle Orlando Pace said Thursday from his home in St. Louis.
"Oh, yeah, I watch them every week," said Torry Holt, a star receiver on that Super Bowl team, from his home in Raleigh, N.C. "Everyone is gearing up to match their intensity, to match their playbook, to dethrone the Rams. They're kind of like the litmus test."
Dick Vermeil, who coached that high-flying team and splits his time between Philadelphia and Napa, marvels at the job 32-year-old Rams coach Sean McVay is doing.
"I think back to when I was 32 and say, 'Oh my gosh, he's a hundred miles ahead of me,'" Vermeil said. "I wonder what he's going to be like when he's 52."
There are similarities between the teams — McVay drawing up innovative offensive schemes the way mad-scientist offensive coordinator Mike Martz did back in the day — but there are plenty of differences too.
"We were very much spread out, much more wide open, and very much pass to set up the run, whereas these Rams are kind of the opposite," Hall of Fame quarterback Kurt Warner said. "They're much more run-oriented, play-action oriented than we ever were, because we didn't run the football nearly as well as they do."
That's not to say those Rams couldn't have. They had a third Hall of Famer, Marshall Faulk, in the backfield, and he was a premier runner and receiver. But Todd Gurley is the engine that makes these Rams go, setting up the passing game for Jared Goff and his exceptional trio of receivers: Robert Woods, Brandin Cooks and Cooper Kupp (recovering from a knee injury).
"The biggest thing with this group — and it's a lot like we were — is no one feels slighted or complains about someone else getting the attention," said Holt, who shared the stage with fellow receivers Isaac Bruce, Az-Zahir Hakim, Ricky Proehl and Faulk coming out of the backfield.
"We all had egos. But we were mature enough, smart enough, thoughtful enough to be excited for one another. But we also had that competitive spirit to go out and do our jobs at a high level."
Holt is coming across the country to attend the game against Green Bay on Sunday at the Coliseum. There, he'll likely reconnect with former Rams defensive tackle D'Marco Farr, now on-field radio analyst for 710 ESPN, the team's flagship station.
Of the "Greatest Show on Turf" Rams, Farr has the most up-close view, although Warner studies them closely, too, as an NFL Network analyst.
"This is what I loved about us in 1999 and them now: Their best players are the most humble guys," Farr said. "That's where I think teams go wrong, where their best players become divas. It's all about them. It's different here.
"It's hard to get Aaron Donald to talk about Aaron Donald. And Todd Gurley gives credit where he should give it, to the offensive line first. Even if it's just lip service, that stuff matters."
Those St. Louis Rams burst onto the scene by following a 4-12 season with a 13-3 one, ending with a playoff run and Super Bowl victory over the Tennessee Titans (and future Rams coach Jeff Fisher). The reborn Los Angeles Rams went 4-12 in their debut season — mostly under Fisher — then 11-5 in McVay's first season. The Rams are currently the NFL's only undefeated team.
"Back then, we didn't want to go back to the dark ages," Farr said. "We didn't want to go back to 4-12. I can see that and feel that with this team. It was the same with us. There was a fear of going backwards which was driving you forward."
There is so much unpredictability in the NFL that it's folly to try to forecast what might happen, especially with more than half the season remaining and the specter of injuries always lurking.
Still, these Rams have emerged as a Super Bowl favorite, something that would have been inconceivable a couple of years ago.
"They have to be," Warner said. "You like what Kansas City is doing offensively, but the Chiefs' defense is a liability. Even though the Rams' defense hasn't necessarily played shutout football, I just see more guys that can beat you on their defense than a Chiefs defense or Patriots defense.
"They just have those two difference-makers up front [defensive tackles Ndamukong Suh and Donald], and you get those two corners back [Aqib Talib and Marcus Peters], and they force you to play a different way. … I don't know if any team's got a scarier defense."
The way Vermeil sees it, the biggest pitfall for exceptional teams is overconfidence.
"You can't become comfortable," he said. "It's great to expect to win. I can remember when we beat the San Francisco 49ers in Week 4 [of the 1999 season]. It was our fourth win in a row, and the first time the Rams had beaten them in 18 tries. I can remember saying on Monday that there's only one team in the National Football League that can beat us, and fortunately, they're all sitting in this room.
"I kept the pressure on them. We coached them like they lost on Sunday."
Ah, losing. Much as he pulls for his old team to win, Pace doesn't think a loss or two would be the worst thing for the rolling Rams.
"Losing really sharpens you up," he said. "It really allows you to refocus on the details. Sometimes those get lost when you're winning a lot of games by double-digit margins. I don't want to put a loss on their record, but those are always good … as long as you get home-field advantage in the playoffs."
These Rams might be setting the standard for today's NFL, but their forefathers are always there to remind them of it.
Follow Sam Farmer on Twitter @LATimesfarmer
---
Get our high school sports newsletter
Prep Rally is devoted to the SoCal high school sports experience, bringing you scores, stories and a behind-the-scenes look at what makes prep sports so popular.
You may occasionally receive promotional content from the Los Angeles Times.