Loss of Rams is a hard hit for fans in St. Louis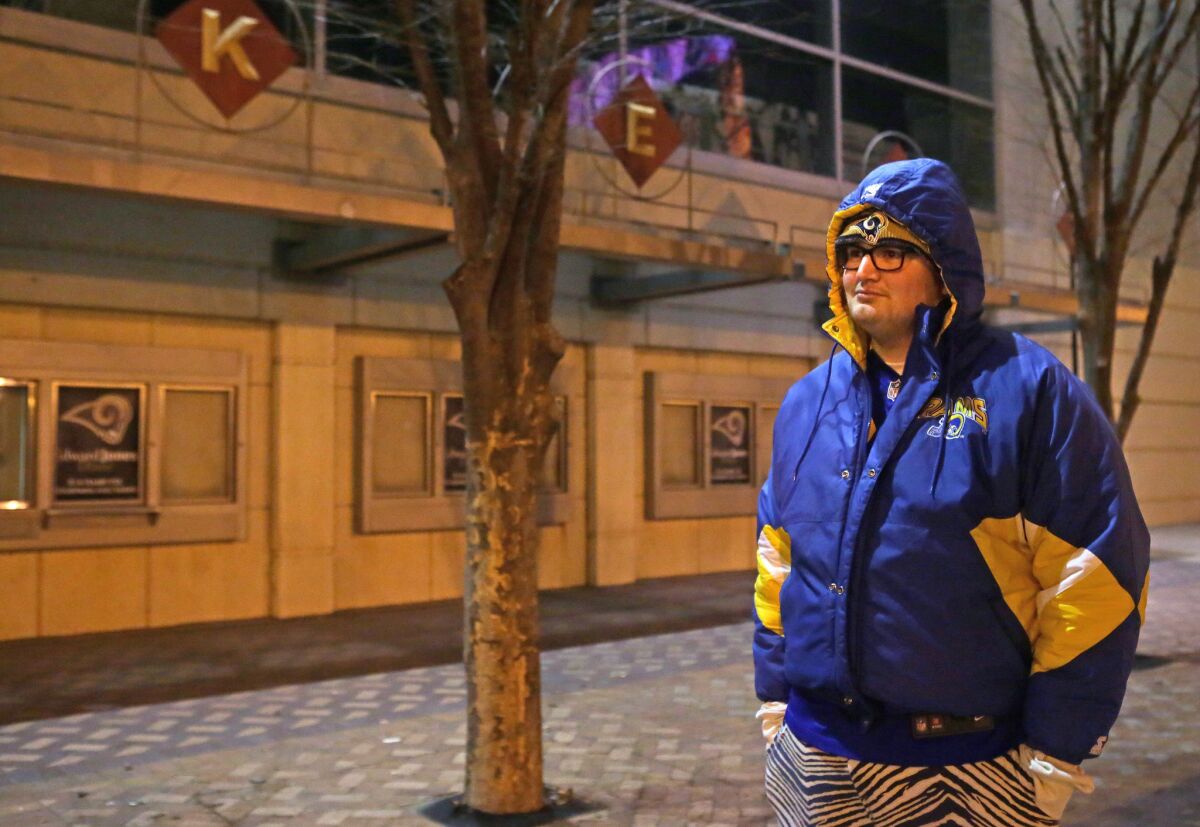 REPORTING FROM ST. LOUIS —
Now that the Rams are headed back to Los Angeles, St. Louis has lost two NFL teams in less than three decades.
This isn't why the city was nicknamed the "Gateway to the West," but it fits.
The Rams made St. Louis their home since 1995 before Tuesday's vote allowed the club to return to L.A. for the 2016 season. In 1988, the Cardinals headed west to Arizona after making St. Louis their home from 1960 to 1987.
See the most-popular stories in Sports this hour>>
"I think it's horrible. St. Louis is a phenomenal sports town. Mr. Kroenke good riddance," said Dan Gett, 36, of Rams owner Stan Kroenke, "and St. Louis will get another football team that is better than the Rams anyway."
The Rams have not been good for quite a while. They haven't made the playoffs in a dozen seasons that included a five-year stretch of averaging three victories per season. In fact, they've had only four winning seasons out of the 21 in St. Louis. Compare that to the St. Louis Cardinals, who have won the World Series twice in the last 10 years.
"The Blues and the Cardinals reflect that if you put a team out there and the ownership group is a participant and active in the community the fans support it," Mike Prost said from a downtown sports bar.
St. Louis did support the team when it arrived, and were rewarded with the franchise's only Super Bowl victory, in 2000. Two years later, a Rams ticket was difficult to come by when they advanced to the Super Bowl again, only to lose to New England on a late field goal.
To many, that loss felt a lot like losing the team.
"It's just horrible. It's like getting punched in the stomach really hard," said Jack Stapleton, 59. "You know you hear rumblings that the fix is in and you just don't want to believe it."
At the conclusion of the NFL owners' vote to approve the move, St. Louis Mayor Francis Slay issued this statement:
"The NFL ignored the facts, the loyalty of St. Louis fans, who supported the team through far more downs than ups, and the NFL ignored a strong market and viable plan for a new stadium. I am proud of our effort and what St. Louis was able to accomplish in an extraordinarily short period of time. I thank everyone who worked so diligently on this project, especially the Governor's Task Force.
"In the meantime, we need to increase our focus on the region's hospitality industry — conventions, tourism and amateur sports. These events and the hotels and restaurants that support them put thousands of City and County residents to work in good jobs. St. Louis is great place to live and build a business — with or without NFL football."
The mayor ignored some facts as well. The Rams were last in attendance among the 32 NFL teams this season, averaging 52,402 spectators per game in a stadium that can hold more than 66,000. Observers say many of those seats were filled by fans of the opposing teams.
In fact, St. Louis also has been near the bottom in attendance the previous seven seasons — 30th in 2014, 31st in 2013, 30th in 2012, 31st in 2011, 30th in 2010, 29th in 2009 and 30th in 2008.
Six of those seven seasons, Oakland was one of the teams ranked below St. Louis in attendance, the Raiders being another club given permission to seek a new home by the NFL because of stadium issues.
"There is more to it than the fans and the stadium," said Prost. "There is a lot of other monetary issues in Mr. Kroenke's eyes. I would like to see an ownership group who wants to come here."
There are monetary issues in the city's eyes too.
"It's horrible for the city; it's horrible for us," said Joe Sanfilippo, owner of J.F. Sanfilippo's Restaurant. "We had 10 days a year that we were traditionally closed, but we were opened for the Rams and we became big Rams fans and supporters.
"The income lost from the big Sunday games will be a big loss. It's shocking to know that it's final and it's painful."
Get our high school sports newsletter
Prep Rally is devoted to the SoCal high school sports experience, bringing you scores, stories and a behind-the-scenes look at what makes prep sports so popular.
You may occasionally receive promotional content from the Los Angeles Times.