A strong performance at USC's pro day is the capper for JuJu Smith-Schuster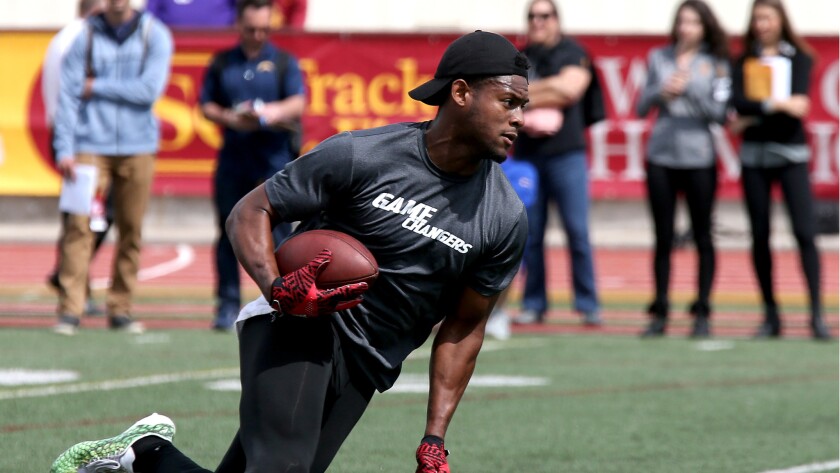 JuJu Smith-Schuster, the youngest participant at last month's NFL scouting combine, is determined to show teams he has his head on straight. Even if his hat is on backward.
The 20-year-old receiver was so at ease during USC's pro day Wednesday that he never removed his baseball cap. Not during drills. Not while running pass patterns and gracefully making catch after catch.
It's rare for a prospect to wear a baseball cap during a workout that could be worth millions of dollars one way or the other. Then again, Mississippi receiver Laquon Treadwell wore one during last year's combine and was selected 23rd overall by the Minnesota Vikings.
"I don't care what a guy wears," a team scout said Wednesday. "I just want to know if he can play."
Stitched in small print on Smith-Schuster's black cap was "In God We Trust," which he explained was an expression of his spirituality. It also happens to be the phrase printed on currency, and he stands to make a lot of that in a few months, as do several of his former Trojans teammates.
Those players attracted a noteworthy crowd to Cromwell Field in the middle of campus, with representatives from all 32 teams, including NFL assistant coaches John Fassel (Rams), Mike Tice (Oakland Raiders), Carnell Lake (Pittsburgh Steelers), Al Saunders (Cleveland Browns), and Seattle Seahawks Coach Pete Carroll, who returned to his old stamping grounds after speaking to a USC business school class about high performance a day earlier.
Smith-Schuster was among the marquee attractions, along with cornerback/returner Adoree' Jackson, running back Justin Davis, tackles Zach Banner and Chad Wheeler, and guard Damien Mama.
Jackson, known for his turf-melting speed, didn't feel the need to run a 40-yard dash, even though his 4.42-second effort at the combine was fine but not jaw-dropping.
"When you turn on the tape, you see Alabama, Notre Dame, a lot of games with me chasing guys down," he said. "My 100 time is 10.32. You can look at that. In my opinion a 40 isn't a description of how fast a guy is. … I'm a strider. That first 40 isn't enough for me, but once I open up. … Like Usain Bolt, once he opens up, it's ugly."
Jackson, Smith-Schuster and Davis were the three players to break seven seconds in the three-cone drill, which is cat-quick, and some scouts had receiver Isaac Whitney breaking 4.4 seconds in the 40.
Guard Jordan Simmons, who until last season struggled with knee problems, ran the 40 in 5.17, which is rumbling for a 339-pound man.
Banner, at 6 feet 8 and 353 pounds, said he had lost between 30-40 pounds in the past two months. He opted not to run a 40 at pro day.
"I don't feel dishonored that I ran a 5.58 at the combine, because I'm four inches taller than everybody else and about 50 pounds heavier," he said. "You have to do the logistics, and if you really want to break it down, they looked at my 10-yard split, and that was just as fast as most of the linemen anyway."
While some scouts have projected him as a right tackle, typically where the bigger and less-agile linemen reside, Banner believes he's also capable of playing left tackle in the pros and protecting a quarterback's blind side.
"I would be comfortable with either side," he said. "I played at right my whole time here, so I understand that's why they said that. … You have to cover edge rushers, and they're five inches shorter and 100 pounds lighter, so you have to be able to move your feet laterally and vertically, and you have to be able to stay in front of them, so I'm excited for that."
Some evaluators point to Wheeler, a left tackle, as the most promising prospect in this crop of USC offensive linemen. He measured in at a shade under 6-7 and 296 pounds. He improved on his numbers Wednesday, running the 40 in 5.25 seconds after a 5.48 at the combine.
Follow Sam Farmer on Twitter @LATimesfarmer
---
Get the latest on L.A.'s teams in the daily Sports Report newsletter.
You may occasionally receive promotional content from the Los Angeles Times.