NFL scouts share notes on USC and UCLA draft prospects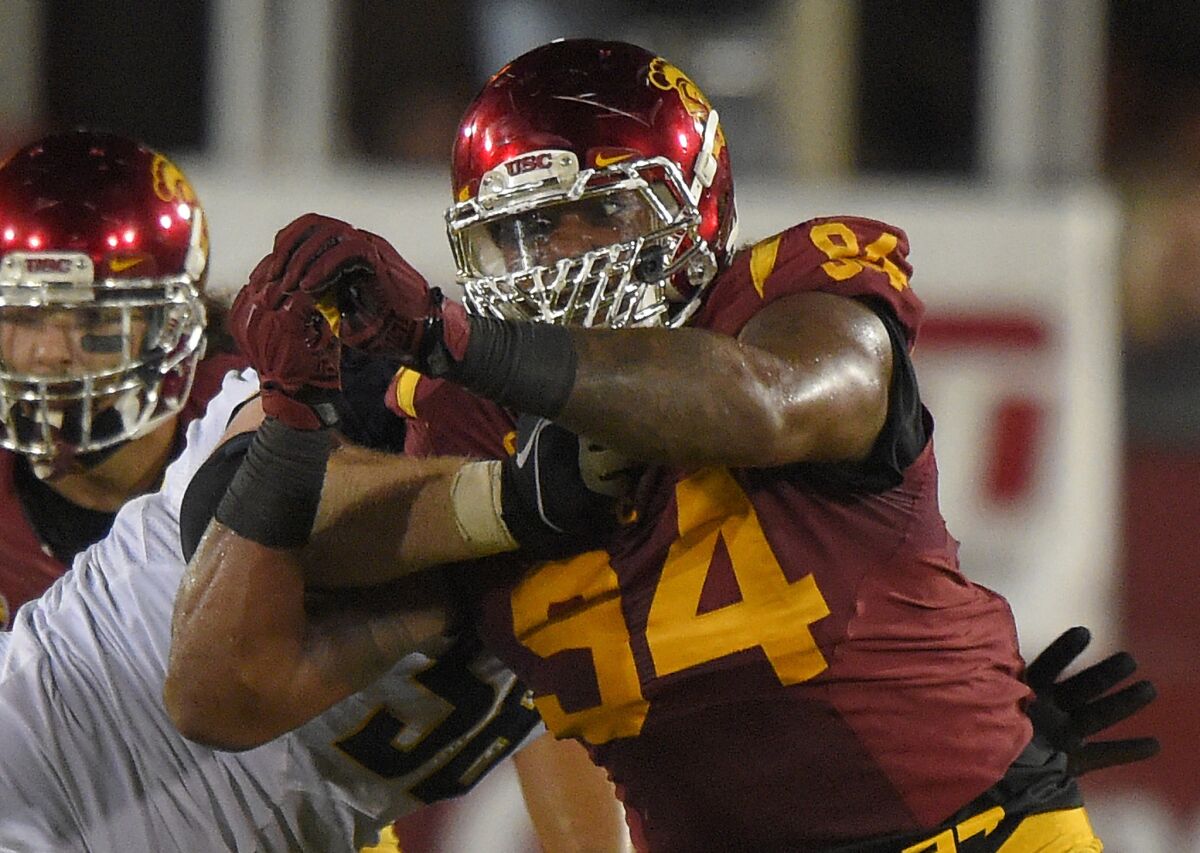 NFL scouts study and scribble, dissect and debate. The objective is as simple as the job is complex: to find Saturday players who could best get the job done on Sundays.
Those evaluators will be sprinkled throughout the Rose Bowl press box Saturday when UCLA plays host to USC. They will peer through binoculars and try to see into the future. Their task is part football, part crystal ball.
As we have each year since 2005, the Los Angeles Times asked scouts from three NFL teams to open their confidential notebooks and reveal their opinions about the Bruins and Trojans who might be playing Sundays next fall.
This exercise in fantasy football has ground rules. First, the scouts are anonymous because they're disclosing internal information. They focused on draft-eligible players, so there are underclassmen such as USC safety Su'a Cravens and UCLA linebacker Myles Jack who won't be under the microscope here. Their time will come.
This is not necessarily a projection of when these players will be drafted — although the scouts offered a round range on some of them — because different teams place a higher value on certain positions.
UCLA had five players selected in the last draft, two more than USC. That was the first time since 2002 that the Bruins had the upper hand in that department. There have been 88 Trojans drafted since 2000, 38 of them in the first two rounds. The Bruins have had 33 players selected during that span, 11 in the first two rounds.
This season, neither school is overflowing with prospects, though each probably will have a player picked in the first round. The list:
• LEONARD WILLIAMS, USC defensive lineman — A 6-foot-5, 300-pound junior, Williams is a probable top-10 pick. Despite off-season shoulder surgery, he has been a force this fall, with 8 1/2 tackles for losses, six sacks, three forced fumbles and an interception.
Scout 1: Before I went in there, I thought this guy had a lot of hype. When I saw him, I thought he is the real deal. He's got a great body, quick off the ball. He did have that shoulder surgery, so he's a little bit behind strength-wise, but he still has plenty of strength. He's got tremendous upside, and he's definitely a consideration for that top pick… In the Arizona game, he just absolutely abused that tackle. If you want to watch one game to see Leonard Williams, put on the Arizona game.
Scout 2: If he finishes the year with a flourish of sacks and a lot of big plays down the stretch, there's no reason he won't be a very high pick.
Scout 3: He doesn't have any pass-rush moves; he just plays on pure ability. So you can see all the upside.
• BRETT HUNDLEY, UCLA quarterback — In less than three seasons with Hundley at quarterback, the Bruins have won 27 games. They had a combined 27 wins in the previous five seasons. Scouts love Hundley's size, athleticism and elusiveness, but they also think he'd benefit from staying in school another year, though no one expects that to happen.
Scout 1: He's got a really nice skill set. He's a big kid and athletic with a good arm, not a great arm. We need to see better accuracy from him, especially throwing from the pocket. He tends to hold on to the ball too long, and he's not as quick going through his progression as he should be at this stage of his career. … I think he relies on his feet at times to bail him out. It's possible that somebody takes a flier on him in the first round. He's still considered a developmental player. If you take him and put him in too early, he could struggle. But then you put him in an offense like Chip Kelly's [in Philadelphia] and maybe it works.
Scout 2: The thing about Brett that kills you are the negative plays, the sacks. You just don't know what he's seeing sometimes. He's big, he's fast, he's tough, he's a good competitor and he wants to be a good player. If he gets drafted and goes and sits behind somebody, I don't know that that helps him more than playing another year in college.
Scout 3: He's got everything you want physically. You just question his process and vision at times. He doesn't have elite accuracy. With that said, he's a dual-threat guy and that's hard to find. I think he'll stack up well against some of the other quarterbacks in this draft. He's a late-first or second-round kind of guy.
• NELSON AGHOLOR, USC receiver — Trojans receivers were selected in the second rounds of the last two drafts — Robert Woods in 2013 and Marqise Lee this year — and Agholor could keep that streak alive. He has 82 catches, 10 for touchdowns, and has a school record with four punt returns for touchdowns in his career.
Scout 1: He's a perfect No. 3 [receiver] in the NFL for a team, a slot receiver, and return specialist. With those slot guys, you want to see them compete over the middle, but you also want to see them be able to separate versus man coverage underneath, be able to find the windows versus zone, and then be able to run after the catch because a lot of times you're catching it on the run on a quick slant and you want to get upfield quickly, make a guy miss, and run. He's got some of that to him.
Scout 3: He's not dynamic after the catch, but he has speed to take it to the house. In tight quarters, he's not going to be a jitterbug.
• JAVORIUS "Buck" ALLEN, USC running back — Allen, a junior, had a streak of six consecutive 100-yard games this season, the first USC player to accomplish that since Marcus Allen (no relation) when he won the Heisman Trophy in 1981.
Scout 1: He's a well-rounded back. He can be your starting running back, catches the ball well out of the backfield, decent in pass protection. He's really good in the open field as a runner, whether it's at the second level running the ball or just out in space catching it. The one thing we wanted to see this year with him coming back is to see him finish runs. He's done that. Potentially he'll go in the second or third round.
Scout 3: He doesn't have breakaway speed, not overly elusive. But he's a good, tough, downhill runner. I wouldn't say he's going to be an upper-echelon guy but he could be a No. 1 back for a team. More of a singles and doubles hitter than a home-run guy.
• ERIC KENDRICKS, UCLA linebacker — Kendricks, a senior, has 114 tackles, the third consecutive season he has topped 100. He recovered quickly from off-season ankle surgery and has sideline-to-sideline range. He returned an interception for a 37-yard touchdown against Virginia.
Scout 1: You almost wish he was a little bit bigger, a little bit faster. But the guy just makes plays. I think he's a heck of a football player. I don't know if he'll be a starter at the next level. I think he's a special-teams player and a good depth linebacker, but these guys tend to make their way onto the field.
Scout 2: You hear his name a lot when you watch them play. When you put on the film you see him a lot. He's a little bit undersized, not the top athlete, but he finds a way to get it done.
Scout 3: He can run, instinctive, nose for the ball. He just lacks size. He's a second, third-round guy. He'll be a starting [weak side linebacker] somewhere.
• HAYES PULLARD, USC linebacker — A four-year starter, Pullard could finish as the leading tackler in school history. He has a team-high 75 tackles this season and an interception.
Scout 1: He does a lot of things well. He's going to be a special-teams type, a depth linebacker at the next level. Fifth, sixth round. Unfortunately, he was the one that didn't bat down that pass against Arizona [State] at the end of the game. … I don't think it will hurt his draft status, but he should have been a little more heads up on a play like that.
------------
FOR THE RECORD: An earlier version of this article incorrectly stated that Pullard did not bat the ball down against Arizona.
------------
Scout 3: He's probably a third- or fourth-rounder. He's a good, solid player. He's not a take-on guy and lacks size.
• OWAMAGBE ODIGHIZUWA, UCLA defensive end — Odighizuwa, a senior, sat out last season after hip surgery. Sculpted at 6-3, 270 pounds, he can cause problems as a pass rusher. He has three sacks and 7 1/2 tackles for losses.
Scout 1: He's got an unbelievable frame. I question his instincts, his ability to find the ball quickly. He's a middle-round guy.
Scout 2: I like his energy. He tries hard to be involved even when he's away from the play. He's done some dirty work stuff where maybe a guy his size would be at a disadvantage, like playing [defensive tackle] when he's 270 pounds.
Scout 3: He doesn't have an arsenal of moves. He's kind of a piece of clay you can mold.
• CODY KESSLER, USC quarterback — Even though no one expects the junior to leave school early, scouts are beginning to evaluate him. He has passed for 29 touchdowns with just three interceptions, and is ranked fourth nationally in passing efficiency.
Scout 1: [Coach Steve Sarkisian] has done a nice job developing him. He shows good ability to go through his progressions in the pocket. He's not a big kid, but he seems to see the field pretty well, from first to second and even to the third receiver at times. I think he's a prospect down the road, but I would never encourage a junior, especially a quarterback, to come out.
• RANDALL TELFER, USC tight end — Telfer was considered an up-and-comer a few years ago when he teamed with Trojans tight end Xavier Grimble, but since has battled injuries and has under performed as a receiver. The 6-4 Telfer has 16 catches for 151 yards and a touchdown this season.
Scout 1: He's a guy who could get late-round consideration if he runs well. The biggest concern for him is going to be medical.
Scout 2: There's very few complete guys who are good at blocking and receiving. This guy has some traits to be one of those guys who can help you in both areas, so he's interesting in that regard.
• J.R. TAVAI, USC linebacker — The 250-pound Tavai, a dependable but undersized defensive lineman last season, moved to linebacker and has 41 tackles this season, 7 1/2 for losses, and 3 1/2 sacks.
Scout 2: The guy plays the game with emotion. He wants to be involved in every play. Has some limitations athletically, but the guy can run, and he's always trying to get involved.
Scout 3: He's a tough overachiever. He's not a flamethrower, a dynamic rusher. He's going to have to be a really good [special] teamer. His game is predicated on motor, toughness and instincts.
• ANTHONY JEFFERSON, UCLA defensive back — Jefferson has bounced back after losing most of one season because of a broken foot and then sitting another because of a back injury. He has emerged as the most consistent player in the UCLA secondary.
Scout 3: Little bit of a tweener. Good size, tough. You just question if he has the cover skills to play NFL corner, the speed and quickness, and is he strong enough and physical enough to play safety? I think he makes it in the league.
• JOSH SHAW, USC cornerback — A former team captain, Shaw has not played this season after being suspended for fabricating a story about how he was injured. He was reinstated to the team Tuesday and is expected to play Saturday.
Scout 1: He's kind of a hard guy right now, because everything we knew about Josh going into the season was that he was a really good kid. He was a team captain, and then whatever that situation is… It was a stupid mistake that I'm sure he just got overwhelmed with and couldn't dig out. He's just going to need to come clean and answer those things for NFL teams. As far as a player, I thought he was a pretty good corner. I'd say he's going to be a mid- to late-round guy that somebody's going to take a chance on.
• MALCOLM BUNCHE, UCLA offensive lineman — The 6-6, 320-pound Bunche transferred from Miami this year as a graduate student and was immediately eligible. He opened the season at tackle, then moved to guard, where he was more effective. He lost his starting job two weeks ago.
Scout 1: He's got a nice body, and he's a decent athlete. He's got a ways to go technique-wise. His feet aren't as good as you would like. He'll probably get drafted late.
Among the players scouts said were unlikely to get drafted but are on their radar are USC receiver George Farmer and defensive lineman Greg Townsend — both sons of former NFL players of the same name — kicker Andre Heidari and offensive lineman Aundrey Walker; and UCLA running back Jordon James.
---
Get our high school sports newsletter
Prep Rally is devoted to the SoCal high school sports experience, bringing you scores, stories and a behind-the-scenes look at what makes prep sports so popular.
You may occasionally receive promotional content from the Los Angeles Times.