Curling kerfuffle gives us yet another reason to like this peculiar sport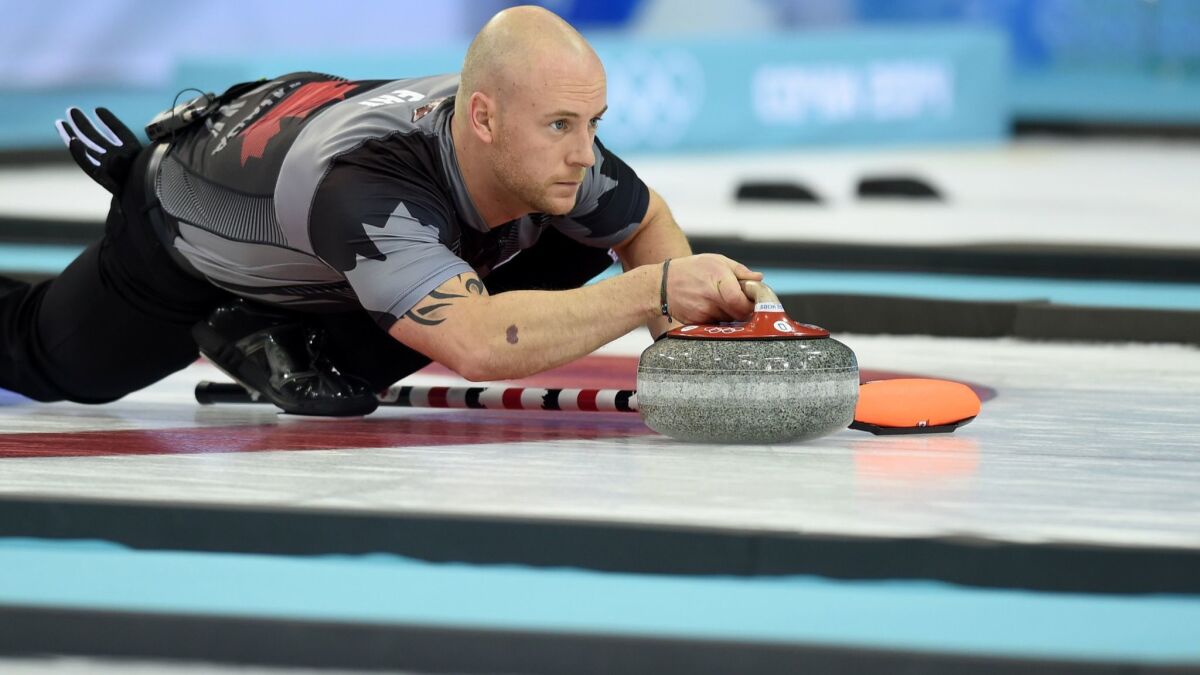 In any other Olympic sport, the news out of Red Deer, Canada, this week might have sparked a major controversy.
An Olympic champion had to be disqualified from a World Tour event when he and his teammates showed up drunk, thrashing about and cursing.
But this was the sport of curling so, in some ways, it made sense.
Every four years, when the Winter Olympics come around, curling reemerges from the shadows as a cult favorite, drawing strong TV ratings and sliding into late-night talk show monologues.
The sport certainly looks odd, with players crouching to slide a polished rock down the ice while their teammates sweep madly with small brooms, but its popularity might owe more to a common touch.
The average spectator cannot watch any other elite sport and think: I might be able do that. No other Olympic event would so plausibly lend itself to the notion of competitors smoking a cigarette and drinking a beer — in the heat of action.
All of which makes it not-so-surprising that Ryan Fry — part of Canada's gold medal team at the 2014 Sochi Olympics — and his teammates turned rowdy at the Red Deer Curling Classic on the plains of Alberta.
"They went out to curl and they were extremely drunk and breaking brooms and swearing and just unacceptable behavior that nobody wants to watch or hear or listen to, and it was just 'enough is enough,'" Wade Thurber, the venue manager, told CBC Sports. "There was some damage in the locker room and other teams were complaining about their stuff being kicked around in the locker room."
The tournament, otherwise known as a bonspiel, was part of the World Curling Tour.
"You would think it's a serious event," Thurber told the Calgary Herald. "I think they just didn't take the spiel seriously at all and were just here to have a good time."
Officials disqualified the foursome before their final match. Fry issued an apology on social media.
"Due to a lapse in judgement on Saturday, we contributed to a[n] unpleasant experience for others," he wrote. "We were disrespectful and the committee was right to disqualify us from further play which we did not argue."
Not that anyone condones drunkenness or rude behavior. But in the world of Olympic sports, which can so often be deadly serious if not cutthroat, there is something quaint about athletes wanting to "have a good time."
"Things got out of hand a little bit," Thurber was quoted as saying.
Maybe just a little.
Twitter: @LAtimesWharton
Get the latest on L.A.'s teams in the daily Sports Report newsletter.
You may occasionally receive promotional content from the Los Angeles Times.