L.A. gains financial concessions in return for agreeing to host the 2028 Olympic Games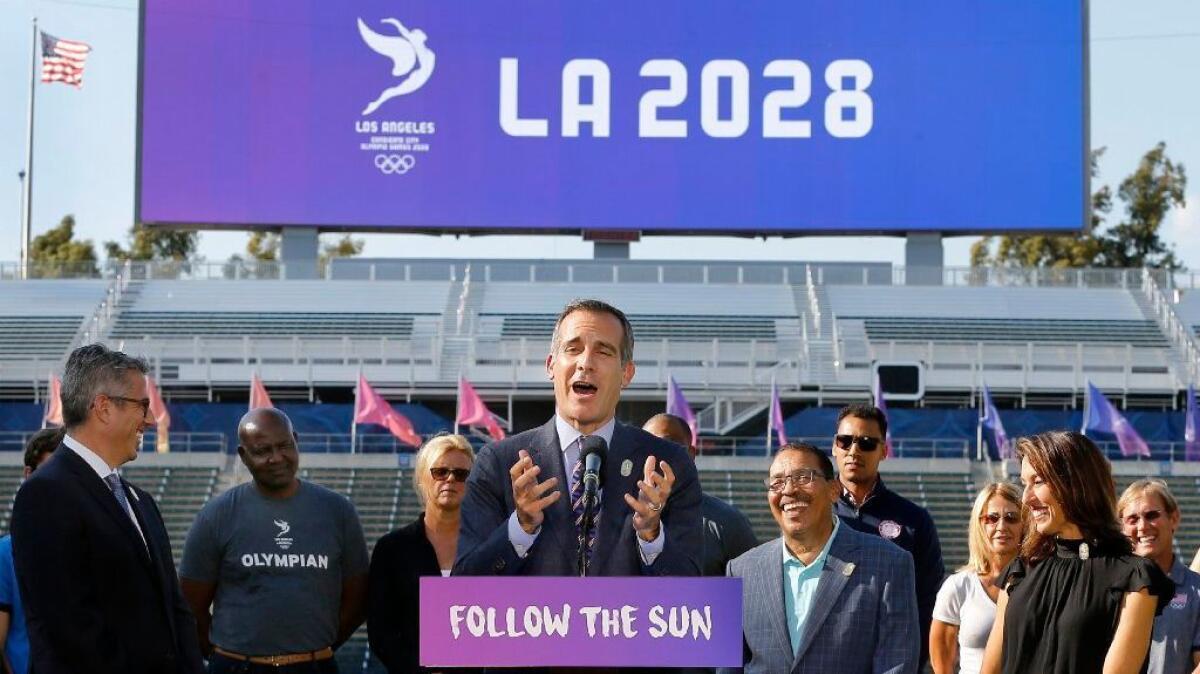 After weeks of intense negotiations with the International Olympic Committee, Los Angeles officials have agreed to host the Summer Games in 2028 — instead of 2024 — in return for a deal they hope will generate hundreds of millions in additional savings and revenues.
The arrangement, which lets Paris go first with the 2024 Games, will bring the world's largest sporting event back to Southern California for a third time.
It could also set a precedent as the IOC made concessions to L.A. that involved sponsorship sales, the retention of any potential surplus and upfront funding for youth sports programs throughout the city.
"This deal was too good to pass up," Mayor Eric Garcetti said during a late Monday afternoon news conference at StubHub Center in Carson.
Initial reaction to Monday's announcement was mixed.
Andrew Zimbalist, an economist at Smith College in Massachusetts and frequent critic of the Olympic movement, believed L.A. officials "played their cards right."
"They've gotten a bunch of concessions that are significant," Zimbalist said.
Others questioned whether Garcetti and local bid officials could have bargained for more, and whether the public should have been given a voice in the negotiations.
"I wonder if this was a missed opportunity for more input," said Jules Boykoff, who teaches political science at Pacific University in Oregon and has studied previous Games. "What did people want them to ask for?"
The response was more enthusiastic from several Los Angeles City Council members in attendance at the news conference and from the White House.
"For the first time in a generation, the Olympics are coming back to the United States," President Trump said in a statement. "And I am proud to support LA 2028."
Talks focused on four major issues, beginning with corporate dollars.
The IOC has estimated it will contribute $1.7 billion of its broadcast and sponsorship revenues to Paris 2024 organizers. L.A. sought a different arrangement that could boost its share to $2 billion or more in 2028.
Under normal circumstances, host cities begin preparations seven years in advance but do not receive most of the IOC contributions until two years before the Games.
For 2028, the IOC has agreed to give L.A. a $180-million advance that would cover the organizing committee's costs for an extra four years and pump as much as $160 million into youth sports throughout the city.
"I want something for the people of L.A. now...I want the excitement to build.
— Mayor Eric Garcetti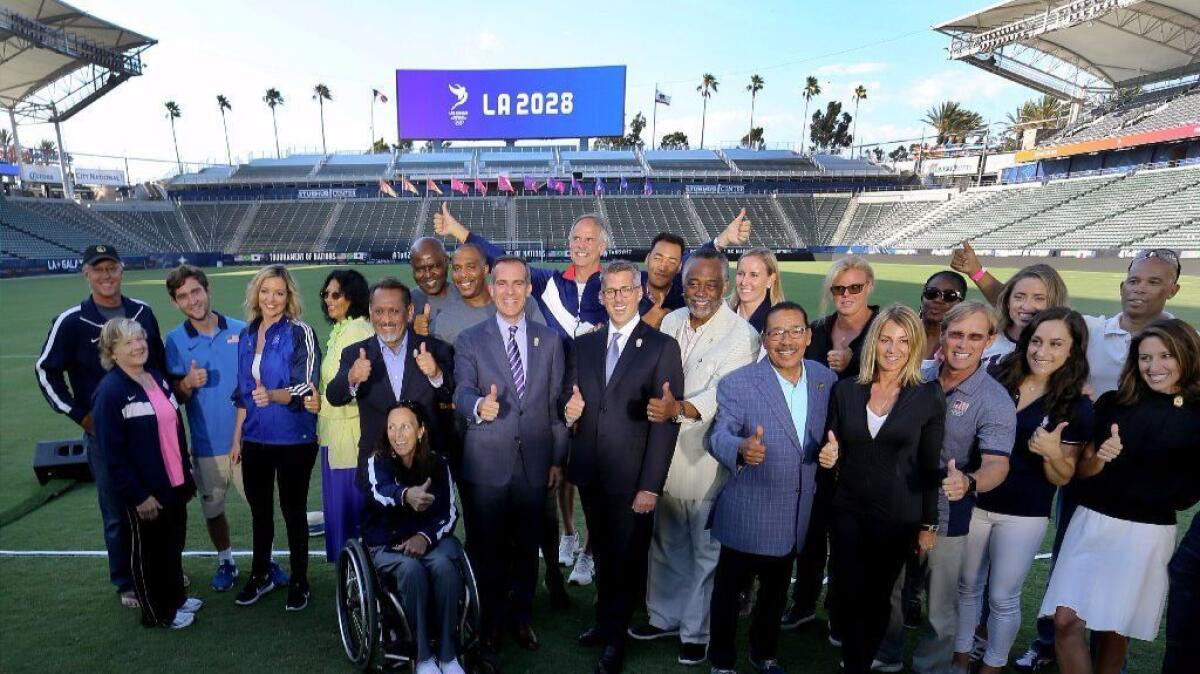 In Olympic circles, such public benefits are referred to as "legacy" and usually occur only after the Games have finished and left town. Garcetti predicted that youth programs could see IOC funding next year.
"I want something for the people of L.A. now," the mayor said. "I want the excitement to build."
Olympic officials also waived various payments that could ultimately save L.A. tens of millions, but local bid leaders seemed most enthusiastic about a potential post-Games benefit.
Their $5.3-billion bid estimate includes a $487.6-million contingency — money that would be set aside to pay for cost overruns that have plagued recent Games, leaving hosts with substantial deficits.
If the Games finish at or under budget, the $487-million contingency would convert to a surplus — similar to the one left by the 1984 Los Angeles Games — and L.A. officials have struck a deal to keep most of that money.
The United States Olympic Committee would still take 20% of any surplus, but with the IOC waiving its customary 20%, the city could realize $100 million or more.
The chance of a surplus is higher than usual because L.A. will not have to spend billions in construction costs by using existing venues such as Staples Center, Pauley Pavilion and the Coliseum.
Further savings would arise from housing athletes and the media at UCLA and USC rather than building expensive villages.
This week ends a tumultuous two years for the candidate cities and Olympic leaders.
USOC board members originally chose Boston as the U.S. bidder in 2015, but L.A. got back into the picture eight months later when public opposition forced the Massachusetts capital to withdraw.
As other candidates around the world backed off, only L.A. and Paris were left to bid for 2024. The IOC decided that, with two eager candidates in hand, it would name two winners.
Paris pushed back against the idea, but L.A. bid leaders expressed a willingness to talk. They knew the race with Paris would be close and that the U.S. had fallen short in several recent attempts to win the Summer Games.
Negotiations with the IOC picked up over the last few weeks.
"It has been certainly a roller coaster," said L.A. bid chairman Casey Wasserman, adding that IOC officials "showed a real willingness to be thoughtful and creative."
Still, committing to the Games more than a decade in advance comes with considerable risk.
Politics and economies can make huge shifts over that time. The 2016 Rio de Janeiro Games served as an example — a slump in the Brazilian economy, which had been booming a few years earlier, forced organizers to make last-minute cutbacks.
L.A. bid leaders will have to renegotiate contracts with venues throughout the city and adjust its agreement with the City Council, which voted to support the 2024 bid.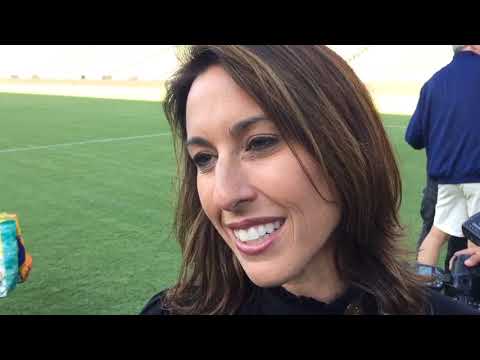 After weeks of negotiations with the International Olympic Committee Los Angeles officials have reached a deal to host the 2028 Summer Games. (Video by Allen J. Schaben / Los Angeles Times)
"We will vet the proposal," council President Herb Wesson said. "We'll scrub it, scrub it and re-scrub it."
That process will begin with an ad hoc committee meeting on Friday. Despite his promise of scrutiny, Wesson said he hopes to present a recommendation to the full council next week and win quick approval.
NOlympics, the most vocal coalition opposing the Games, called the decision "a complete miscarriage of anything remotely resembling democracy." The group called for city officials to "do the right thing and take the appropriate steps … without cutting corners."
At Monday's news conference, Garcetti and Wasserman focused on the benefits of waiting another four years.
The Crenshaw/LAX Line, the Purple Line Extension and downtown's Regional Connector, which will allow passengers to transfer to several lines, are scheduled to be finished by 2024, according to a Metro spokesman.
Improvements to Los Angeles International Airport could also be done.
In the meantime, L.A.'s deal faces a few more procedural hurdles. In addition to council vetting, it must be approved by the USOC. The deal may also have to be looked at by state legislators, who previously approved financial backstops. IOC members must vote their approval at a mid-September meeting, at which point city officials would finalize the arrangement by signing the revised host city contract.
Times staff writer Dakota Smith contributed to this story.
Follow @LAtimesWharton on Twitter
Get the latest on L.A.'s teams in the daily Sports Report newsletter.
You may occasionally receive promotional content from the Los Angeles Times.