Boxing gives Claressa Shields the confidence to also conquer life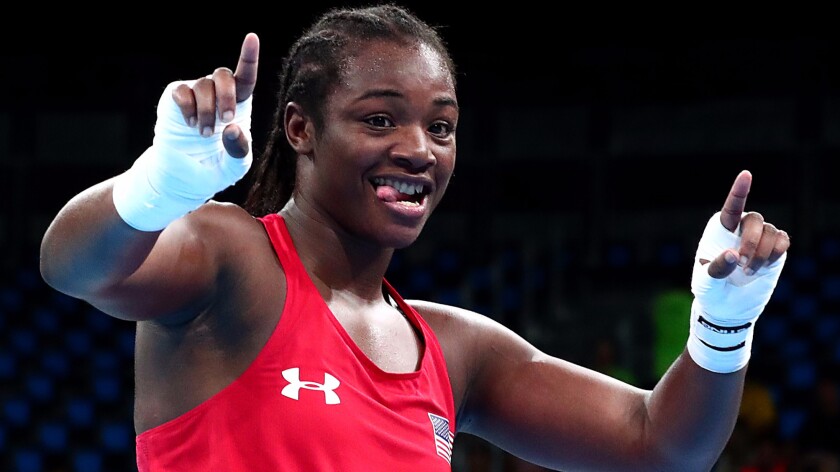 Reporting from Rio de Janeiro —
In the ring, Claressa Shields is as direct and imposing as a punch to the jaw, something she wielded with uncommon regularity Wednesday in a unanimous-decision victory over Russian Iaroslava Iakushina in a Rio Olympics middleweight quarterfinal.
The win guarantees her at least a bronze medal, to go with the gold she won as a teenager four years ago in London. She hasn't lost since the 2012 world championships, with the victory over Iakushina her record is 75-1. Her coaches call her the best boxer in the world, male or female.
"Claressa came out of nowhere," said associate Coach Kay Koroma, "and now the world loves her because of the way she fights."
Outside the ring, however, Shields can be as complex and hard to figure as trigonometry.
She grew up poor in Flint, Mich., the daughter of a former boxer who spent much of Shields' childhood in prison and a mother who struggled with drugs and alcohol. One of her mother's boyfriends, Shields' said, raped her when she was 5.
Yet she went on to become the first member of her family to graduate from high school, where she made the honor roll.
In junior high, she moved frequently between homes and often had no place to stay. So she moved in with her coach who, she told the Washington Post, taught her basic skills, including how to eat with silverware.
She went on to become the caregiver for her younger siblings, her mother and an older brother who struggles with schizophrenia and bipolar disorder.
A year ago she was living and training at the Olympic Training Center in Colorado, pointing toward her second Games.
Yet when news broke that the water in her hometown was contaminated, Shields helped raise money to send clean water to the children of Flint.
How much of that happens without the confidence that high profile boxing gave her is impossible to say. But Shields, 21, clearly doesn't lack for either.
"I definitely feel like I'm the best fighter in the world here," she said after Wednesday's victory. "That was a C-minus performance. I'm trying to get an A-plus here. I've got two more fights. I'm definitely going to do better."
Shields slept several nights with the gold medal she won in London. Asked what she would do with a second gold if she won one in Rio, she took exception to the conjunctive.
"If?" she said. "Wow. I'm definitely going to get my Olympic gold medal here."
It would be tough to argue with that after watching Shields, boxing for the first time since her victory in the world championships in May, dominate Iakushina, forcing a standing-eight count in the final seconds of the fight and winning all four rounds on two of three judges' scorecards.
By advancing to the semifinals, Shields secured the third boxing medal in these Games for the U.S. If she wins two more fights, she'll become the first repeat Olympic champion in U.S. boxing history.
"She's the world's best," said U.S. Coach Billy Walsh, repeating a common theme. "She's a class apart from all the rest of them. Today, it was a starter. It wasn't her greatest performance but she was comfortable in there."
Shields said she's been in training for this tournament for three months, a month longer than her normal preparation cycle. And she's been in Rio for more than four weeks, sparing against men because her fellow women Olympians don't challenge her.
"The only person here that's close to me as far as skillwise, that's Shakur Stevenson," she said of her U.S. teammate, who will fight in the semifinals of the men's bantamweight competition. "We're both going to walk out of here with an Olympic gold medal."
Coming from some, that may sound like braggadocio. But as Shields' boxing idol, the late Muhammad Ali, once said, "It ain't bragging if it's true."
And Shields' superiority is no longer opinion. It's fact.
"Claressa Shields is the best fighter in the world in my eyes," said Koroma, who considers her unbeatable. "Claressa's a person that always has to work on her craft. If she feels her jab isn't right, she'll go downstairs and she'll train on it all day long. If her right hand isn't coming off right, she can sense it and she'll go work on it.
"That's the best way to become the best fighter in the world. Know your mistakes and go work on it right then and there. And that's something she does all the time. That's what I love about her."
kevin.baxter@latimes.com
Twitter: @kbaxter11
---
Get the latest on L.A.'s teams in the daily Sports Report newsletter.
You may occasionally receive promotional content from the Los Angeles Times.