Ryan Lochte changes details of Rio robbery story; authorities pull two of his teammates off plane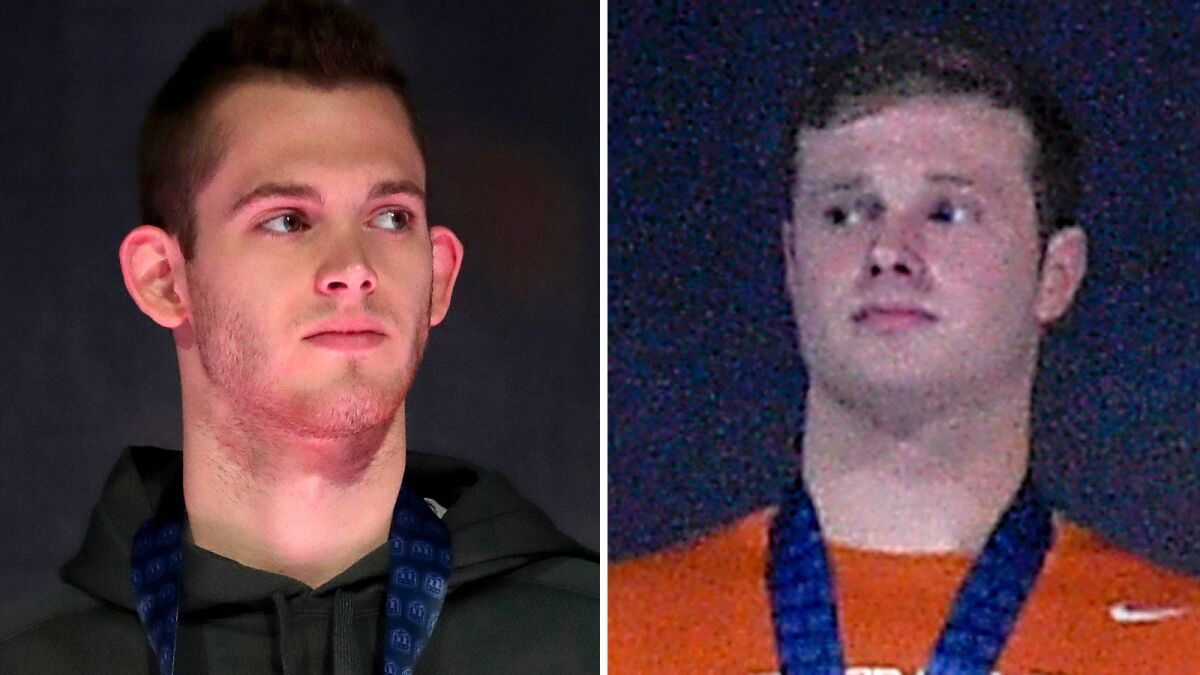 Reporting from Rio de Janeiro —
Three days after claiming that he and his teammates were robbed at gunpoint, American swimmer Ryan Lochte has tempered his initial, dramatic description of the alleged incident.
The 12-time Olympic medalist said earlier this week that one of the robbers pressed a gun to his head. On Wednesday night, he told NBC News the robber merely aimed in his direction.
His story changed at the end of a day in which Brazilian authorities – concerned about inconsistent accounts from the four U.S. swimmers – sought to keep them from leaving the country before they could be questioned further.
Police showed up at the Olympic village in the morning to confiscate the passports of Lochte and Jimmy Feigen but found neither man there.
U.S. swimmer Ryan Lochte started telling one story, but Brazilian Judge Keyla Blanc de Cnop said teammate James Feigen gave a different one.
Lochte had already returned to the U.S., they said. Feigen told the San Antonio News-Express that he was still in Brazil, adding: "I can't talk right now."
Later, the other two athletes were detained as they attempted to fly home.
"We can confirm that Jack Conger and Gunnar Bentz were removed from their flight to the United States by Brazilian authorities," said Patrick Sandusky, a U.S. Olympic Committee spokesman.
Sandusky said the pair were later released by local authorities with the understanding they would talk with police on Thursday. Feigen has also agreed to make further statements to police.
With all its twists and uncertainties, the incident has captivated residents of Rio, prompting speculation about what truly happened in the early morning hours on Sunday.
Local television has replayed security video – obtained by a British newspaper – of the swimmers returning to the village shortly before 7 that morning.
Police said they are now looking at additional video from a gas station where the crime allegedly took place.
"I can't comment on contradictions in any stories, and I can't refute any statements that were given," said Officer Alexandre Braga of the special police station for tourism support. "This case is delicate and receiving a lot of attention; we must be very careful."
The news broke Sunday when Lochte's mother told a reporter that her son had called her about the robbery.
U.S. Olympic Committee officials quickly contacted Lochte, who denied a crime had taken place. The International Olympic Committee announced that news reports of a robbery were "absolutely not true."
But Lochte, who won gold in the 800-meter freestyle relay last week, made the first change to his story.
According to his initial account, after the swimming portion of the 2016 Summer Games ended on Saturday night, he and his teammates went to the France House to celebrate.
There had been some question about when they left; police now believe it was 5:45 a.m.
Lochte said they were returning to the village when their taxi was stopped by armed men flashing what appeared to be police badges.
"They pulled out their guns; they told the other swimmers to get down on the ground. They got down on the ground," Lochte told NBC News. "I refused. I was like, 'We didn't do anything wrong, so — I'm not getting down on the ground.'
"And then the guy pulled out his gun, he cocked it, put it to my forehead and he said, 'Get down,' and I put my hands up. I was like, 'whatever.'"
From the start, the U.S. Olympic Committee seemed cautious about his claims, beginning its first official news release with the words: "According to four members of the U.S. Olympic Swimming team …. "
Police, who subsequently interviewed the swimmers, have yet to locate the taxi driver. In the meantime, the Rio 2016 organizing committee issued an apology on Monday.
"We have requested the security authorities … need to make sure everybody is safe everywhere in the city," spokesman Mario Andrada said. "We apologize to those involved and regret that violence is an issue in these Games."
Regardless of growing questions about Lochte's story, the alleged robbery added to the security concerns that have dogged these Olympics.
Two Australian rowing coaches were robbed in Ipanema, and an Olympic security officer was shot to death after taking a wrong turn into a favela. The Games' chief of security was attacked by knife-wielding men as he left Maracana Stadium after the opening ceremony.
Stray bullets have landed in the equestrian venue in Deodoro on two occasions, and a bus carrying journalists in the area had its windows shattered. Rio officials said thrown rocks were to blame.
None of this squared with Mayor Eduardo Paes' proclamation before the Games that his city would be "the safest place in the world."
Lowell Gustafson, a Villanova University professor who has studied Latin American politics, said Brazilian authorities have a history of downplaying bad news.
"What seems fairly traditional is for the Brazilian police and bureaucracy to call into question anyone making accusations," Gustafson said. "They want to say that this doesn't happen in Brazil."
But Lochte's shifting story – and the fact that none of the swimmers had his cellphone taken – has investigators puzzled.
"We're currently trying to get all the information that is available," Braga said.
Wharton is a Times staff writer. Bevins is a special correspondent. Times staff writer Nathan Fenno contributed to this report.
ALSO
Video games in the Olympics? E-sports industry will have to get past some hurdles
Plaschke: A match they didn't want to play proves to be their most important win
Simone Biles finds herself in the stratosphere of Olympic stars with fourth gold medal
---
UPDATES:
9:25 p.m.: This report has been revised for additional updates.
This article was originally posted at 7:15 p.m.
Get the latest on L.A.'s teams in the daily Sports Report newsletter.
You may occasionally receive promotional content from the Los Angeles Times.