Olympics Buzz: Catching up with some of the underdog stories at the Pyeongchang Games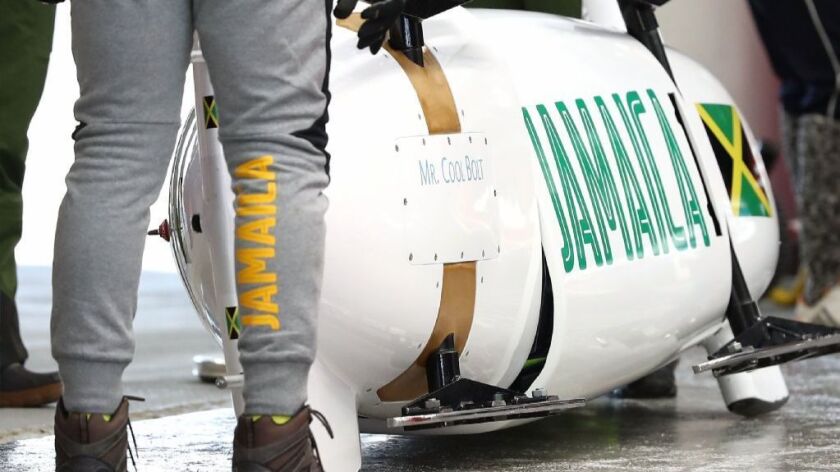 This is your daily infusion of information and news that you might have missed. The really big stuff you'll find in other stories.
Everybody loves an underdog story and the Winter Olympics is full of them because, except for a few sports, the average viewer has absolutely no idea who any of the people are anyway.
What it creates are these sports oxymorons, all in the hope of gaining fame by virtue of having none.
The most famous, only because of the movie "Cool Runnings," was the Jamaican bobsled team. There are no sliding tracks in Jamaica and a lot of the movie is fiction. But there was a Jamaican bobsled team in Calgary in 1988 and there's one here this year. In fact, the team made quite a story when it parted ways with its coach, Sandra Kiriasis, last week and she took its sled with her. Beer company Red Stripe had to step in and buy the sled back from her to keep the team's Olympic dream alive. It will compete this week.
Everybody wants to be in the big show. This year, there are six countries that are in their very first Winter Games. See if you can spot the contradictions.
There is a Nigerian women's bobsled team, made up of women from Dallas, Houston and St. Paul, Minn. There is no sliding track in Nigeria. The team was 20th in qualifying heats.
There is a men's giant slalom competitor, Shannon Abeda, from Eritrea, which is on the northeast corner of Africa. It has a mountain but no snow. He's from Canada and did OK, finishing 61st of the 75 that finished the course. There were 35 skiers who didn't make it to the bottom for a timed run.
There is a short-track speedskater from Singapore, Cheyenne Goh. There's one Olympic-size skating rink in Singapore, and it's in a mall. Goh spent most of her life in Canada. She didn't get out of qualifying heats.
Malaysia has two athletes, figure skater Julian Yee and skier Jeffrey Webb. The country has both ski resorts and ice rinks. Yee moved to Canada to train and Webb lives in Chelan, Wash. Yee was 25th of 30, and Webb 68th of the 75 finishers in the giant slalom.
There is an Ecuadorean, Klaus Jungbluth, who competed in cross-country skiing. He's actually from Ecuador, where there is virtually no snow, and finished 112th of the 116 athletes who finished in the 15-kilometer. He did beat Pita Taufatofua of Tonga, though.
And Kosovo has a skier, Albin Tahiri, who by the end of the Games will have competed in five events. He's from Slovenia. This one makes some sense as there are both mountains and snow in Kosovo. Of those that finished each of the races, he was 56th of 75 in the giant slalom, 37th of 37 in the combined, 47th of 48 in the super-G and 50th of 53 in the downhill. He still has the slalom to go.
But the thing that makes this all OK is that they get to march in the opening ceremony (most were flag bearers) and the closing ceremony, if they stick around. And back in the countries they represent (but likely don't live in), they are heroes no matter where they finished.
A photo finish
After slogging through at least 15 kilometers of cross-country skiing, taking 20 shots and a couple penalty laps, who would think the mass start biathlon event would end in a photo finish? But that's what happened when Martin Fourcade of France won the race by a couple of centimeters over Simon Schempp of Germany.
Luckily, biathlon photo-finish technology is way better than that of horse-racing tracks in the U.S., and the result was known in seconds. It was Fourcade's second gold of these Games, and fourth lifetime. Crazily, he lost a photo finish in the 2014 Sochi Games to finish second. The U.S. did not have anyone in the race of 30 competitors.
What happened, Netherlands?
Nao Kodaira of Japan won the gold in the women's 500-meter speedskating event. Defending champion Lee Sang-hwa of South Korea was second, and Czech skater Karolina Erbanova was third. It was the first time in eight speedskating events that the Netherlands was kept off the podium. In fact, the country has won six of the eight golds. But Kodaira's win wasn't all tragedy for the Dutch. It seems that after losing in Sochi, Kodaira moved to the Netherlands to immerse herself in the skating culture that permeates that country. Looks as if it worked. Brittany Bowe had a strong performance for the U.S., finishing fifth. You get a certificate for that.
Finally, for Norway
With Wax-gate well in its rear-view mirror, Norway won its first gold in a team cross-country skiing event since 2002, taking the men's 4x10-kilometer relay on Sunday. Four years ago, the head ski waxer came under fire when Norway did not do as well as hoped for in any team events. But it looks as though they got that fixed. Norway has been nearly unstoppable these Games, having won five of eight golds and 11 cross-country medals overall. The U.S. was last, in 14th place.
In progress …
Probably no medal for the U.S. in the two-man bobsled competition. Germany is first and third after two of four runs. The U.S. crews are languishing in 12th, 24th and 25th place. … The U.S. men's curling team lost a pair of matches Sunday, to Japan 8-2 and Norway 8-5. The Americans are in a three-way tie for seventh at 2-4. Sweden is 6-0.
Follow John Cherwa on Twitter @jcherwa
---
Get the latest on L.A.'s teams in the daily Sports Report newsletter.
You may occasionally receive promotional content from the Los Angeles Times.