Column:: The U.S. women's hockey team's golden secret: Togetherness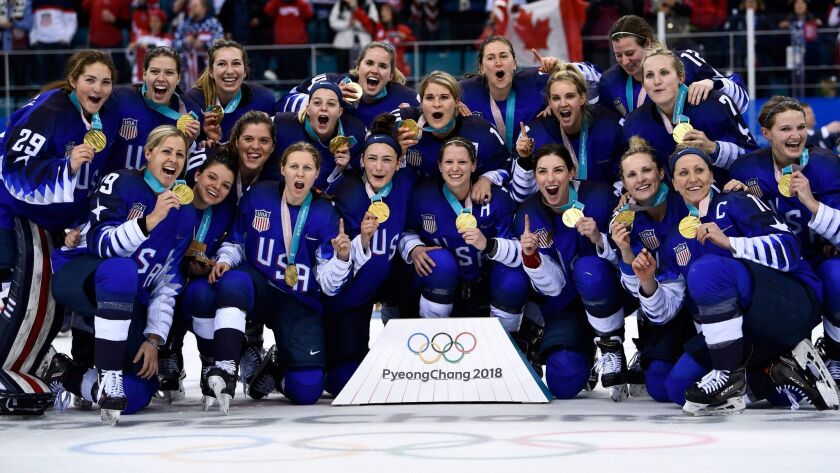 Listening to the national anthem play for them, seeing the U.S. flag rise above the ice at Gangneung Hockey Center in their honor after they had defeated Canada in a six-round shootout to earn Olympic gold, members of the U.S. women's hockey team stood with their arms around each other and swayed gently to the sweetest song they'd ever heard.
They were together, of one mind and one heart, smiling and crying, in shock after their 3-2 victory had ended Canada's four-tournament winning streak and halted a 20-year U.S. gold medal famine, but keenly aware of the magnitude of their accomplishment.
"It's the greatest moment of our lives," said forward Meghan Duggan, who added gold to the silver medals she won after close losses to Canada in 2010 and 2014. "We worked really hard to put ourselves in position to win this thing. We've come a long way. We talked about it, our process, our mission. It's been very clear since Day One. I'm just so proud and honored to be here."
By "here" she meant atop the hockey world, a pinnacle they reached on Thursday after forward Jocelyne Lamoureux-Davidson's spectacular stickhandling and clever release produced their third shootout tally and 20-year-old U.S. goaltender Maddie Rooney thwarted Canada's Meghan Agosta for her fourth save in six shots. That stop triggered a sudden downpour of high-flung hockey sticks and gloves as U.S. players poured off the bench to celebrate.
"Frickin' Maddie Rooney," forward Amanda Pelkey said, affectionately. "She just kept calm the whole time. And there wasn't any doubt in my mind that she was going to make that save and win it for us."
They got this far only because they stuck together through challenges that could easily have driven them apart.
Last spring, shortly before the World Championships, players issued a statement saying they would boycott that competition if USA Hockey executives didn't treat them as equals to the men's team.
The women wanted greater pay — they were receiving $1,000 stipends only for the six months leading up to each Olympics, and many players worked multiple jobs — and wanted insurance and travel benefits equal to what the millionaire men's players got. USA Hockey tried to break them by recruiting replacement players but failed.
A few days before the World Championships began in Plymouth, Mich., the women reached an agreement for better pay and a promise of more marketing and development efforts by USA Hockey. They then won their fourth straight world title and seventh in eight years. They thought of that on Thursday, of what their solidarity meant to them and what USA Hockey's investment in girls programs could mean to those who follow the path they've blazed.
"I think this performance sort of transcended our sport just because we weren't receiving the right support of a gold-medal-winning team," forward Hilary Knight said. "And this is what a gold-medal-winning team looks like with the right support. We're taking steps in the right direction but there's still a long ways to go."
They also shared some nervous moments in early September when they had to evacuate their apartments at their training base in Wesley Chapel, Fla., and take shelter when Hurricane Irma struck. Their discomfort was brief but it reinforced their trust and reliance on one another, qualities that proved important on Thursday.
The U.S. women had scored first, when Knight redirected a shot by Sidney Morin — a late roster addition for her youth and speed — past Canada goaltender Shannon Szabados during a power play at 19:34 of the first period. But Canada pulled even on a goal by Haley Irwin at the two-minute mark of the second period and went ahead when Agosta set up Marie-Philip Poulin for a shot from the right circle that found room inside the left post at 6:55.
The Americans never blinked. "We played this game in our minds a thousand times and we've won it every single way possible," said Monique Lamoureux-Morando, who took advantage of a bad line change by Canada to bring the U.S. even at 13:39 of the third period.
"There's just something unbelievable with this team, the belief in the locker room, even going into the third being down by a goal and not playing our best game. We just knew we were going to get it done."
Gigi Marvin scored in the first round of the shootout; Agosta matched that in the second. Canada's Melanie Daoust and U.S. forward Amanda Kessel each scored in the fourth round. In the sixth, Lamoureux-Davidson drew Szabados out of position and scored.
Rooney, who fears snakes and the dark and calls herself "kind of a wimp," proved her bravery by stopping Agosta for the win. "I think it's important in my position to have a short memory if things don't go well and have trust in my teammates to bounce back," Rooney said.
The top three teams — Finland won bronze — had beribboned medals placed around their necks by Simi Valley native Angela Ruggiero, a member of the first U.S. women's team to win gold, in 1998 and, until Thursday, the only one with that distinction.
Many Canadian players cried; defenseman Jocelyne Larocque quickly took her medal off. Most of the Americans vowed to sleep with their precious hardware. To Pelkey, having Ruggiero bestow that honor was the perfect touch on a perfect day.
"She is and will always be a legend. She is one of the biggest advocates of our sport, our women's program, and USA Hockey in general," Pelkey said. "It all tied together so perfectly that she was the one giving us the medal."
No one gave them anything. They earned this. Together.
Twitter: @helenenothelen
---
Get the latest on L.A.'s teams in the daily Sports Report newsletter.
You may occasionally receive promotional content from the Los Angeles Times.