Column:: Germany gets a chance at hockey gold, but already feels like winners with upset of Canada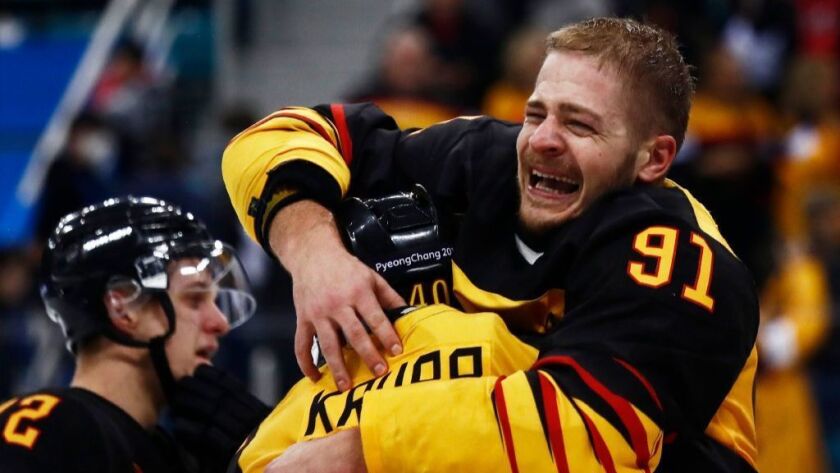 The result was so unfathomable, so absurd, forward Marcel Goc was sure he was dreaming when the final buzzer sounded on Germany's 4-3 upset of defending champion Canada in their Olympic hockey semifinal Friday night. Many of his teammates cried. Others hugged. Goc struggled to grasp what had just happened.
"I don't know how to describe it. It's unreal," said Goc, who played for five NHL teams over 12 seasons. "I'm still waiting to get poked and somebody wakes me up and tells me, 'Hey, you're late for the bus to the game.'"
It was no dream. "It's the greatest day in German hockey. For the next 50 years they're going to talk about us," defenseman Christian Ehrhoff said after 10th-seeded Germany, which lost its first two games and had to win a qualification game to make the playoffs, advanced to the gold medal game on Sunday against the Olympic Athletes from Russia. Germany's previous best showings were bronze medals in 1932 and 1976. "Olympic semifinal, the chance to play for the gold, and we just didn't bring it in the first 20 minutes," Canada forward Andrew Ebbett said. "No reason for it."
Russian hockey players haven't won Olympic gold since 1992, when they were called the Unified Team after the breakup of the Soviet Union. Their last Olympic medal was bronze in 2002 as Russia. "We deserve to be there and the best team will win," said Russia forward Ilya Kovalchuk, whose empty-net goal clinched his team's 3-0 semifinal win over the Czech Republic.
Germany and other non-hockey powers benefited when the NHL didn't allow its players to represent their homelands, a decision that weakened Canada and the U.S. and forced every team to rely on third- and fourth-tier players. The Germans have gained confidence and momentum since their preliminary-round losses to Finland and Sweden: they beat Norway in their final round-robin game, edged Switzerland in the qualification round and eliminated Sweden with a 4-3 overtime victory in the quarterfinals before Friday's semifinal stunner put them in the gold medal game, a place they've never been before.
"Sounds crazy, right?" said Germany coach Marco Sturm, whose NHL career included a brief stay with the Kings. "I think it really helped us to play the top teams early on, Finland and Sweden. We learned from it. We lost some games but we learned from it. Everyone felt it. We grew as a team, and that's just the result."
Germany took the lead in the first period Friday on a five-on-three power-play goal by Brooks Macek of Winnipeg, Canada, and added second-period goals by Matthias Plachta, off the rush, and Frank Mauer, on a nice pass from Goc, before Gilbert Brule converted a power-play chance for Canada at 8:17. Patrick Hager padded Germany's lead to 4-1, but Canada's Mat Robinson trimmed that to 4-2 at 2:42 of the third. Canada goaltender Kevin Poulin, starting in place of injured Ben Scrivens, stopped a penalty shot by Dominik Kahun at 3:21 of the third to keep his team within reach. "We kind of got away from our game and they took advantage of that," Goc said.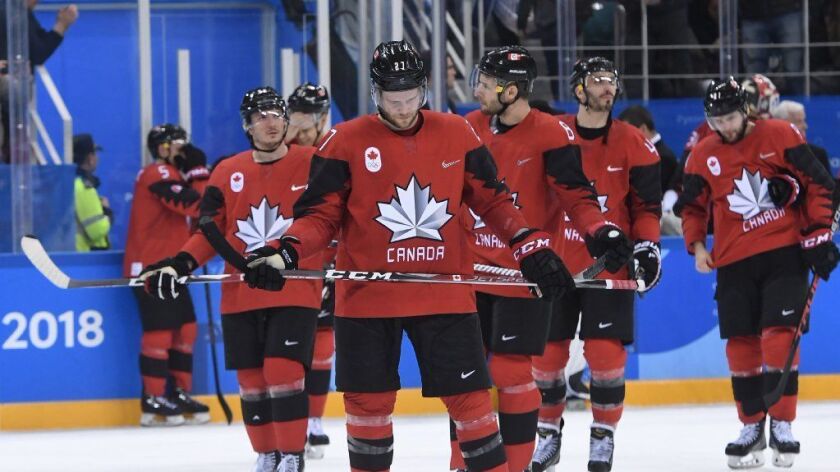 Canada found the energy to close the gap to 4-3 on a power-play goal by Derek Roy at 9:42 of the third period but Germany goalie Danny Aus Den Birken, who plays in his country's elite league, withstood intense pressure and held on for the win. "It's crazy. It's amazing," said Macek, who was eligible to represent Germany because his grandparents and father were born there. "It took every single guy in that dressing room to put forth their best effort for the whole 60 minutes."
Playing as steadily will be a challenge against Russia, which lost its tournament opener to Slovakia but has since been dominant. "We know they're a fast team. A lot of firepower, a lot of good players," Macek said. "We beat some pretty good teams to get here. We've just got to stick with our game plan and we need another effort like [Friday]."
No matter what happens on Sunday, they're already winners. "Russia is the favorite. Everybody knows that," Kahun said. "But even if we lose the game we have silver medal. Who would think that we would make a medal here? We're going to do everything to win gold but we have no pressure, so we can play our best."
Follow Helene Elliott on Twitter @helenenothelen
---
Get the latest on L.A.'s teams in the daily Sports Report newsletter.
You may occasionally receive promotional content from the Los Angeles Times.