U.S. Figure Skating announces the three women who will participate at the Winter Olympics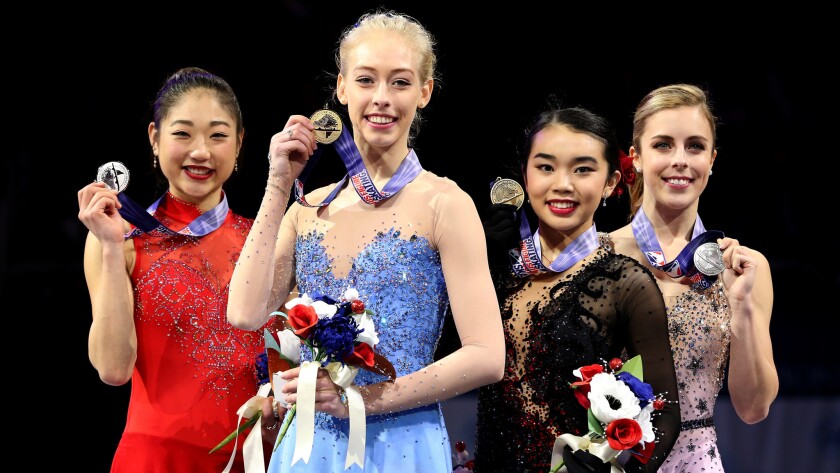 Reporting from San Jose —
Mirai Nagasu's parents left their native Japan for the U.S. about 30 years ago, lured by the opportunities here and the chance to operate their own sushi restaurant in Arcadia, but they continued to speak Japanese with their only child. Nagasu's father, Kiyoto, usually texts her in Japanese for his convenience and to be sure she stays fluent in the language, so she was touched when he left his comfort zone to send her a special text after she had finished second on Friday at the U.S. figure skating championships.
"My parents are really hard on me, which has made me a strong competitor and determined as a person, so I have nothing but gratitude and appreciation for them," she said. "But for my dad to say he was proud of me, in English, is a very big deal."
The occasion warranted an extraordinary gesture. Nagasu on Saturday was nominated to the U.S. figure skating team for the Pyeongchang Winter Olympics, joining newly crowned national champion Bradie Tennell and 2017 champion Karen Chen of Fremont, Calif.
The field had become unpredictable when two-time U.S. champion and 2014 team Olympic bronze medalist Gracie Gold withdrew to continue her treatment for depression, anxiety and an eating disorder, and Tennell rose to fill the void left by Gold's absence. Tennell, Nagasu and Chen finished 1-2-3 in the event, which ended Friday evening, but their Olympic nominations weren't sure until a U.S. Figure Skating committee met late Friday to evaluate the competition and the results of skaters' performances in specific major events over the past year.
Ashley Wagner, a three-time U.S. champion who finished fourth here, contended that the judges undervalued her performances this week and she deserved an Olympic spot. The selection committee could have given that spot to Wagner, who contributed to a U.S. team bronze medal in 2014 and won a world silver medal in 2016. "The anticipation really killed me," said Chen, who was battling a virus and wasn't sharp in her long program Friday night.
As it turned out, Chen didn't have to worry. And Nagasu, who finished third in the 2014 U.S. championships but was left off the Sochi team in favor of fourth-place finisher Wagner, didn't have to experience an unhappy repeat of history. The decision was unanimous, according to Sam Auxier, president of U.S. Figure Skating. The three were informed via text about 11:30 p.m. Friday, but the public announcement was delayed until about 5 a.m. Pacific time Saturday to satisfy TV rights-holder NBC.
"Clearly Bradie and Mirai with their scores and their performance were easy 1 and 2," said Auxier, who also is an international judge and said he agreed with the scoring in the women's event. "The discussion between Karen and Ashley was pretty academic. Karen was fourth at worlds last year, Ashley seventh. And then third vs. fourth at this U.S. championships. So it was a very straightforward, clear criteria for selecting Karen as the third member of the team."
Wagner had criticized the judges Friday for being stingy in scoring her program components (skating skills, transitions, performance, composition and interpretation of the music), but she also committed costly errors on jumps in both programs and didn't perform the highest-possible rated spin in her "La La Land" routine Friday. Wagner, who was named the first alternate, reversed course to accept the decision with grace in a post on her Twitter feed on Saturday.
"As an athlete, I'm allowed to be mad. As a senior competitor with over 10 years of experience, I'm allowed to question things," said Wagner, who trains at Lakewood Ice. "At the end of the day, I laid out my best and I'm going home proud! Congrats to the lovely ladies of the team, you've got me in your cheering squad now!"
Tennell, 19, said the magnitude of her accomplishment was starting to sink in. Known for her consistency, the Carpentersville, Ill., resident and 2015 U.S. junior champion will have to improve her artistry in order to come close to matching the Russian, Japanese and Canadian women who have become powers in singles skating. Tennell said she's working on that, but for now, she's simply enjoying her moment. "I teared up a little bit," she said of her reaction to learning she had made the Pyeongchang team.
Chen, 18, had contracted a virus and couldn't practice Thursday. She had points deducted from her execution of four jumps on Friday and was "for sure a little bit worried about what the decision was." A few hours after she left the ice at SAP Center, she got the good news.
"I jumped up, and I was exhausted but I had just enough energy to scream," said Chen, who trains in Riverside with coach Tammy Gambill. "My mom looked at me and was like, 'Is this it?' I was [saying], 'Yes it is.' I was just in complete shock."
Nagasu, who made her Olympic debut in 2010 at age 16 and finished fourth, was at her hotel Friday night "enjoying a slice of well-deserved pizza," when she learned she'd be an Olympian again. She had been told to keep the news confidential but she couldn't resist telling her mother, Ikuko. "There's just something about the first person you tell, and I wanted it to be my mom," Nagasu said. "It's a dream, and it takes everybody on the team."
---
UPDATES:
2:20 p.m.: This article was updated with background information and comments from the Olympic-bound skaters.
This article was originally published at 5:45 a.m.
---
Get the latest on L.A.'s teams in the daily Sports Report newsletter.
You may occasionally receive promotional content from the Los Angeles Times.