'We expect to compete for a medal': Former King Tony Granato to coach 2018 Olympic men's hockey team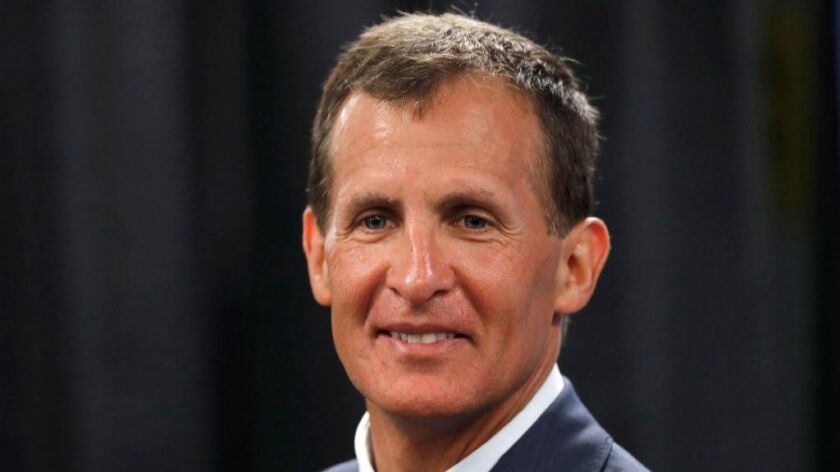 Tony Granato was a 15-year-old Midwestern kid when the "Miracle on Ice" occurred in 1980. He played for the U.S. seven times in international tournaments and watched his sister, Cammi, win gold in 1998.
"There is no greater thrill in the game of hockey than to be able to cheer for, represent, wear the sweater, wear the colors," Granato told reporters.
Granato will bring that patriotic passion to his latest challenge as coach of the U.S. Olympic men's hockey team for the 2018 Olympics, the first in more than 20 years in which NHL players will not participate.
Granato, a former Kings player who coaches at the University of Wisconsin, was announced Friday as coach, along with Jim Johannson as general manager and assistant coaches Chris Chelios, Keith Allain, Ron Rolston and Scott Young.
Johannson, a two-time Olympic player and longtime manager for the national program, and Granato are charged with forming a roster comprised primarily of players from the NCAA, the American Hockey League and those playing in Europe.
The NHL in April announced it will not participate in the 2018 Olympics in Pyeongchang, South Korea. It ends a run of five Winter Games with NHL players that began in 1998.
Granato said the U.S. is equipped to medal in the new format and cited growth of U.S. minor and junior leagues, in addition to the U.S. development program. The U.S. has not won gold in men's hockey since the famous 1980 "Miracle" upset of the Soviet Union by mostly college players.
"We expect to compete for a medal, and this will be no different," Granato said.
Johannson first chuckled when asked about the most difficult position to fill, and said, "To be honest, I think we're comfortable in the depth we have in all the areas" while he acknowledged goaltending is a focus.
Johannson also said they are looking at retired NHL players to fill out the roster. The U.S. will play in the Deutschland Cup on Nov. 10-12, in Augsburg, Germany, with mostly European-based players and that will be a basis to build out the team.
Asked how they will generate excitement without NHL players, Johannson said, "Turn the TV on. It's the Olympics.
"I think there's always been a fresh, and a raw and a unique feel to the Olympic Games. This is going to be great hockey. There's going to be 25 great stories of American guys that came up in wonderful grass-roots systems. … I think hockey fans always enjoy international competition, and this is going to be another great international competition."
---
Get the latest on L.A.'s teams in the daily Sports Report newsletter.
You may occasionally receive promotional content from the Los Angeles Times.