U.S. Olympic leaders react to suspension of UCLA anti-doping lab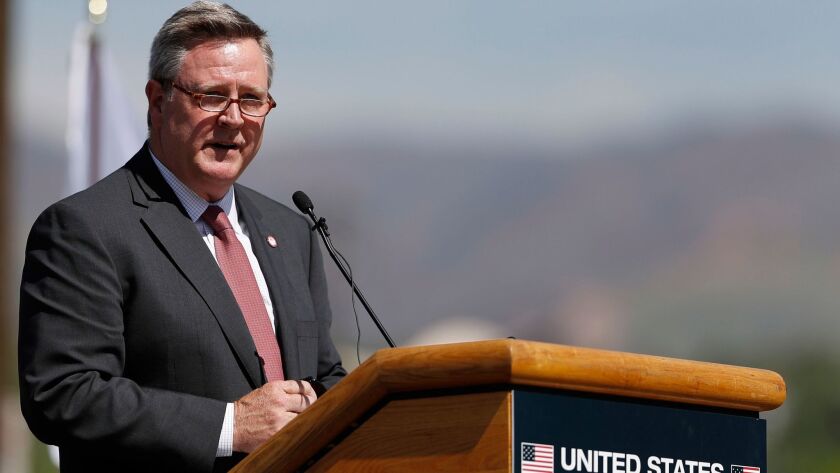 The U.S. Olympic Committee said Tuesday that it supports the actions of the World Anti-Doping Agency, which earlier in the day issued a partial suspension of the internationally known testing laboratory at UCLA.
WADA announced the UCLA lab can continue its regular anti-doping work, but must obtain a second opinion before reporting any positive findings with four anabolic steroids and glucocorticoids.
The international authority said it found that, in cases limited to those specific substances, UCLA had not been adhering to best practices.
"We're completely in favor of strict compliance with the code," USOC Chief Executive Scott Blackmun said. "To the extent that any laboratory is noncompliant, whether it's in the U.S. or otherwise, we support the direction that WADA has taken."
Speaking to reporters after a quarterly meeting of the USOC board in North Carolina, Blackmun also spoke about a crucial International Olympic Committee vote scheduled for mid-July.
IOC members will decide whether to alter the current bidding competition between Los Angeles and Paris, giving the 2024 Summer Games to one city and 2028 to the other.
A dual-award arrangement — which has been strongly recommended by IOC leadership — could lead to intense negotiations in advance of September's final selection.
Though Blackmun hesitated to speculate on what might happen over the next few months, he did say: "I would be lying to you if I told you we're not thinking about it all. We're really trying to begin to make sure that we have all of the questions in place that would need to be answered."
While Paris has pushed back against the idea — at least publicly — LA 2024 has said it would be willing to consider going second.
By agreeing to wait, bid leaders might be able to negotiate with the IOC for better terms.
"We'll hopefully take our list of questions, if that's the course we're taking, and make sure they get answered before we make any decisions," Blackmun said.
Twitter: @LAtimesWharton
---
Get the latest on L.A.'s teams in the daily Sports Report newsletter.
You may occasionally receive promotional content from the Los Angeles Times.