NFL skips this year's Mexico City game, but that won't stop pro leagues from trying to capitalize on the fruitful market
Reporting from mexico city —
For years the NFL has looked at Mexico as more than just a neighbor. It's also been a growth opportunity, a place where, the league says, 1 in 6 people already consider themselves fans of the game.
So when the NFL decided this week to pick up its ball and go home, relocating Monday's Rams-Kansas City Chiefs game from Mexico City to the Coliseum because of an unplayable field at the iconic Azteca Stadium, the league was quick to promise the decision wouldn't alter its long-term plans in the country.
"It's not a day-to-day, week-to-week proposition," said Mark Waller, the NFL's executive vice president of international. "I'd be comfortable to assume that in the next 20 years the Mexican economy is going to grow. So it's important for us that we're part of that long-term future."
The NFL isn't the only U.S. sports league with an interest — financial and otherwise — in Mexico. Major League Baseball and the NBA combined to play seven regular-season games there in the last two years and have more scheduled for next year.
Neither intends to change those plans.
"There's a reason why Mexico has hosted more NBA games than any country outside the U.S. and Canada," said Raul Zarraga, vice president and managing director of NBA Mexico.
"It is a market we value and will always be in consideration when deciding where international games will be held."
But to what end? Although neither baseball nor the NFL has discounted the possibility of placing teams in Mexico someday, for all three leagues the strategy for now is to plant the flag there, build partnerships, woo sponsors and expand their brand.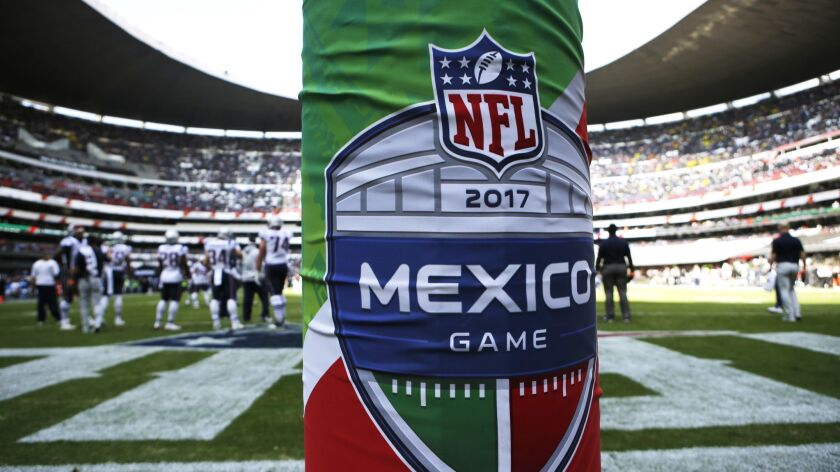 "NBA games in Mexico offer tremendous exposure for teams and players," Zarraga said. "They deepen the connection with our fans, especially with the various community events around the games. And they show that we are a global game."
Mexico's population has increased more than 30%, to 131 million, since 2000, a growth rate twice that of the U.S. and nearly three times that of China. That has made it the 10th most-populous country in the world and, given its proximity to the U.S. and its affinity for American culture, a market ripe for professional sports.
Waller said just five U.S. cities have more NFL fans than the Mexican capital, which has played host to regular-season games in each of the last two seasons, drawing more than 76,000 fans each time.
In April, the Dodgers and San Diego Padres played a three-game series before sellout crowds in Monterrey, and Major League Baseball is planning two more regular-season series in the country next season.
As for the NBA, the Orlando Magic will play two games in Mexico City next month, the third consecutive season the league has taken regular-season contests there.
"Mexico is a pivotal emerging market with a strong local tradition of baseball," Chris Park, Major League Baseball's senior vice president of growth, strategy and international, wrote in an email from Japan, where he is accompanying a tour of big-league players.
"The great support we have gotten from fans in both Monterrey and Mexico City over the last few seasons illustrates that baseball has a great future throughout Mexico."
So does the NFL, which called the relocation of Monday's game "an unfortunate occurrence" while saying it "remains committed to the market and the millions of NFL fans in Mexico."
Although the league released a statement Tuesday saying it only recently became concerned about the playing surface at Azteca Stadium, the poor state of the field has been an open topic of conversation in Mexico City since midsummer, when it was converted from natural grass to a more durable hybrid grass-turf mix called PlayMaster. Because of installation problems the transition wasn't completed until mid-July, just three days before the start of Mexican soccer's Apertura season.
And that, combined with an unusually long rainy season, more than two dozen soccer games and a busy schedule that has the stadium hosting an event every three days from early August through the end of the year, left the surface unsuitable for the NFL.
Over the last month at least three concerts and a two-day music festival were staged at Azteca. But Pedro Caixinha, coach of Cruz Azul — one of two Liga MX teams that call the stadium home — said those events shouldn't be blamed for the condition of the field.
"[It's] not because of the concerts," he said. "It's got to be something else they're not telling us."
Either way, "it's an embarrassment that the NFL has to flee," David Faitelson of ESPN Deportes wrote on Twitter, where angry fans made the game's relocation a trending topic in Mexico on Tuesday. "This will have consequences for Estadio Azteca and for the company that manages the stadium. What they did with Estadio Azteca is a crime. What a shame for the NFL."
But the league will be back, said Waller, the African-born Brit who manages the NFL's global expansion, adding that he can foresee a day when one of its teams might make Mexico home.
"If you were to pick a number — 25 years, 50 years — it would not at all surprise me to see a team in Mexico City, a team in Toronto, a team in London," he said. "Those are definitely feasible propositions."
kevin.baxter@latimes.com | Twitter: @kbaxter11
Cecilia Sanchez in the Times Mexico City bureau contributed to this report.
---
Get the latest on L.A.'s teams in the daily Sports Report newsletter.
You may occasionally receive promotional content from the Los Angeles Times.