Rams' Nickell Robey-Coleman fulfills promise to mother, earns degree from USC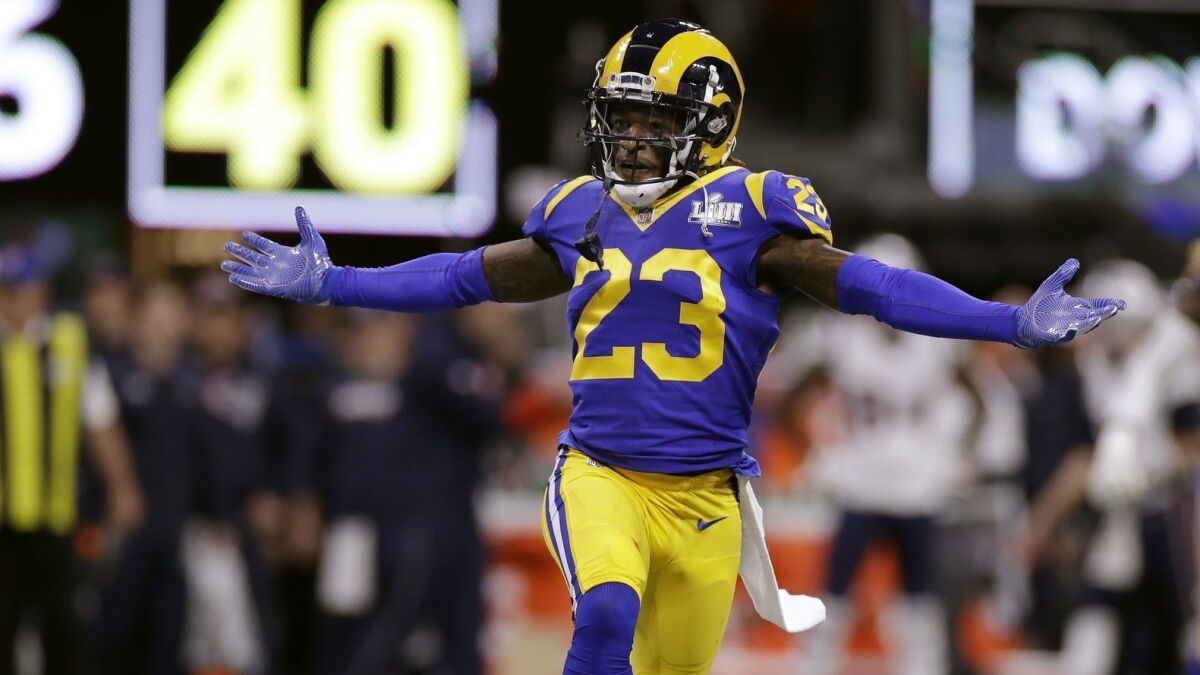 Promise made. Promise kept.
Before her son arrived at USC as a freshman cornerback in 2010, Nickell Robey-Coleman's mother, Maxine, made him vow that no matter what happened in his football career, he would earn a college degree.
Robey-Coleman later envisioned the moment — and what his late mother's reaction would be — when he received his diploma.
"I'll be saying, 'I did it!' " he said in 2011, "And she'll be like, 'Well done.' "
It took a while, but that moment has arrived.
Last week, Robey-Coleman finished coursework for his USC degree in policy, planning and development, with an emphasis in real estate development.
On Thursday, more than five years after he bet on himself and left school to pursue his NFL dream, the Rams cornerback will don cap and gown for an athletics graduate ceremony at USC's Galen Center. On Friday, he will participate in the school's commencement ceremony.
"I'm going to be honest," he said this week, "I think I'm going to cry."
So too might family, friends, USC staff and others who supported Robey-Coleman during his journey from Frostproof, Fla., to his time at USC and through the last year, which was marked by tragedy and triumph.
"It's the perfect culmination for him," said Heather Bell, USC's director of athletic academic advising.
Robey-Coleman, 27, is the latest former USC football player to return to school to earn his degree. Rams receiver Robert Woods did it in 2016. Troy Polamalu and Shaun Cody are among others who've done it. Tim McDonald, a former Trojans safety who played 13 NFL seasons before retiring in 1999, earned his diploma 25 years after turning pro. And Chris Claiborne, the 1998 Butkus Award winner as college football's top linebacker, is currently working toward completing his degree.
Bell said Robey-Coleman is a great example for current and former athletes, to show that with a plan in place they can earn a diploma even if they leave school to pursue a professional athletic career.
"It doesn't have to be either or," Bell said. "So why not have a backup plan when it's over? Because we all know that you're going to finish at some point and still have a long life to live."
Robey-Coleman, an undrafted free agent, began his NFL career with the Buffalo Bills in 2013. He signed a one-year contract with the Rams before the 2017 season, and then earned a three-year, $16.75-million extension, with $8 million guaranteed.
Playing as a slot-corner, the 5-foot-8, 180-pound Robey-Coleman helped the Rams win the NFC West in 2017 and reach the Super Bowl last season.
But earning his diploma from USC, he said, was "a milestone" that ranked among his proudest achievements.
Growing up in Florida, the young man known then as Nickell Robey had designs on playing at Georgia, where a cousin had played running back. But after a change in the Bulldogs staff, Robey attended a camp put on by Tennessee, where he impressed then-Volunteers coach Lane Kiffin and his father, defensive coordinator Monte Kiffin.
Robey's mother admired the elder Kiffin and told her son he would be a good role model to play under. So her son made an oral commitment to the Volunteers and appeared bound for Knoxville.
But when USC hired Lane Kiffin to replace Pete Carroll, the Kiffins recruited the smallish defensive back to become a Trojan, and he signed a national letter of intent with USC.
Before the college recruiting process had begun, Maxine Coleman had told her son to look her in the eyes. She had a message.
"She said, 'I already know you're going to be pretty good in football, but I need you to get your degree,' " he recalled. "So I was like, 'Mom, I promise you, I'll get my degree. I promise.' "
Two weeks after her son signed with the Trojans, Maxine died of heart failure at age 44.
But her memory, and the promise he had made, drove her son during three seasons at USC, where he developed into a special-teams standout and cover corner.
Still, many were shocked when Robey announced after the Trojans' loss to Georgia Tech in the 2012 Sun Bowl that he would make himself available for the NFL draft. With the Bills, he did what he always had done: He won over coaches with his speed, intelligence, toughness and drive.
After his first season with the Bills he contemplated not returning to school. Then he remembered his promise.
"I was like, 'Man, know what? I got to go. I got to go back,' " he said. "I made a promise. … If I don't do nothing else, this is on my bucket list. I've got to get this done."
Robey attended transferrable classes at Warner University in Florida in the spring of 2014, then returned to USC in 2015.
Before the 2016 season, to honor his mother, he added her last name to his own. After the season, he returned to USC, taking three classes. He took three more after his 2017 season with the Rams, putting him closer to honoring the promise he'd made.
Last season, Robey-Coleman dealt with another death. His son, Nickell Jr., was delivered prematurely and with lung complications last November. He died a few days later.
Robey-Coleman keeps Nickell Jr.'s footprint with him in a keychain locket to remind him of his son daily.
"It was definitely a struggle," he said. "I just prayed for guidance, for my mind to stay in the right place. … I just looked at the situation when my mom passed and tried to [duplicate] that for motivation."
Robey-Coleman was still coping with the tragedy as he endured through the controversy that surrounded a play he made in the NFC championship game against the New Orleans Saints. He should have been cited for pass interference when he broke up a pass late in the game, but no penalty was called and the Rams won in overtime.
The aftermath was "totally nuts," Robey-Coleman said.
"When I was in L.A. it was love — I'm talking about anywhere I go, restaurants, the gas station — it was like 'Thank you! Thank you!' " he said. "Anywhere else, people were like, 'You got lucky!' They were all, 'You should have never went to the Super Bowl!' "
In the Super Bowl against the New England Patriots, Robey-Coleman deflected Tom Brady's first pass, resulting in an interception. But the Rams' high-powered offense stalled in a 13-3 defeat.
Robey-Coleman said the Rams will be prepared for another Super Bowl run when they begin training camp in July.
For now, though, he is focused on graduation.
And his former coaches are cheering him on. Lane Kiffin, coach at Florida Atlantic University, said it was "awesome" that Robey-Coleman returned to USC to earn his degree. Monte Kiffin, 79, a defensive analyst for FAU, is not surprised that his former player saw it through.
"He's got some money in his pocket and this and that and yet he's still going back and getting his degree because of his mother," Monte Kiffin said. "I'm so proud of him."
So are the Rams.
Sign up for our daily sports newsletter »
"You talk about supporting each other, being happy for guys achieving big-time things in life," Rams coach Sean McVay told players last week before presenting Robey-Coleman with a cake celebrating his impending graduation.
Robey-Coleman is already applying what he learned in school. He said he is a partner in eight real estate projects in three states.
"Going to school and finishing it took everything to the next level," he said. "I know how things flow, and now that I'm graduating in the field I want to invest more and set my future up the best way possible."
First he will welcome family and friends who have traveled to Los Angeles from all over the country to help him celebrate his achievement. His mother and his son will be there in spirit.
"It's going to be a full house," he said. "It's going to definitely be something to remember forever."
That's a promise.
Follow Gary Klein on Twitter @latimesklein
---
Get the latest on L.A.'s teams in the daily Sports Report newsletter.
You may occasionally receive promotional content from the Los Angeles Times.