Rams look a lot like St. Louis, Anaheim versions in ugly 28-0 loss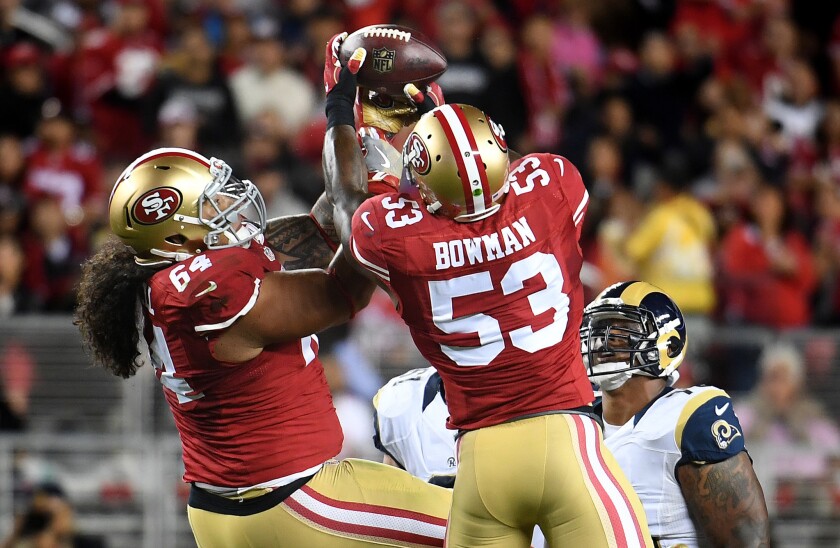 Reporting from Santa Clara —
It didn't look much different than the last time the Rams called Los Angeles home.
It bore a striking resemblance to the way they played for much of the last 13 years in St. Louis, too.
The season opener against the San Francisco 49ers on "Monday Night Football" was supposed to be the Rams' national coming-out party.
Instead, it served as an ugly reminder that regardless of location, this is a team still many moves away from becoming a contender.
The Rams' 28-0 loss at Levi's Stadium featured inconsistent quarterback play and an offense that could not score or convert third downs. Those are the same characteristics that plagued the Rams last season when they finished 7-9 with NFL's worst offense and worst passing offense.
And a defense attempting to make up for the losses of a key cornerback and safety to free agency struggled against 49ers quarterback Blaine Gabbert, who had been pedestrian in his first five NFL seasons.
The frustration spilled over late in the fourth quarter when Pro Bowl defensive tackle Aaron Donald was ejected for committing his second unsportsmanlike-conduct penalty. The third-year pro took off his helmet and slammed it to the turf near midfield before he was escorted to the locker room.
That does not bode well for a team that will play this week's home opener against a Seattle Seahawks team poised to make Coach Pete Carroll's homecoming to the Coliseum a happy one.
"We've got to come back," safety T.J. McDonald said. "We've got to bounce back strong . We've got to come back with a sense of urgency."
Added middle linebacker Alex Ogletree: "There's frustration, but it's Week 1. We've got a long season ahead of us. We have to get back to the drawing board."
It was supposed to be different, in theory at least, after the NFL gave the Rams permission to move from St. Louis and return to Los Angeles after a 21-year absence.
Rams Coach Jeff Fisher said last week that after all the moves his team made in the last few months — to Oxnard, to Irvine and finally to Thousand Oaks — other teams would not care.
"So we'll go show them it was all worth it," Fisher said.
It did not look that way on a night when Chip Kelly won his debut as 49ers coach — and Fisher's record in four-plus seasons dropped to 27-37-1.
It was the first shutout defeat during Fisher's Rams tenure, the first suffered by the franchise since a 27-0 loss at Pittsburgh in 2011.
"Well that wasn't what we expected," Fisher said after the game. "Certainly not what I expected with our first game back in L.A."
Rams quarterback Case Keenum had looked forward to his first season-opening start after four seasons as a backup.
But with No. 1 draft pick Jared Goff inactive for the game and standing on the sideline, Keenum struggled. He completed 17 of 35 passes for 130 yards, with two interceptions, and failed to move the Rams even close to the end zone or into field-goal range. He was sacked twice and hit hard multiple times.
Rams running back Todd Gurley, the reigning NFL offensive rookie of the year, had said he was not worried about having played only one series during the exhibition season.
"Once the game comes," he'd said, "I feel like I'll be fine."
But Gurley never got going against the 49ers, rushing for only 47 yards in 17 carries.
Receiver Tavon Austin also had been kept under wraps during exhibitions. The multidimensional wideout was expected to have a major role in the opener, but he caught only four passes and carried the ball only once.
The Rams defense was supposed to be the team's strength, but it could not contain Gabbert or running back Carlos Hyde.
Gabbert extended plays with his legs and came up with big completions in third- and fourth-down situations. He finished 22 for 35 for 170 yards and a touchdown, and also rushed for 43 yards in nine carries.
Hyde rushed for 88 yards and two touchdowns in 18 carries.
The Rams trailed 14-0 at halftime after the offense sputtered and Gabbert came up with big plays.
The Rams gave the 49ers plenty of opportunities by gaining only 87 yards, converting only one of eight first downs and committing four penalties.
Gurley gained only 28 yards in 11 carries in the first half and Keenum was sacked twice.
The Rams' first series started with promise when Keenum moved the offense into 49ers territory, but an incomplete pass, a drop by Austin and another incomplete pass set the tone for the rest of the half.
The Rams lost the ball on a turnover and couldn't capitalize when they forced one.
Midway through the first quarter, the 49ers started the first of their two scoring drives. Gabbert scrambled for first downs and Hyde pounded through the Rams defensive front as the 49ers moved to the 11-yard line.
Hyde took a handoff, stutter-stepped to the right and then planted his left foot, seemingly freezing the entire defense. Then Hyde dashed to the end zone to give the 49ers a 7-0 lead.
Early in the second quarter, the Rams provided the 49ers another opportunity.
A Keenum pass was deflected just behind the line of scrimmage and into the hands of 49ers linebacker NaVorro Bowman.
Gabbert took over and came up with a huge fourth-down pass to Jeremy Curley for 18 yards. That kept alive a nine-play drive and set up Shaun Draughn's short scoring run for a 14-0 lead.
gary.klein@latimes.com
Twitter: @LATimesklein
---
Get the latest on L.A.'s teams in the daily Sports Report newsletter.
You may occasionally receive promotional content from the Los Angeles Times.