Column: After Rams fail miserably in opener, can we return them to St. Louis?
Reporting from Santa Clara —
We waited 22 years for … this?
The Rams formally returned to Los Angeles on Monday night by stumbling through the door and tracking mud on the floor before flopping aimlessly on the couch.
Hey, St. Louis, you want them back?
Just kidding. Sort of. Maybe not. Is there a return policy on this golden-horned mess?
The Rams played the first regular-season game by a Los Angeles NFL franchise in 22 years by behaving as if it was the first game they have played anywhere in 22 years, losing miserably to the San Francisco 49ers, 28-0.
That's right, after wandering for more than two decades in the desert, the Rams finally showed up, but then didn't show up.
Twenty-two years later, the Rams are here, but Los Angeles still hasn't scored an NFL point.
As premieres go, it was a face plant into the red carpet. As homecomings go, it was a Kiwanis Club float with no driver and no brakes.
Bill Plaschke, Sam Farmer, Gary Klein and Lindsey Thiry break down the Rams' 28-0 loss to the 49ers in a season opener at Levy's Stadium in Santa Clara.
"Like I told the players, there are 15 other teams that lost," said Rams Coach Jeff Fisher.
Hello? Did any of those teams celebrate such great history by making such bad history? Any of those teams end a two-decade drought with a four-touchdown loss?
"We came out expecting the Rams to play better than they did," said the 49ers' NaVorro Bowman.
You think?
We all knew the Rams didn't have the titles of the Lakers or the history of the Dodgers — they had not made the playoffs in 14 years — but did anybody actually believe they would be early-Clippers bad ?
They were worse. They were Benoit Benjamin in a helmet. They were Michael Olowokandi in shoulder pads.
It started with a first half during which they gained all of 87 yards while allowing two 49ers touchdowns thanks to a variety of mistakes and much confusion.
It ended midway through the fourth quarter with Aaron Donald, the Rams' vaunted defensive leader, being ejected after knocking off Quinton Patton's helmet and having contact with an official.
With the Levi's Stadium fans gleefully booing, Donald embarrassingly stripped off his own helmet, smashed it on the turf, and stalked off the field like a big angry kid who had just been thrown out of recess.
"I let my emotions get the best of me … no excuses," said Donald. "Anytime you lose a game like that, you're going to be embarrassed."
After thriving without professional football for 22 years, the Los Angeles sports landscape doesn't need this. The landscape doesn't want this. As the Rams will learn when they lose their buzz this week, the landscape will not tolerate this.
The Rams can't just show up and play on "Monday Night Football" and think L.A. will love them for it, not when they play like this, and the Rams know it.
All the goodwill they built up during the summer disappeared Monday night with a terrible Case Keenum interception that killed their only decent scoring chance, with Keenum throwing two picks and completing fewer than half of his 35 passes.
All the excitement they generated this fall during well-attended training camp sessions ended as quickly as Todd Gurley was stuffed at the line of scrimmage, again and again, gaining only 47 yards.
All that talk about restoring the once-great Rams tradition was thrown around like yellow flags on a humiliating number of dumb Rams penalties, 10 for 102 yards.
"Yeah, it's definitely embarrassing," said Keenum. "I'm a winner. I know Todd is a winner. Everyone in that locker room is winners."
Maybe so, but the only time the Rams seemed truly passionate was during the national anthem, when the team's Robert Quinn and Kenny Britt stood with their right fists raised in unity with the 49ers' Colin Kaepernick and Eric Reid.
All that controversy over quarterback Jared Goff, the No. 1 overall draft pick who was appropriately inactive for this game because he struggled terribly during the preseason?
Watching this game from the sidelines while wearing a T-shirt, sweats and baseball cap was the best thing to happen to the kid. He kept his hands clean of this nightmare. He can learn from this beating without collecting a single bruise.
Goff would not have made a difference Monday night. But this could give Fisher the excuse to stick him in there in coming weeks. How much worse could he make it?
The 49ers fans began screaming "Beat L.A." before the game as if they've been waiting all those 22 years to fill a football stadium with that chant. It took their football team all of about 22 seconds to start actually doing it.
At 7:21 p.m., the Rams ran the first professional football play by a Los Angeles team in 22 years. It was Gurley running right for four yards, upon which he basically disappeared for the rest of the night.
Later in the first quarter, the 49ers' first touchdown drive contained all sorts of Rams foolishness.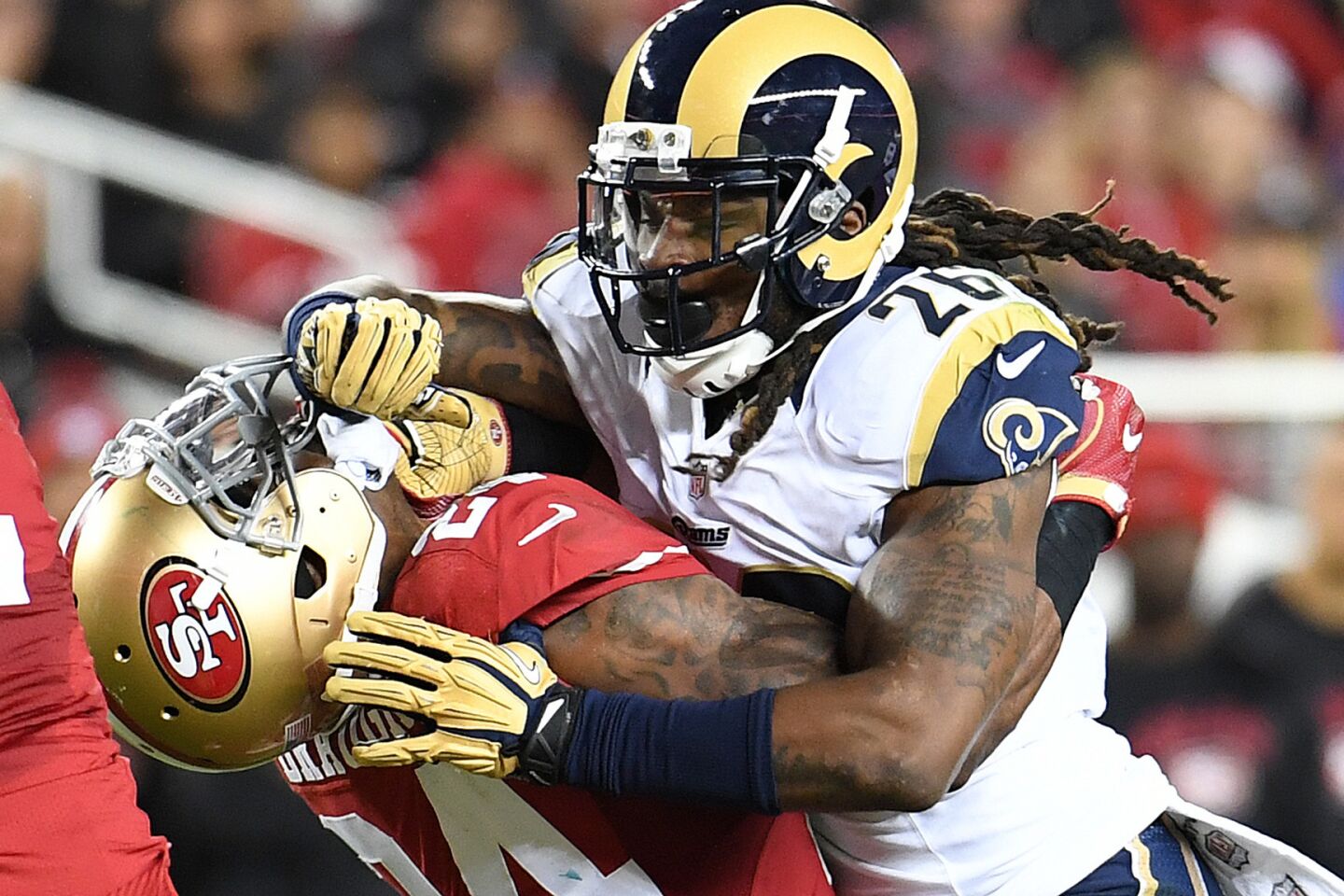 Rams linebacker Mark Barron hits 49ers running back Shaun Draughn on a pass play in the third quarter.
(Wally Skalij / Los Angeles Times)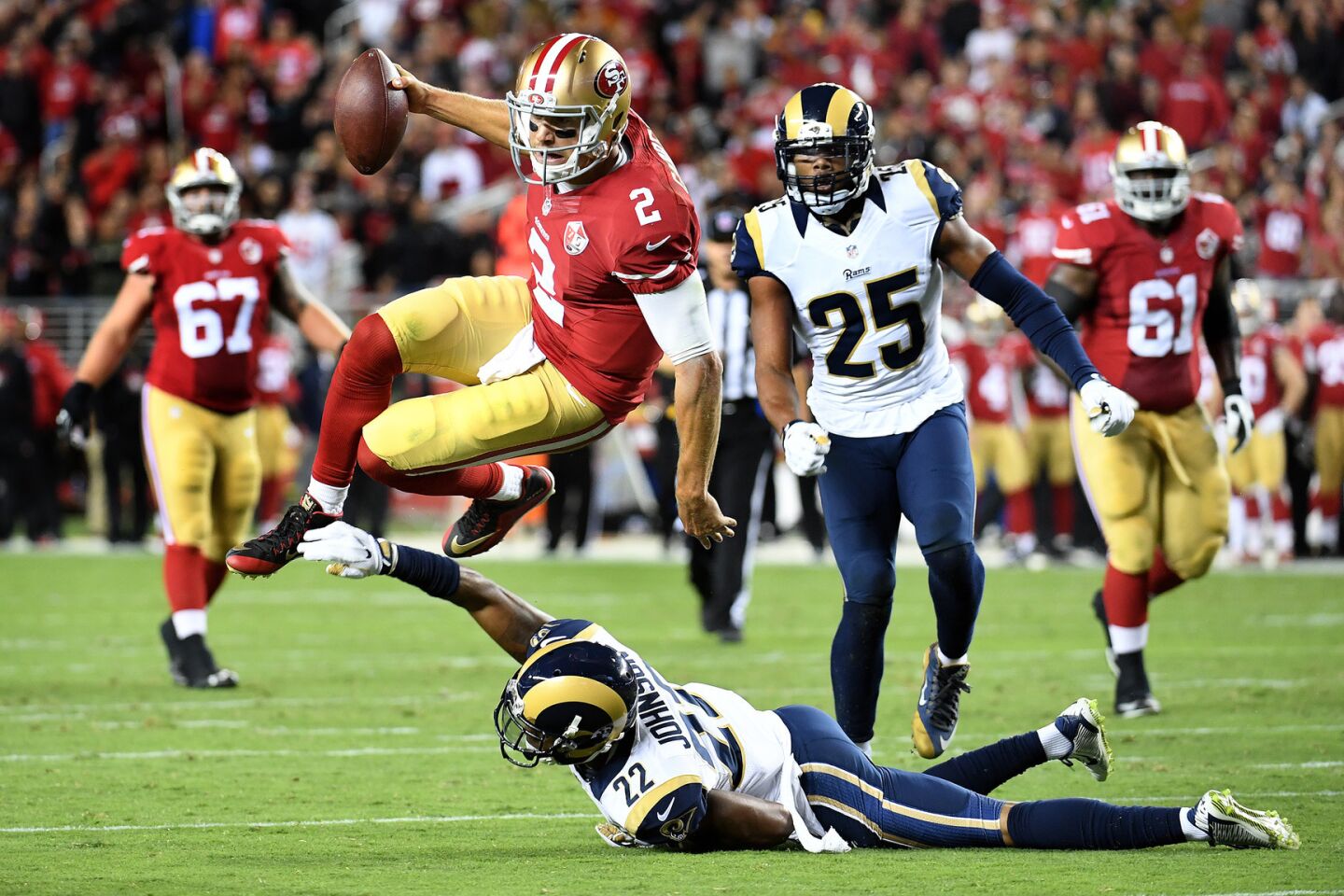 49ers quarterback Blaine Gabbert leaps for a 1st down over Rams cornerback Trumaine Johnson in the 2nd quarter.
(Wally Skalij / Los Angeles Times)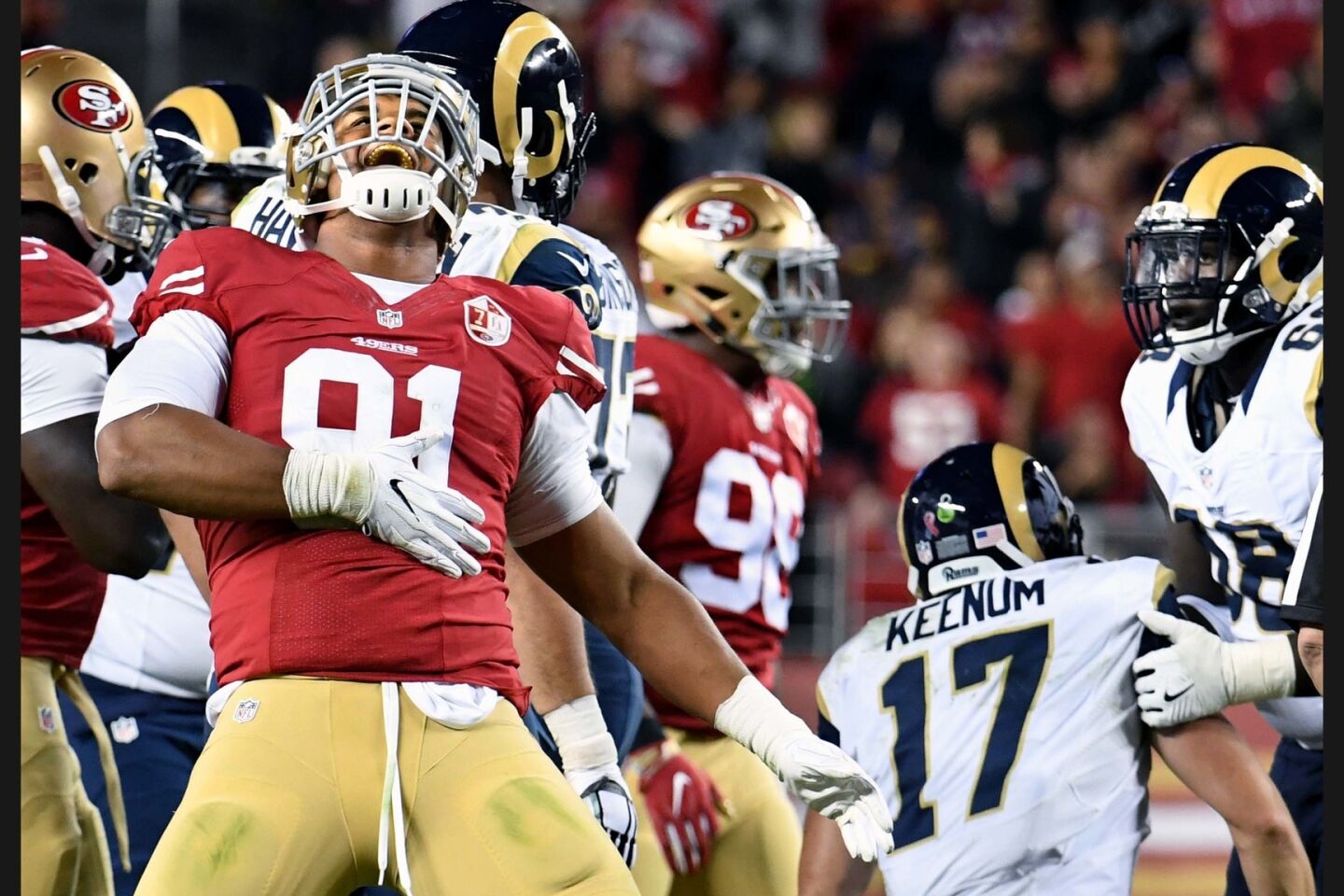 49ers Arik Armstead celebrates his sack on quarterback Case Keenum (17) in the 2nd quarter.
(Wally Skalij / Los Angeles Times)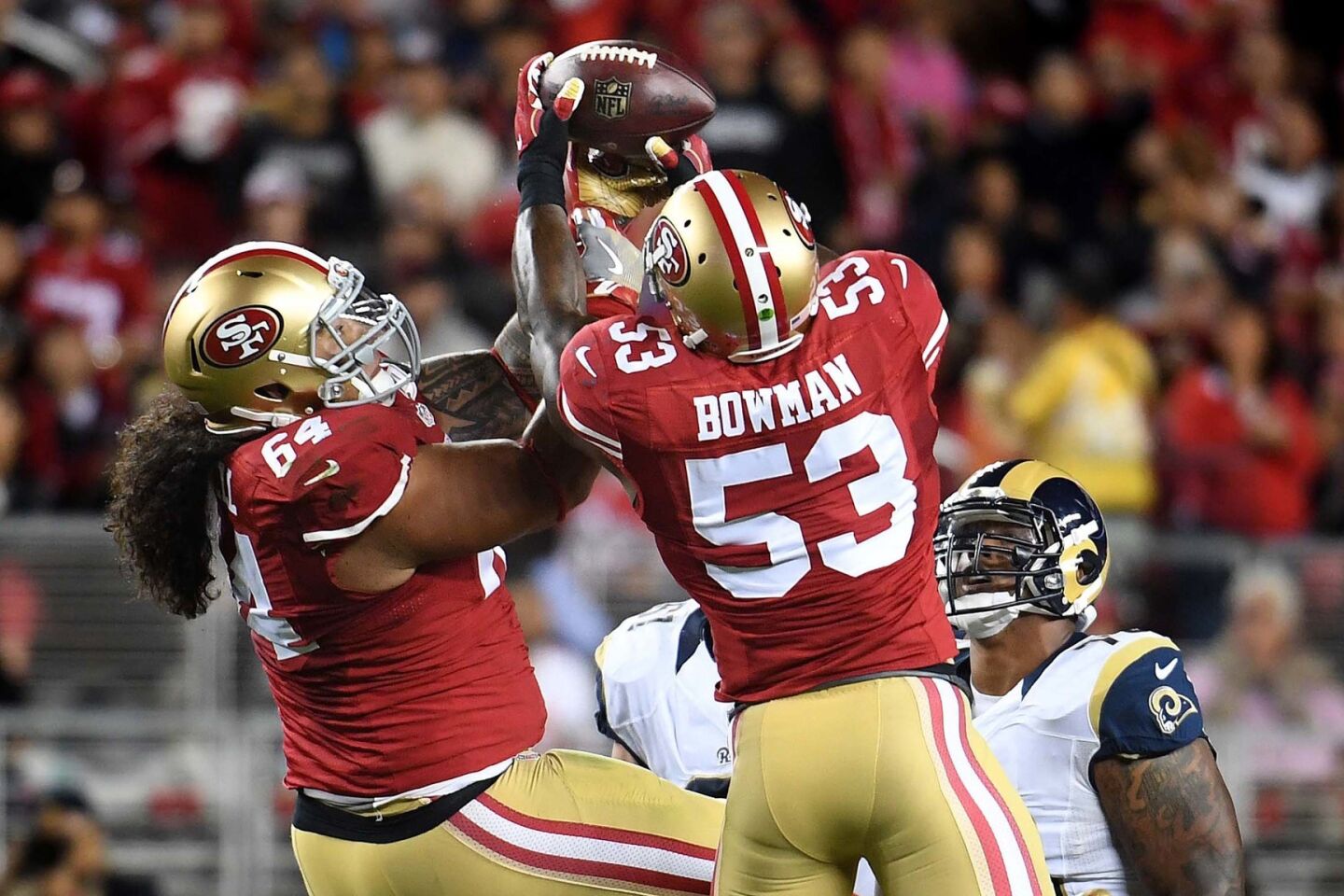 49ers NaVorro Bowman and Mike Purcell intecepts a Case Keenum pass in the 2nd quarter.
(Wally Skalij / Los Angeles Times)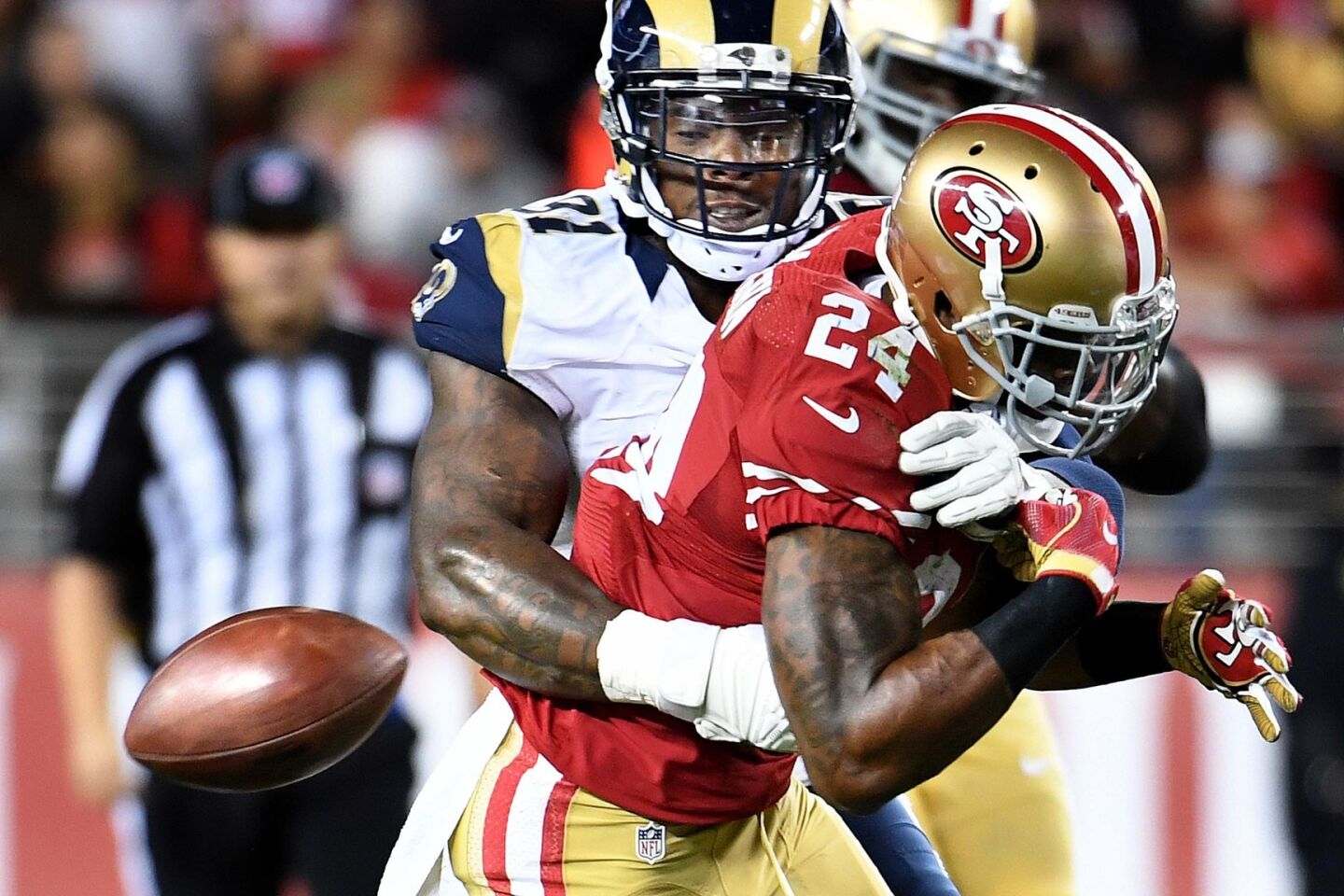 Rams Dominique Easley forces a fumble on 49ers running back Shaun Draughn in the 2nd quarter.
(Wally Skalij / Los Angeles Times)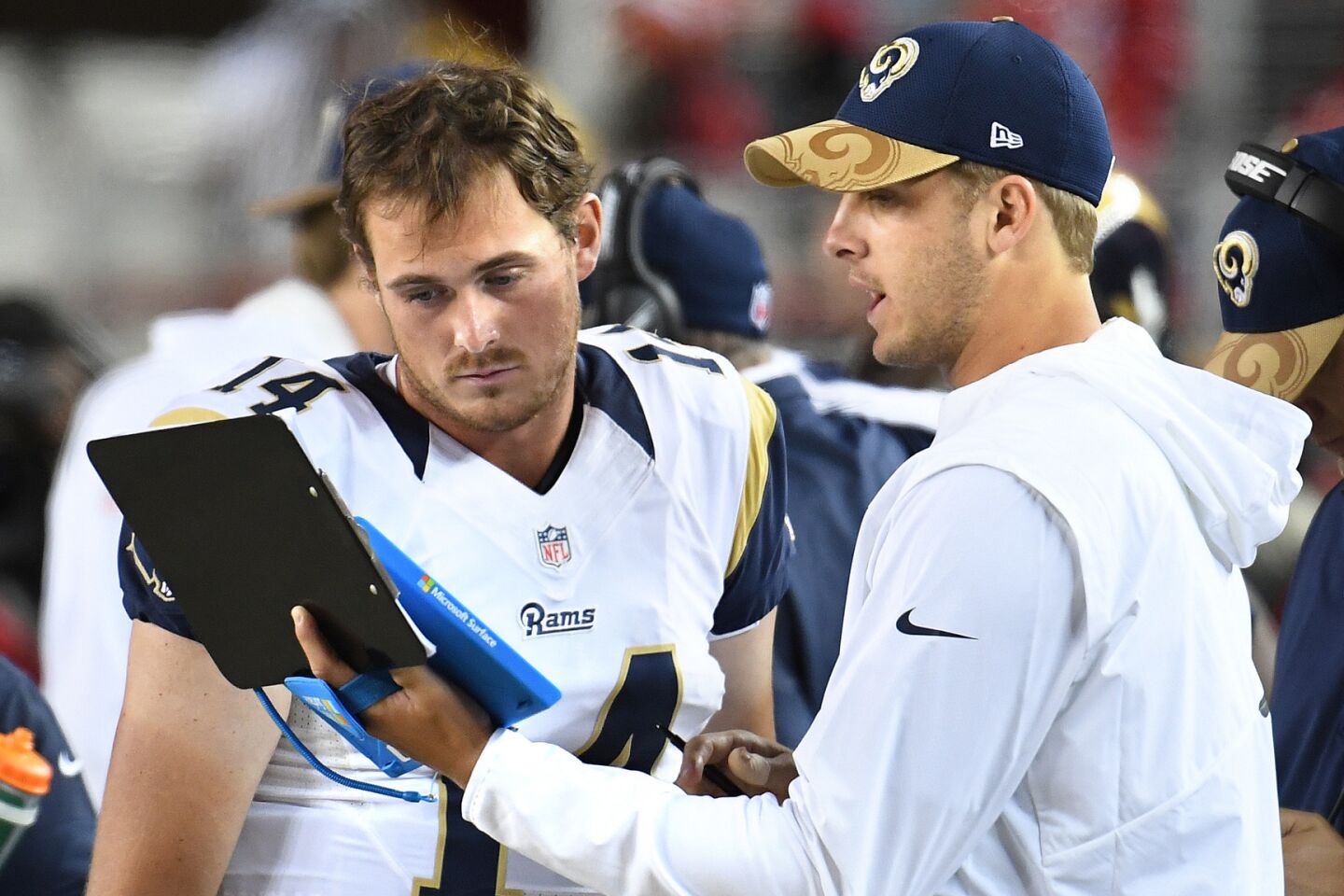 Rams quarterbacks Sean Mannion, left, and Jared Goff talk on the sideline after starter Case Keenum had a pass intercepted in the season opener.
(Wally Skalij / Los Angeles Times)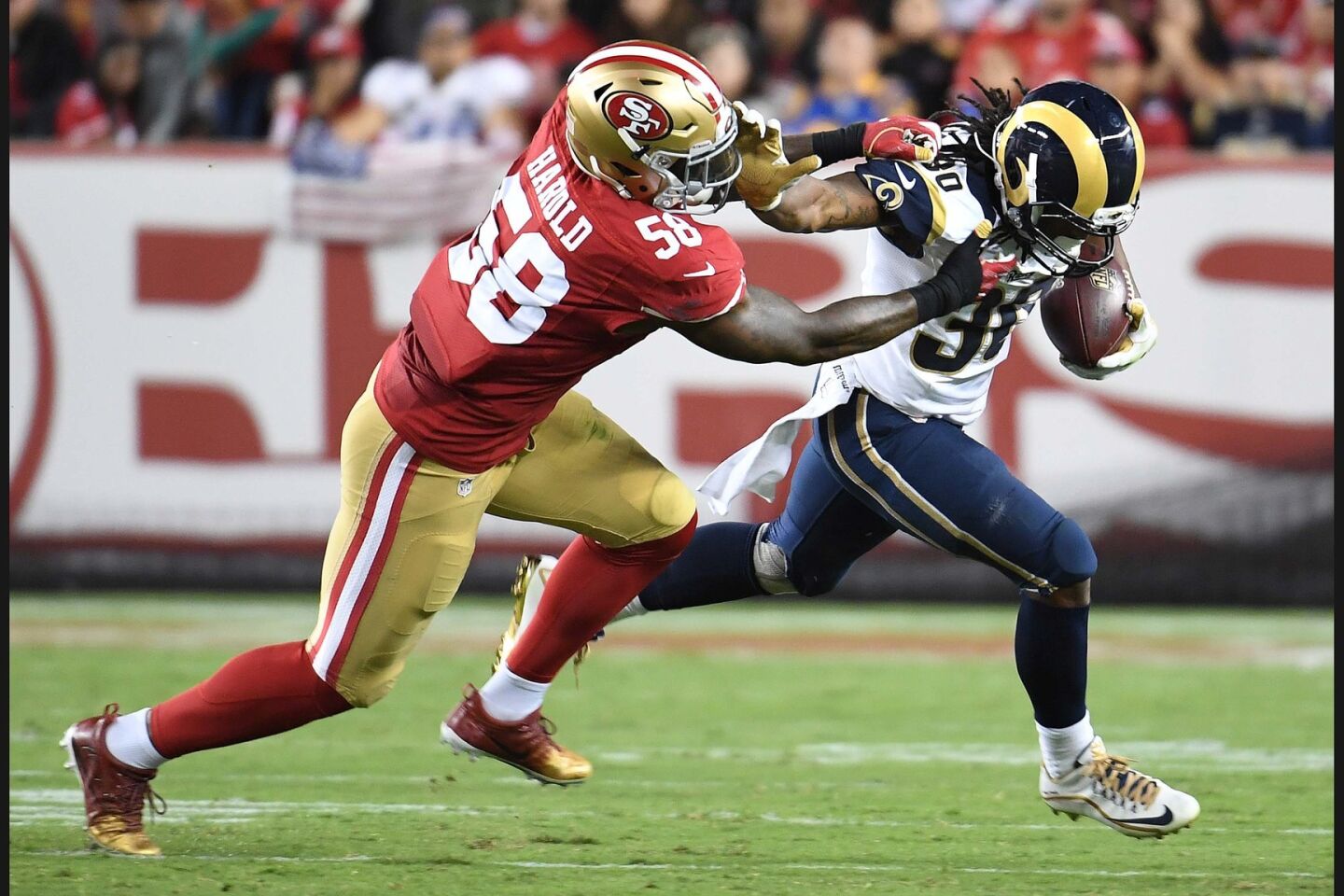 Rams running back Todd Gurley is held to a 1-yard gain as 49ers linebacker Eli Harold brings him down in the 3rd quarter.
(Wally Skalij / Los Angeles Times)
49ers cornerback Tramaine Brock knocks the ball away from Rams receiver Brian Quick on Monday.
(Wally Skalij / Los Angeles Times)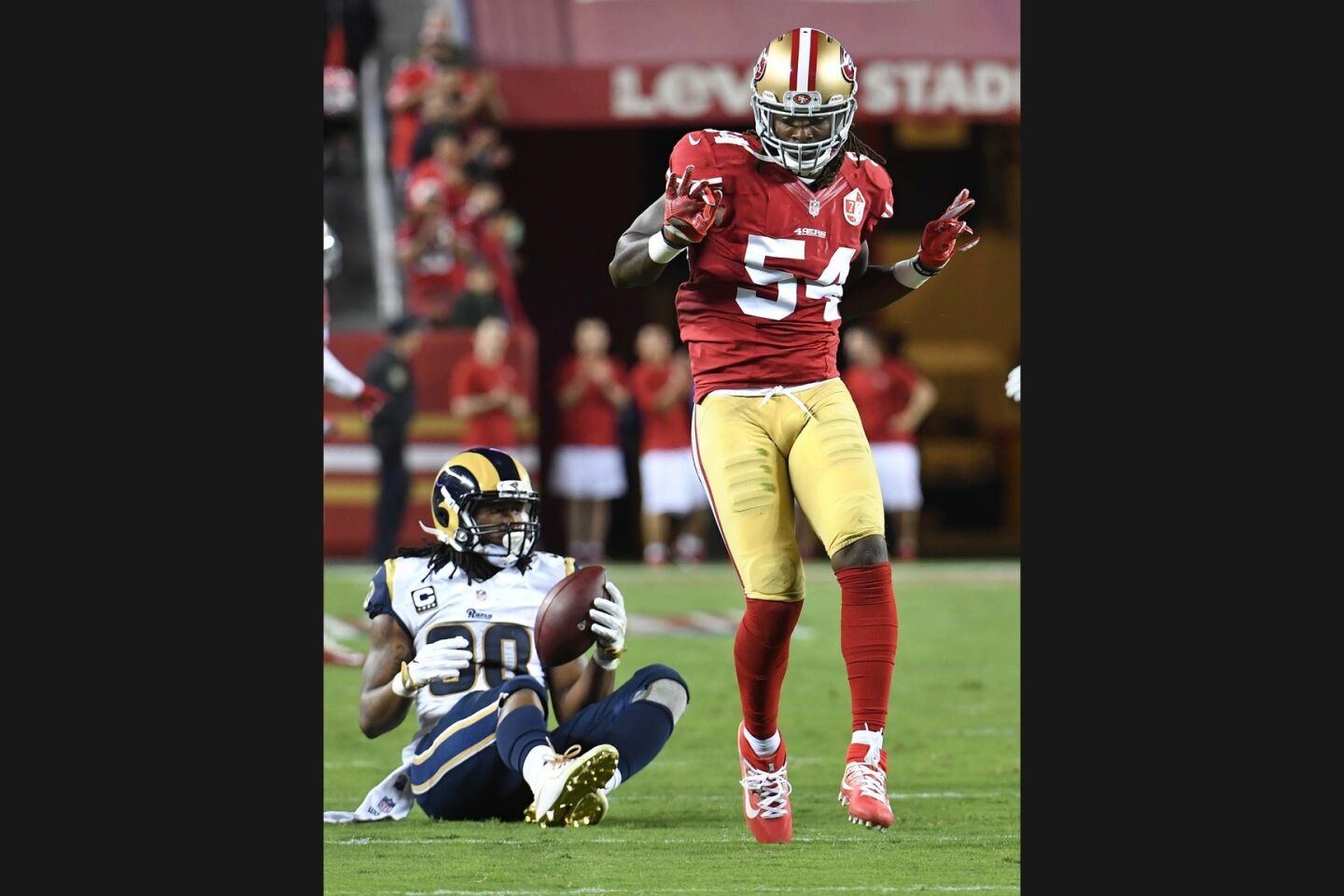 49ers linebacker Ray-Ray Armstrong dances after tackling Rams running back Todd Gurley for a 5-yard loss in the 2nd quarter.
(Wally Skalij / Los Angeles Times)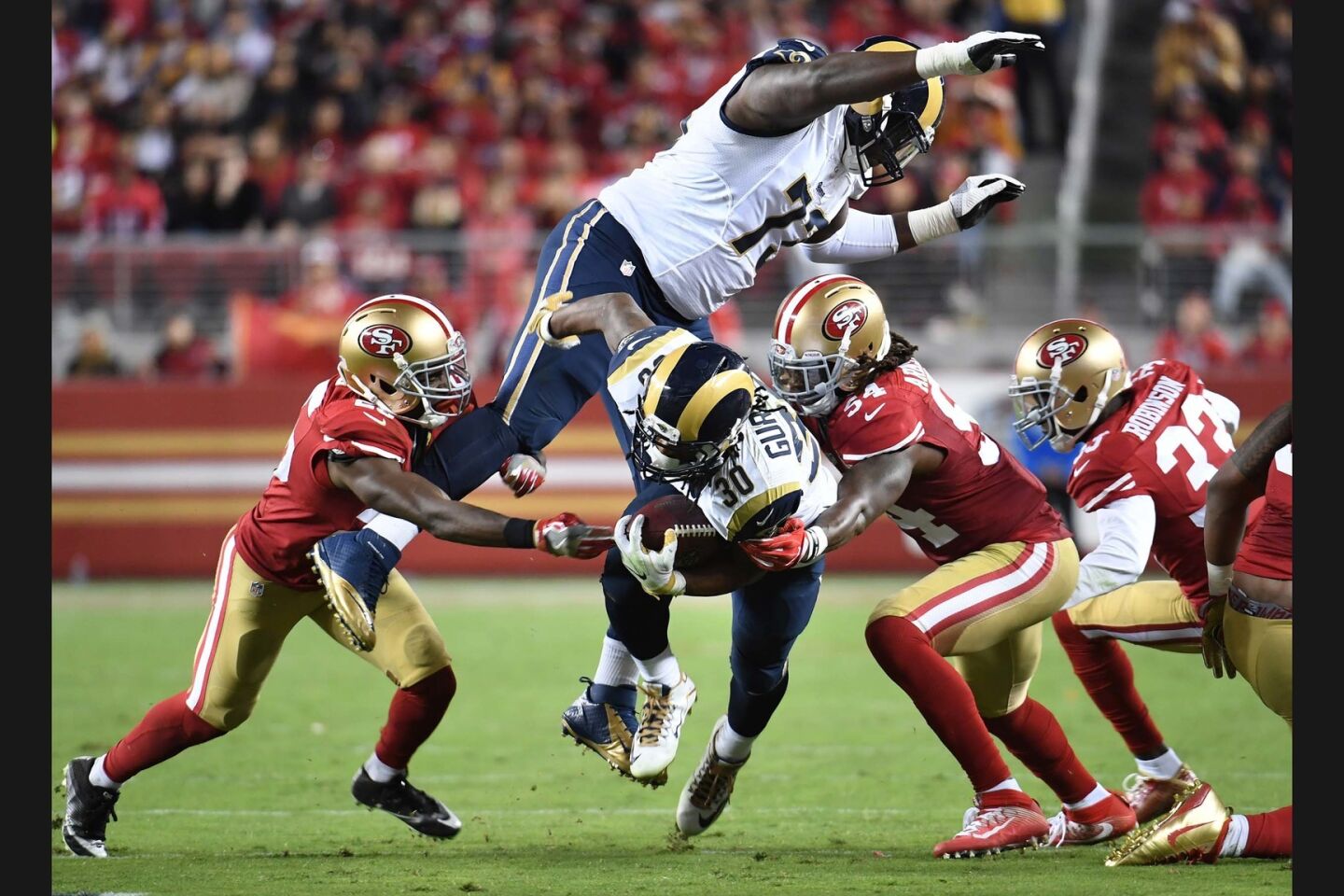 Rams running back Todd Gurley is brought down by the 49er defense as offensive lineman Greg Robinson tries to avoid him in the 3rd quarter.
(Wally Skalij / Los Angeles Times)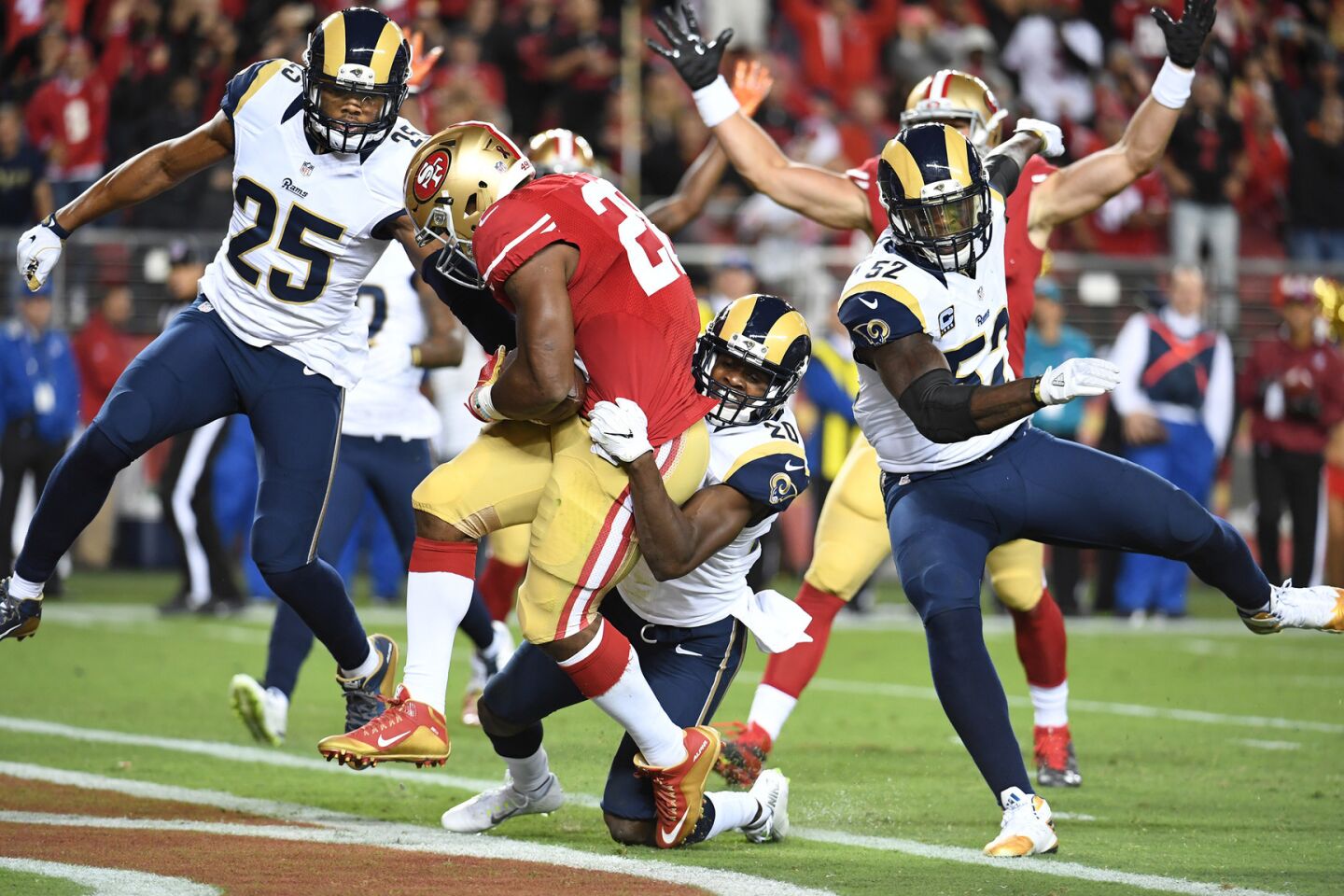 49ers running back Carlos Hyde scores a touchdown in front of Rams (L-R) T.J. McDonald, Lamarcus Joyner and Alex Ogletree in the 1st quarter.
(Wally Skalij / Los Angeles Times)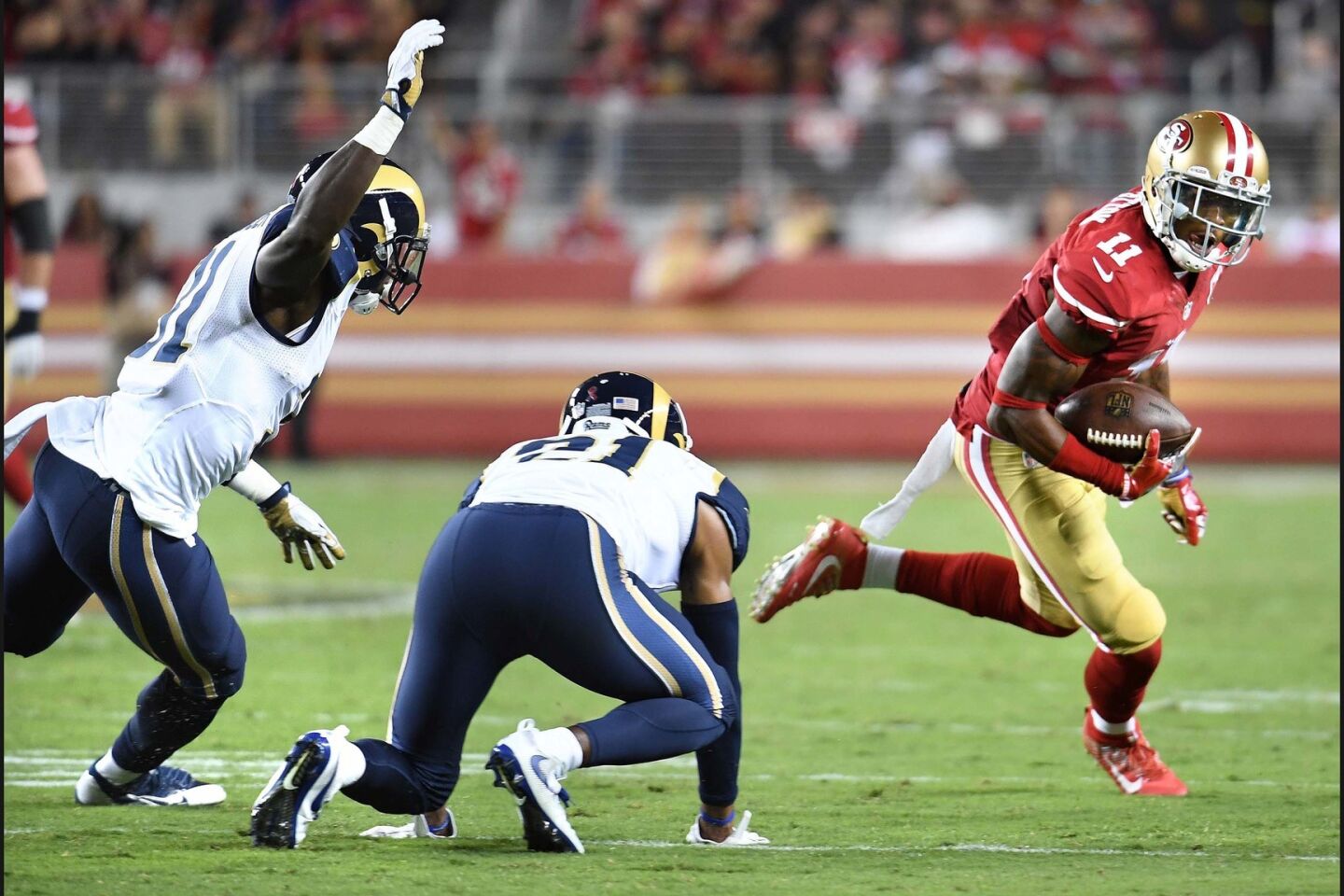 49ers receiver Quinton Patton eludes the tackle of Rams defenders Maurice Alexander, left, and Coty Sensabaugh for a huge gain in the 4th quarter.
(Wally Skalij / Los Angeles Times)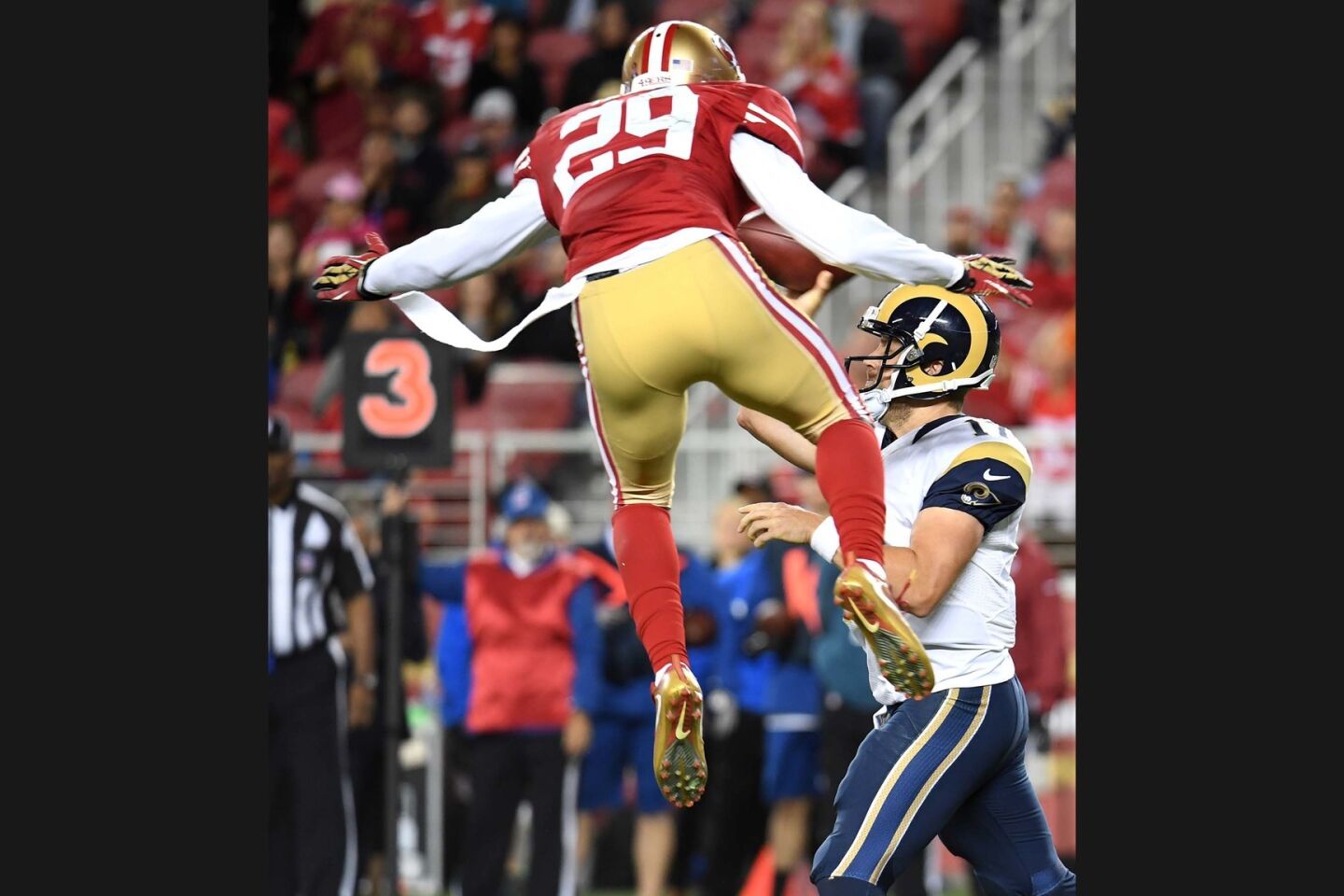 49ers Jauiski Tartt pressures Rams quartback Case Keenum into an incomplete pass in the 3rd quarter.
(Wally Skalij / Los Angeles Times)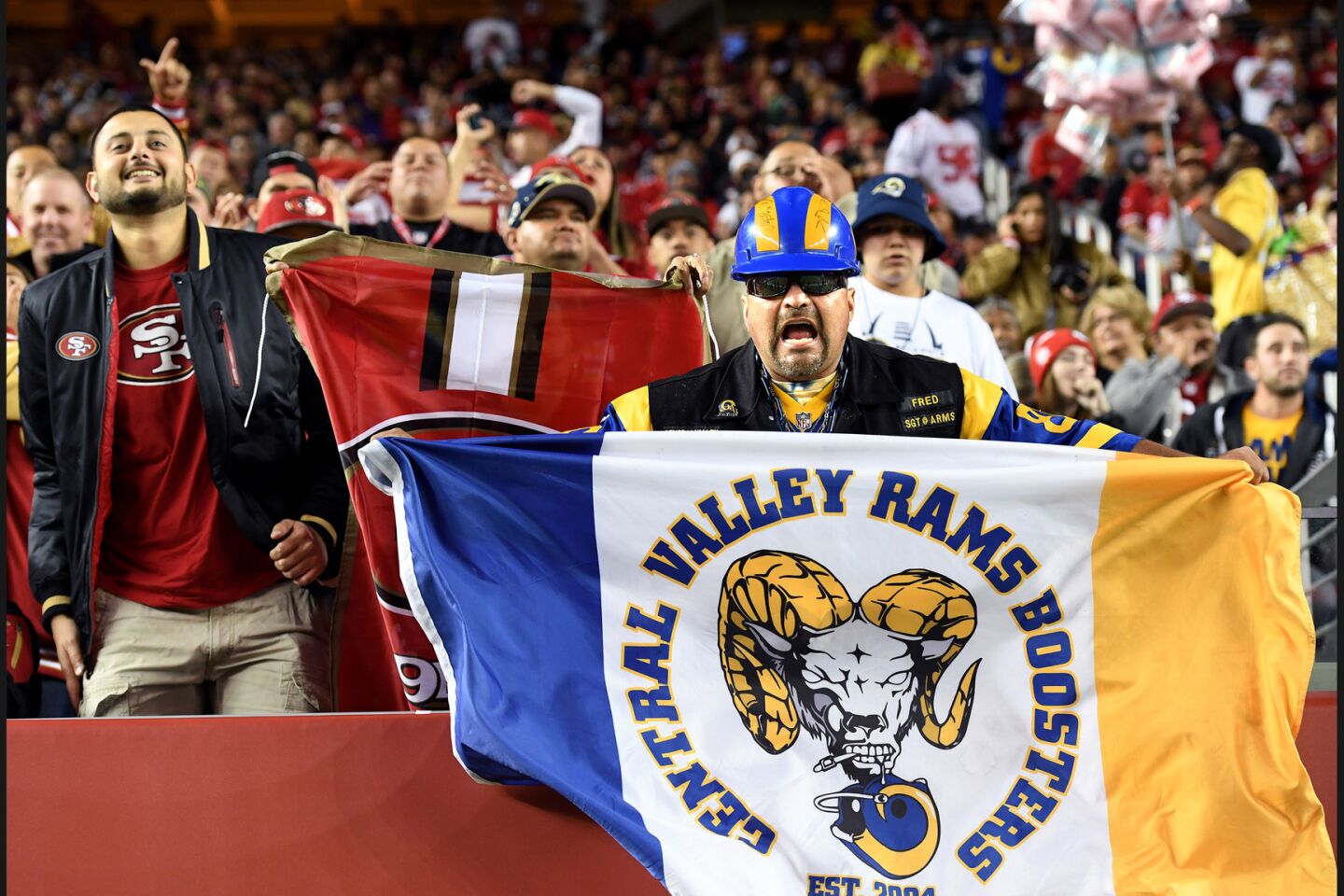 A Rams fan cheers for his team in the 1st quarter against the 49ers.
(Wally Skalij / Los Angeles Times)
Rams take the field before their game with the 49ers at Levi's Stadium in Santa Clara.
(Wally Skalij / Los Angeles Times)
There was ugly Rams defense, allowing Blaine Gabbert to scramble twice for a total of 16 yards. There were dumb Rams decisions, Lamarcus Joyner's defensive holding adding five yards. Then, finally, a complete Rams breakdown on Carlos Hyde's 11-yard run through a confused middle for a touchdown.
This set up more Rams indignation in the second quarter on a nine-play scoring drive by the 49ers that featured a fourth-and-six conversion on a diving catch by Jeremy Kerley and another defensive holding penalty on Joyner. The drive ended with Shaun Draughn fighting off T.J. McDonald and fighting into the end zone on a three-yard run for an eventual 14-0 lead.
The Rams made a nice effort late in the third quarter after a long Tavon Austin punt return and then a nice Austin catch on third down. They were still down by only two touchdowns. But then Keenum threw the ball directly to the 49ers' Ray-Ray Armstrong on the San Francisco 23-yard line for his second interception. The game essentially ended, leaving the Rams to ponder the difficulties of the home opener Sunday against the Seattle Seahawks.
"We have to go out and fix the problem and do us, be us," said Keenum.
Or at least be a team whose drive chart doesn't read like the Rams' drive chart on this most of horrid of Monday nights: punt, punt, punt, interception, punt, punt, punt, punt, punt, punt, interception, punt, turnover on downs, end of game.
Welcome home, Rams. Now go back outside and get your act together.
Bill.plaschke@latimes.com
Twitter: @billplaschke
ALSO
What we learned from Rams' 28-0 loss to the San Francisco 49ers
Things you might have missed in Monday's Rams-49ers game
Rams tape review: L.A. loses its cool in shutout loss to the 49ers
Get the latest on L.A.'s teams in the daily Sports Report newsletter.
You may occasionally receive promotional content from the Los Angeles Times.