Bears' dominant defense hands Rams most 'humbling' loss under Sean McVay
Reporting from chicago —
Just about everyone took the blame for it.
Rams coach Sean McVay, as usual, got out in front to run interference for players and fall on the sword. Quarterback Jared Goff said he needed to play better.
Even defensive players who collectively played one of their best games of the season said they could have done more in Sunday night's 15-6 loss to the Chicago Bears before 61,695 at Soldier Field.
"We all played bad," running back Todd Gurley said, "coaches down to the players."
The Rams' march to a playoff bye, and possibly more, is now on hold.
What was once the NFL's hottest team was stopped cold Sunday night by a Bears team that announced its arrival with a dominating defensive performance reminiscent of the 1985 Super Bowl champions.
A delirious crowd reveled as the Bears shut down Goff, intercepted four of his passes, and neutralized Gurley and defensive lineman Aaron Donald, sending the Rams to a loss that dropped their record to 11-2.
On a chilly night, with temperatures that dipped into the 20s, the NFC West-champion Rams lost the opportunity to clinch a bye through the wild-card round. They also fell slightly off pace to clinch home-field advantage through the playoffs.
The NFC North-leading Bears (9-4), under first-year coach Matt Nagy, made sure of that by holding the Rams to the fewest points in McVay's near two-season tenure. It marked the first time the Rams did not score a touchdown under the 2017 NFL coach of the year.
"This one is very, very humbling for me," McVay said.
The Rams went into the game ranked second in the NFL in offense and scoring, averaging 34.9 points a game. They had not scored fewer than 23 points.
The Rams defense gave the offense plenty of opportunities by intercepting three passes.
But the Bears defense, ranked fourth in the NFL, was as good as advertised, pressuring Goff from all angles and sacking him three times, including one that resulted in a third-quarter safety.
"It's definitely tough to play in a big-time game like that and not play well and not win and not do what you want to do," said Goff, who completed 20 of 44 passes for 180 yards. "But at the same time we're 11-2, won the division with three weeks left and have everything in front of us."
It was the second consecutive less-than-efficient performance by Goff, who spent much of the season completing more than 65% of his passes. In a Week 13 victory at Detroit, Goff completed just more than 50%.
"Nothing wrong with me," he said. "Just got to play better… I don't think this will be the last time I have a bad game. I don't think it will be the last time I have two bad games in a row if I play for as long as I want to."
In the end, the Bears beat the Rams with two field goals, a safety and a touchdown pass to an offensive lineman.
That was enough on a night when the Rams gained only 214 yards and got two field goals from Greg Zuerlein.
Gurley rushed for only 28 yards in 11 carries, and caught three passes for 30 yards.
And Donald, who went into the game with a league-leading 16½ sacks, recorded none.
Bears quarterback Mitchell Trubisky, returning from a two-game absence because of a shoulder injury, completed 16 of 30 passes for 110 yards and a touchdown.
But Rams cornerbacks Marcus Peters and Nickell Robey-Coleman and safety John Johnson intercepted passes, giving the Rams plenty of opportunities to capitalize.
Instead, they failed to get close to the end zone.
"Couldn't imagine this," Rams receiver Robert Woods said, "but they played pretty well, had a great game plan and stuck to it and found a way to shut us down."
The Rams helped the Bears with turnovers, missed blocks and untimely penalties.
"One of the ugliest games in terms of execution," was how left tackle Andrew Whitworth described it.
"A couple times it felt like we were about to bounce right into the game, and we do something else that's unlike us, I'll say it that way," Whitworth said.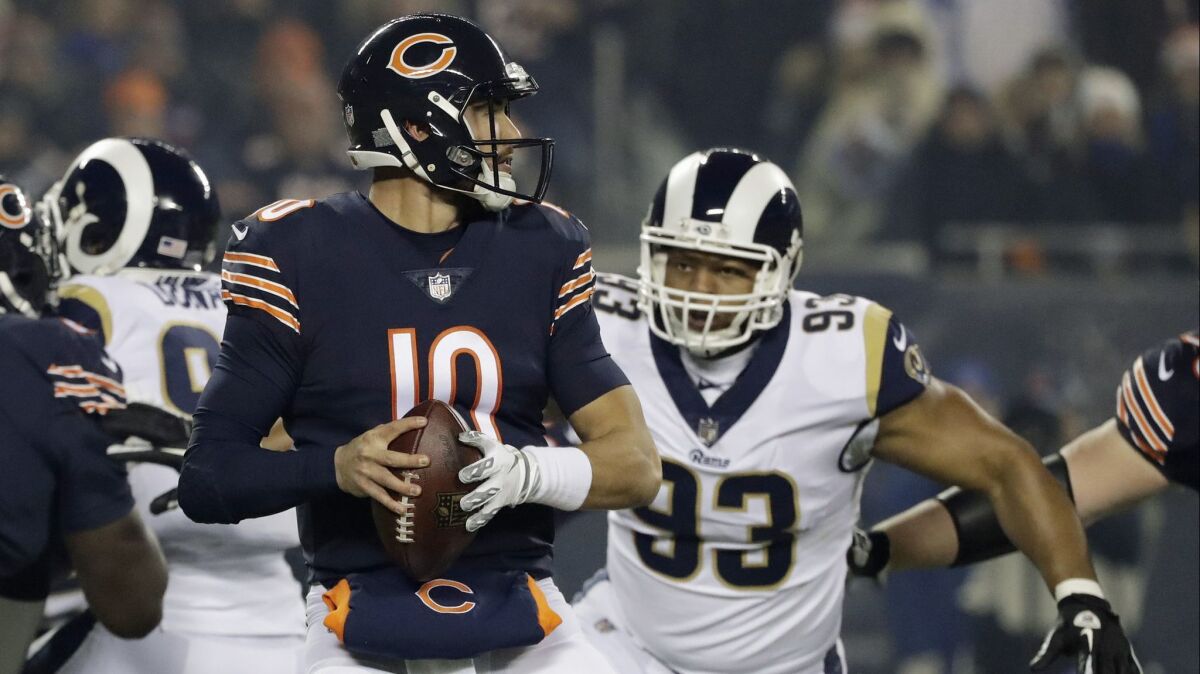 The score was tied 6-6 at halftime, but the Bears went ahead when nose tackle Eddie Goldman burst through and sacked Goff in the end zone for a safety.
The Bears also got the ball after a free kick, and increased the lead when Trubisky faked a handoff to defensive lineman Akiem Hicks, who had lined up in the backfield, and then passed to tackle Bradley Sowell for a touchdown.
One of the Rams' final opportunities ended when Hicks sacked Goff on fourth down with 4:28 left. The Rams got the ball back, but cornerback Prince Amukamara intercepted a pass with just more than two minutes left to seal the victory.
"We're just glad it happened now," middle linebacker Cory Littleton said of the loss, "and once we're in the postseason, make sure it doesn't happen then."
The Rams were disappointed but they said they would learn from their mistakes. They were already looking ahead to their Week 15 Sunday night game against the Philadelphia Eagles at the Coliseum.
"We know what's up," Gurley said. "We ain't losing back to back."
Said Donald: "Still in a great position. We fell short but we'll bounce back."
Cornerback Aqib Talib agreed.
"We'll be just fine," he said. "We'll be straight."
Follow Gary Klein on Twitter @latimesklein
---
Get the latest on L.A.'s teams in the daily Sports Report newsletter.
You may occasionally receive promotional content from the Los Angeles Times.