Rams get a scare when Case Keenum is hit hard in loss to Broncos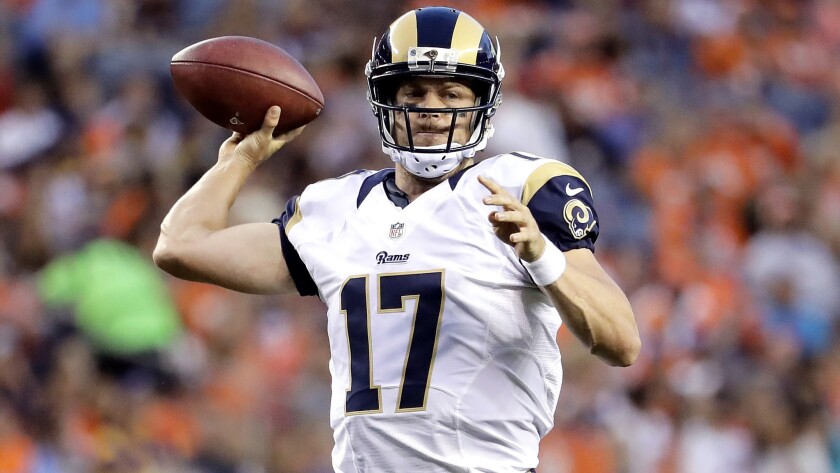 Reporting from Denver —
The Rams held their collective breath as quarterback Case Keenum dashed toward the far sideline at Sports Authority Field.
It was early in the second quarter of Saturday night's exhibition against the Denver Broncos, and Keenum was hit late — and hard — by cornerback Aqib Talib as he ran out of bounds.
In what qualified as the final full dress rehearsal for the regular season, the Rams could not afford to lose Keenum.
Not with No. 1 draft pick Jared Goff yet to take a major step forward.
"I didn't see him at all," Keenum said of Talib. "It all happened pretty fast. I was on the ground before I knew it."
Keenum got to his feet, the Broncos drew a personal foul penalty and Keenum led the Rams to one of Greg Zuerlein's three field goals in a 17-9 loss to the Broncos.
It was the Rams' first defeat after home victories over the Dallas Cowboys and Kansas City Chiefs.
Keenum played four series before he gave way to Goff. But it seems clear the fifth-year pro won't be moved out of the starting role as the Rams eye their Sept. 12 opener against the San Francisco 49ers on "Monday Night Football."
"I've said that all along," Coach Jeff Fisher said when asked if Keenum had done enough to lock down the starting job. "Case has been our starter since before the draft. I think he's had a great preseason. He really has a good feel for what we're doing. You see that in practice, too. Day after day he's consistently making good decisions for us."
Keenum is expected to remain on the bench with other starters Thursday night when the Rams play their final exhibition against the Minnesota Vikings at Minneapolis.
Through three exhibitions, Keenum appears the winner of a competition that never really materialized.
On Saturday, he completed eight of 12 passes for 77 yards and led the Rams on two scoring drives. In three exhibitions, he is 18 for 24 for 188 yards and a touchdown with no interceptions.
"I feel like I'm playing well. I feel like we're moving the ball offensively," he said, adding, "I feel comfortable in the offense, and the guys feel comfortable. Just got to keep doing what I'm doing."
Goff completed four of 12 passes for 45 yards. Several of his passes once again were dropped. In three exhibitions he is 16 for 33 for 165 yards, with a touchdown and an interception.
Rams Coach Jeff Fisher said this week he was looking for Goff to take "that next step" against the Super Bowl champions. He wanted Goff to release the ball more quickly, play decisively and make adjustments at the line of scrimmage.
Goff looked sharp on several passes — including one that rookie receiver Pharoh Cooper turned into a spectacular catch — did not fumble and survived his own hold-your-breath moment early in the third quarter.
Goff was slammed to the ground by linebacker Shaquil Barrett as he was throwing what turned to out to be an incomplete pass. Goff remained on the turf for a few moments, looked shaky as he got to his feet and appeared to grab his right shoulder.
But he stayed in the game and completed a pass on the next play, before the Broncos broke up a fourth-down pass and ended his night.
"I didn't feel the same way I felt the last two games," he said. "I felt a little bit more under control and more comfortable.
Before the game, the Rams announced that they had signed receiver Tavon Austin to a four-year contract extension. Austin, the eighth pick in the 2013 draft, caught a team best 52 passes last season, but the Rams appear to be keeping the way they plan to use him under wraps. He was targeted only once Saturday and did not catch a pass.
That was a more active night than star running back Todd Gurley's. After playing one series and scoring a touchdown last week against the Chiefs, Coach Jeff Fisher kept him safely on the sideline.
Defensive end Robert Quinn, a two-time Pro Bowl selection, played for the first time since undergoing back surgery and helped the first-team defense stifle an opponent on early drives for the first time in three exhibitions.
Middle linebacker Alec Ogletree was frustrated last week because the Rams gave up a touchdown drive for the second exhibition in a row.
Against the Broncos, Quinn, Ogletree and defensive lineman Aaron Donald all made plays that forced Denver to go three-and-out in its first two possessions. The Broncos wouldn't score until four minutes before halftime.
"Letting teams score on the first drive is not us. We felt like we came out and played a tough first quarter," Rams cornerback Trumaine Johnson said after the game.
Safety Cody Davis later intercepted a pass that Johnson batted into the air.
Fisher acknowledged he was concerned a series earlier and was "disappointed" to see Keenum absorb the shot from Talib.
"You don't like to see that happen," Fisher said, "especially in the preseason."
The Rams led 9-7 at halftime thanks to Zuerlein, who struggled last season, making only 20 of 30 field-goal attempts, but was three for three Saturday.
On the Rams' third possession, Keenum completed two passes to receiver Brian Quick and one each to tight ends Lance Kendricks and Tyler Higbee to set up Zuerlein's 29-yard field goal with 1:05 left in the first quarter.
Zuerlein later connected from 38 and 48 yards.
Follow Gary Klein on Twitter @LATimesklein
---
Get the latest on L.A.'s teams in the daily Sports Report newsletter.
You may occasionally receive promotional content from the Los Angeles Times.