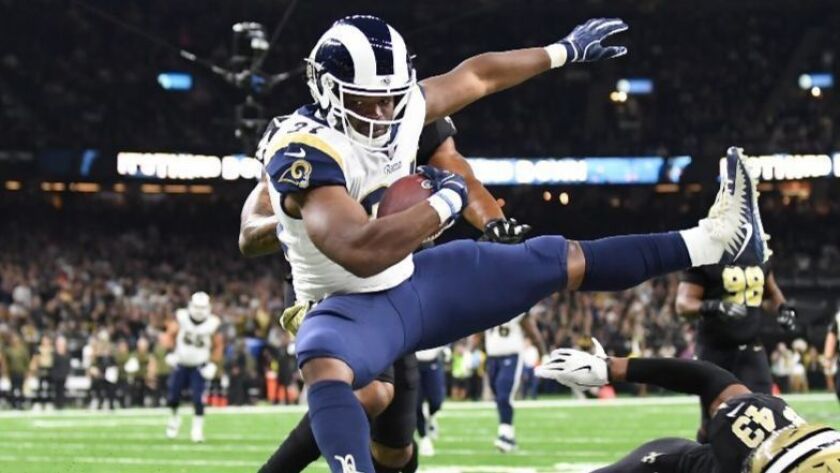 Bill it as a possible Super Bowl preview, a matchup between the NFL's highest-scoring teams.
Monday night's game between the Rams and the Kansas City Chiefs, originally scheduled for Mexico City, took a circuitous route to the Coliseum, site of the league's first Super Bowl.
Now the stadium will again be the center of the football universe, a prime-time showcase for two 9-1 teams and next-generation stars such as quarterbacks Jared Goff and Patrick Mahomes and running backs Todd Gurley and Kareem Hunt.
"I guess it's the game of the year," said the Rams' Gurley, the league leader in rushing yards and touchdowns. "Everybody's excited, pumped up — fans, coaches, players. It's the best of the best on the big stage Monday night."
The Rams and Chiefs have displayed their offensive prowess and ingenuity for the first 10 weeks of the season. The Rams' only defeat was a 45-35 loss at New Orleans in Week 8. The Chiefs lost at New England, 43-40, in Week 6.
But the teams traveled very different paths to get to this "Monday Night Football" matchup.
The day after they defeated Seattle last weekend, the Rams left Southern California for Colorado to prepare at altitude for their role as the "home" team against the Chiefs in Mexico City.
But the morning after coach Sean McVay and his players arrived in Colorado Springs, the NFL switched the game to the Coliseum, citing poor field conditions at Azteca Stadium.
The Rams decided to stay put before returning Saturday night to a Southland region that continues to cope with the aftermath of a mass shooting in Thousand Oaks and deadly fires that destroyed homes and forced the evacuations of thousands, including many Rams and coaches and their families.
Moving the game from Mexico to the Coliseum was "bittersweet," Goff said, but the Rams have worked with community partners to distribute thousands of free tickets to Monday's game to first responders and fans affected by the shooting and the fires.
"I was excited to experience that culture and that international game, but with that being said, getting back in front of our home fans, especially with all that happened last week and being able to do some stuff for the first responders, is pretty special," Goff said.
Said offensive lineman Rodger Saffold: "It's been nuts; it's really been a roller coaster. … But every time we've had to go through adversity, we've answered the bell. Now we have the full force of our fans behind us at home, so we're excited."
The stadium vibe will be emotionally charged as the Rams take on perhaps their toughest opponent, a Chiefs team that did not have to break routine by preparing in Kansas City.
Goff leads an offense that ranks second behind the Chiefs in points scored. McVay acknowledges he has borrowed plays from the Chiefs and coach Andy Reid.
"Every single week, they do something and you say, 'That's pretty good,' " McVay said, adding, "I'd be lying if I said we haven't stolen some of their stuff this year."
The Rams defense failed to slow the New Orleans Saints' passing game. It could not stop the run against the Seahawks. And here comes a Mahomes-led offense that can be equally effective passing or running.
Mahomes, a second-year pro, has passed for 31 touchdowns and is among the front-runners for most valuable player.
"Younger quarterbacks don't normally read progressions well," Rams defensive coordinator Wade Phillips said. "He does that well. Even if he's running around."
Reid anticipates that Phillips, in his 41st NFL season, will challenge Mahomes.
"Wade will have some new stuff for him and he's going to have to sort that out and figure it out," Reid said.
Several Rams players are familiar with Mahomes. Cornerback Marcus Peters and linebacker Ramik Wilson played for the Chiefs for three seasons, including in 2017 when Mahomes as a rookie was lighting up practices as the scout-team quarterback. Edge rusher Dante Fowler played against him this season with Jacksonville.
Veteran lineman Michael Brockers, who will face Mahomes for the first time, described his arm as "ridiculous" and marveled at Mahomes' quick release.
Can the Rams stop him?
McVay and his players said they were prepared and that the week away from home brought the team closer together.
"You can feel the hype and energy building. It's been talked about all year, all season," Rams receiver Robert Woods said of the game. "It's finally here."
Follow Gary Klein on Twitter @latimesklein
---