Rams Coach Jeff Fisher sends Arizona Coach Bruce Arians an early Christmas present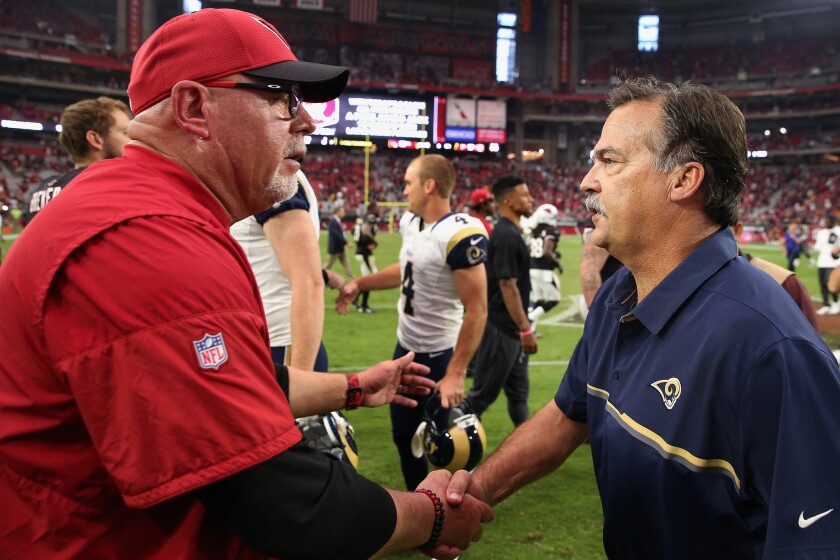 Rams Coach Jeff Fisher probably won't be exchanging Christmas cards with Arizona Coach Bruce Arians.
In 2014, after the Cardinals defeated the Rams at St. Louis, Arians chastised those who doubted his team and took a not-so-veiled shot at the Rams.
"I love it when nobody says that you will have a chance to win," Arians said. "There is an 11-3 team, and a team that is always 8-8. You figure it out."
The comment apparently struck a nerve with Fisher.
On Sunday, after the Rams defeated the Cardinals at University of Phoenix Stadium for the second year in row, Fisher told Michael Silver of NFL.com that he relayed a message to his players in the locker room.
"I told them, 'This was [the Cardinals'] Christmas present," Fisher said. "We see them after Christmas [a Jan. 1 rematch at the Coliseum]. This was their Christmas present. We just gave it to them early, OK?' "
On Monday, during a news conference at Cal Lutheran, Fisher was asked about his comments and whether he took extra joy in the victory.
"No, I was complimenting the players, I wanted them to know what a big win it was," Fisher said. "Oftentimes, Coach Arians is complimenting his players from the same perspective.
"I just wanted to let them know that this was a big one for us and we'll see them after Christmas, so Merry Christmas."
---
Get the latest on L.A.'s teams in the daily Sports Report newsletter.
You may occasionally receive promotional content from the Los Angeles Times.