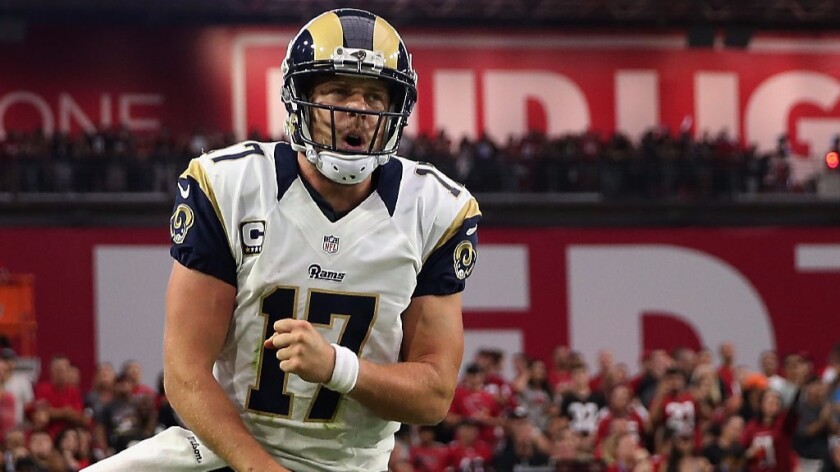 The 2012 NFL draft class was loaded with high-profile quarterback prospects.
Case Keenum was not one of them.
Andrew Luck was chosen first overall, Robert Griffin III was second. Ryan Tannehill and Brandon Weeden also were first-round picks.
Brock Osweiler went in the second round, Russell Wilson in the third and Kirk Cousins in the fourth.
Keenum, the NCAA's all-time leader in touchdown passes, was not among 11 quarterbacks drafted — a list that included Nick Foles, Ryan Lindley, B.J. Coleman and Chandler Harnisch.
But Keenum and Osweiler of the Houston Texans are the only ones starting for first-place teams.
The Rams rebounded from a season-opening shutout defeat, and they are 3-1 and leading the NFC West heading into Sunday's game against the Buffalo Bills at the Coliseum.
They also are regarded as one of the NFL biggest surprises, as is Keenum.
But Keenum said Wednesday that he doesn't sense others' surprise.
"It really doesn't matter," he said, adding, "After the first week, or when things are not going well, to when things are going well, the opinions that matter are in the building in here, in the locker room in there, and the coaching staff.
"As far as a sense, or anything like that, that's not something that I try to focus on too much."
Keenum is keeping his attention on winning games.
He has completed 55% of his passes, four for touchdowns, with three interceptions. The Rams rank last in the NFL in yards per game, and 30th in rushing and passing.
But offensive coordinator Rob Boras said Keenum has played well.
The Rams are coming off a 17-13 victory over the Arizona Cardinals. Keenum played turnover-free and passed for two touchdowns.
A holding penalty nullified a 27-yard scramble.
"He's getting us in the right plays and he's making plays with his arm and he made some plays with his feet the other day as well," Boras said.
Keenum acknowledged improvement was needed.
"What's exciting is we've found ways to win and still have room to grow offensively in a lot of areas, myself included," he said.
One of Keenum's main tasks will be working to get on the same wavelength with receiver Tavon Austin.
They connected for a touchdown pass play against Tampa Bay, but have struggled to consistently connect. Austin has been targeted 35 times and has only 16 receptions.
Against the Cardinals, several passes to Austin fell incomplete.
"There's a couple from last week that were all on me," Keenum said. "Watching the film, and even on the field, I knew that there's some plays that he might still be running if I hit him in stride. … Anytime we've got him open in open field, I need to get him the ball."
Keenum could soon have more weapons at his disposal.
Rookie receivers Pharoh Cooper and Nelson Spruce, sidelined all season because of injuries, were full participants in practice Wednesday.
"Both guys have shown that they capable of moving the sticks," Boras said. "They can make plays, they both have great hand-eye coordination. They're natural catchers."
Total recall
Defensive tackle Aaron Donald possesses terrific football skills that make him one of the NFL's most productive players.
He also has a sharp memory.
Two years ago, then-New York Jets coach Rex Ryan commented about Donald after he was selected to the Pro Bowl as a rookie and Jets tackle Sheldon Richardson was not.
"That guy can't hold his jock as a player," Ryan said at the time.
Donald remembers it well.
"I didn't forget about what he said," Donald said after practice.
Ryan, now Buffalo's coach, had scrambled a bit earlier Wednesday during a conference call with reporters.
"I've made a lot of dumb comments in my days," he said. "That's probably right up there at the top."
Ryan said he had not seen Donald play as a rookie and that he was repeating the comment of one of his coaches.
"After I've seen this kid play, I'm like 'Whoa boy!" Ryan said, adding, "He's a great player."
Apprised that Ryan characterized his comments as dumb, Donald seemed unmoved.
"Still said it," Donald said.
But Donald said there would be no extra motivation against the Bills.
"Go play football, fly around and try to make some plays," he said. "That's all that matters."
Quick hits
Injury report: Receiver Kenny Britt (thigh), safety Cody Davis (groin) and defensive linemen William Hayes (ankle) and Robert Quinn (shoulder) did not practice. Defensive tackle Michael Brockers (hip) was limited. … Sunday's game will be the first time that the Rams play the day after USC at the Coliseum. Coach Jeff Fisher said he was not concerned about the playing surface. "The field was in great shape, they switched it out after our second preseason game," he said. "It was completely redone and in great shape for Seattle. I think it's suitable for wear and tear."
Follow Gary Klein on Twitter @LATimesklein
---