Rams GM Les Snead feels the pressure to build a winner in L.A.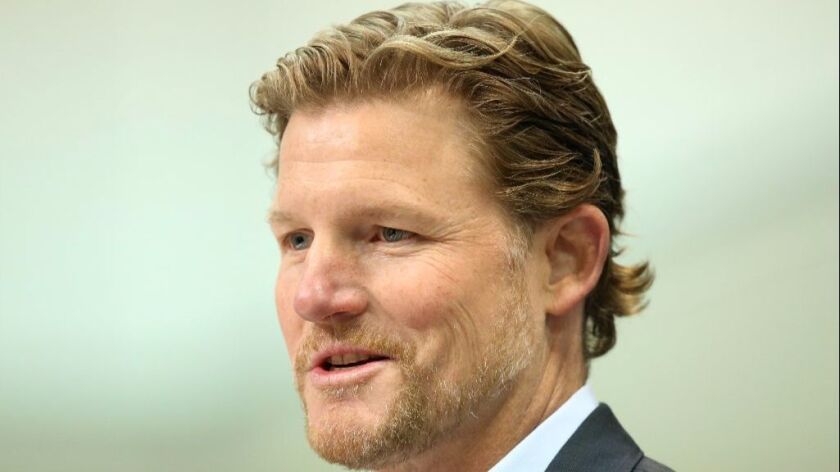 Reporting from Phoenix —
They remain in search of another receiver. They are thin at tight end and must fill holes at center and cornerback.
And the Rams lack a first-round pick.
On Tuesday, with the NFL draft set to commence in less than a month, General Manager Les Snead said that despite a wait until the 37th pick, the Rams can equip new Coach Sean McVay and his staff with the pieces to "turn this thing around as soon as possible."
The Rams are coming off another losing season — they have not finished above .500 since 2003 — and McVay and Snead have made several offseason moves to clean house and restock the roster.
They jettisoned, traded or decided not to re-sign many veteran players who were staples of the Jeff Fisher era. They signed six free agents — including receiver Robert Woods, offensive tackle Andrew Whitworth and linebacker Connor Barwin — and will probably make more moves after the draft.
Last year, Snead engineered a trade with the Tennessee Titans that enabled the Rams to move to the No. 1 spot in the draft and select quarterback Jared Goff.
The deal cost the Rams six picks, but they will go into the April 27-29 draft in Philadelphia with eight picks, including two each in the fourth and sixth rounds.
Snead survived the aftermath of Fisher's December firing and is preparing for his sixth draft with the Rams. He said he does not feel added pressure after last season's 4-12 finish and Fisher's dismissal.
"What I lose sleep about at night, it has nothing to do with me," he said. "It generally has to do with, coming to L.A. was a rare opportunity and a unique responsibility and you feel like you let that passionate fan base down. … So there is an urgency to be consistently in contention."
The Rams took steps toward achieving that goal by signing such players as Whitworth, Barwin and Woods, Snead said.
Whitworth, 35, is a three-time Pro Bowl selection. He gives the Rams a proven left tackle to protect Goff and open holes for running back Todd Gurley. The acquisition of Whitworth also enables the Rams to move struggling Greg Robinson to right tackle and, possibly, move Rob Havenstein to right guard.
"If Andrew comes in and plays the way he has the last two years, that is now a position of strength," Snead said.
Barwin, 30, fills a need at outside linebacker in defensive coordinator Wade Phillips' 3-4 scheme. Barwin played for Phillips with the Houston Texans early in his career.
And Woods, 24, is regarded as a precise, reliable route runner and pass-catcher.
Those players, along with 26-year-old cornerback Kayvon Webster — a member of two Super Bowl teams with the Denver Broncos — bring another element to the mix.
"Let's call it real veteran leadership, real men coming into the locker room to help kind of show our young guys the way and give them an example that maybe we haven't provided," Snead said.
Was that a problem last season?
"I can't say it was problem," Snead said, "but what I do think, looking back, is we could have been better served had we had some guys like that.
"Our young guys have played a lot and they're growing up. A lot of them are just now ready to become leaders, and have become leaders. But giving them an example only makes us stronger."
Kevin Demoff, the Rams' vice president of football operations, said the makeup of the roster is "starting to take on Coach McVay's personality," with the draft and other possible free-agent moves still to come.
In regard to receivers, Snead said "we're definitely not done there," though at this point the opportunity to find a free agent who can "tilt the field" is remote. So the Rams are expected to heavily consider using the fifth pick of the second round to fill that need.
They also remain in search of a replacement for released two-year starting center Tim Barnes.
The Buffalo Bills foiled their attempt to acquire restricted free agent Ryan Groy by matching the Rams' offer sheet. The Rams met with veteran John Sullivan last week but he remains unsigned.
College centers will be available in the later rounds of the draft. McVay also has said that other interior linemen would be trained at the position, so versatile Andrew Donnal is among those who possibly could make the transition.
"With a young quarterback, the center's got to be really, really on point," Snead said.
The release of veteran Lance Kendricks left Cory Harkey, who has played mainly as a fullback, and second-year pros Tyler Higbee and Temarrick Hemingway as the tight ends.
"Definitely inexperienced right now, but sometimes you have to do that," Snead said. "But I think it's also one we'll continue to look at."
This is considered a deep draft for cornerbacks and safeties, so the Rams are expected to select one or more as they attempt to find complementary pieces for franchise-tagged cornerback Trumaine Johnson.
Johnson, who will earn nearly $17 million this season, also is regarded as a tradeable asset.
Follow Gary Klein on Twitter @latimesklein
---
Get the latest on L.A.'s teams in the daily Sports Report newsletter.
You may occasionally receive promotional content from the Los Angeles Times.