Last time Aaron Rodgers played at the Coliseum he matched an NCAA record against USC. He returns on Sunday to take on the Rams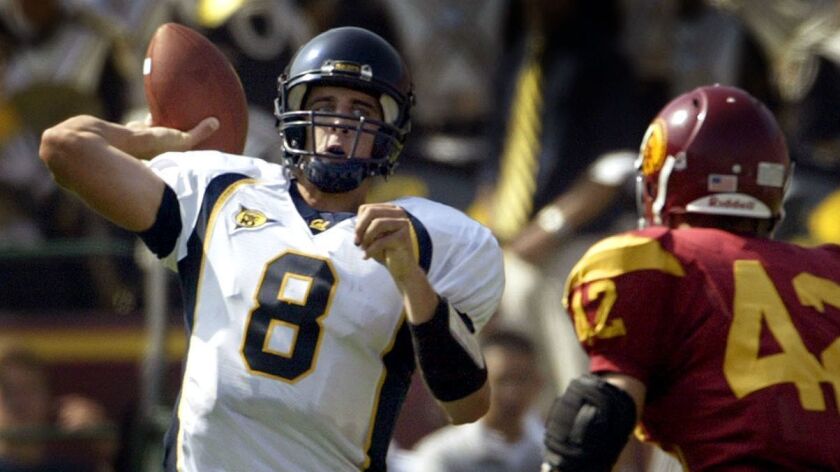 The Green Bay Packers and two-time NFL MVP Aaron Rodgers come to the Coliseum on Sunday to play the unbeaten Rams.
It's the Packers' first appearance against the Rams at the venerable stadium since 1978, and a return to the venue where the NFL's most storied franchise won the first Super Bowl in 1967.
It's also a return for Rodgers, a Super Bowl-champion quarterback who has engineered some of the league's most dramatic game-winning plays and drives.
Fourteen years ago, Rodgers produced one of the best passing performances in college football history against one of the sport's greatest teams.
On Oct. 9, 2004, Rodgers led seventh-ranked California and the nation's top scoring offense against top-ranked USC, the defending Associated Press national champion. The only blemish on the Trojans' 2003 record was a triple-overtime defeat at Cal.
A year later, ESPN's "College GameDay" set up at the Coliseum for the first time to see if Rodgers and coach Jeff Tedford's Golden Bears could knock off Matt Leinart, Reggie Bush, LenDale White and Pete Carroll for a second year in a row.
"We knew it was going to be a tough game and we were excited about the opportunity to compete with them," Rodgers said this week, "and we had a legitimate chance to beat 'em."
Rodgers matched an NCAA record by completing his first 23 passes against one of the best defenses in USC history.
"It seemed like he hit everything," Carroll said, "and that was an understatement."
Cal dominated the game statistically, outgaining USC 424 yards to 205. But the Trojans made a dramatic defensive stand for a 23-17 victory.
USC went on to win the Bowl Championship Series title, but more than a decade later it's Rodgers' performance that stands out from the game.
"I don't care if you're throwing against air," Leinart said. "To go 23 of 23 is really difficult. … For him to do that against one of the best defenses in the country, he was phenomenal."
::
Tedford was nervous before the game, but his anxiety lifted after he walked into the locker room and saw Rodgers smiling and calmly telling teammates, "Here we go."
"He was so confident about what was going on, he made everybody else feel that way around him as well," Tedford said.
The completions streak started modestly, a short pass to fullback Chis Manderino for 14 yards.
"We used it a lot to start the game throughout my career," Manderino said. "A good little way to kick start and take some of the pressure off."
Rodgers mostly stayed with short passes. "Just taking whatever they gave him," running back J.J. Arrington said.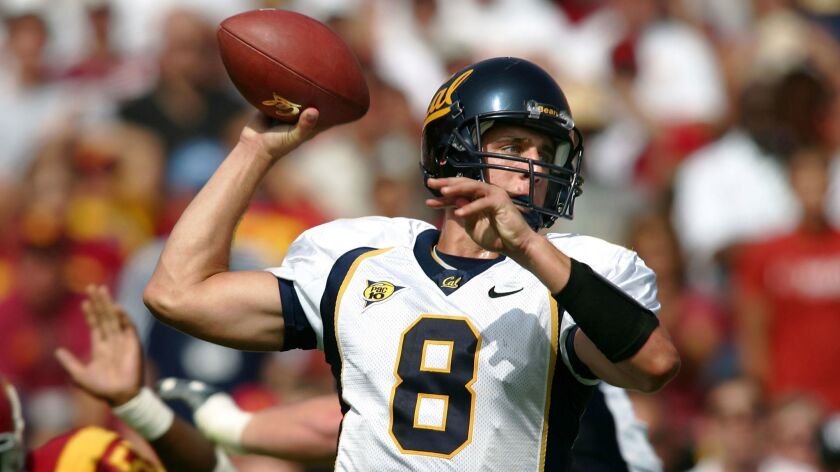 Tight end Garrett Cross had been a teammate of Rodgers' at Butte College in Oroville, Calif. He purposely included Rodgers on a recruiting tape that he sent to Cal coaches, hoping they would also take notice of the quarterback.
Against the Trojans, Rodgers and his tight end were in rhythm. Cross caught three passes in a row.
"The ball was in the air coming at me when I turned around," Cross said. "We had the timing down perfectly."
The streak grew to nine on a pass to receiver Burl Toler.
"We all kind of had our turns getting our shots," Toler said. "It wasn't rare for us. It was business as usual."
By the time receiver Geoff McArthur caught a 20-yard touchdown pass, the streak had reached 14. But Cal still trailed at halftime, 16-10.
"He picked them apart," said McArthur, who would finish with seven catches for 101 yards. "Dinks and digs, slants, back-shoulder fades. Everything in the book that you could draw up, we hit them with."
::
Rodgers was aware that he had not missed. "I knew what was going on," he said.
So did Carroll. "We knew he was good," Carroll said, chuckling, "but I didn't think he was going to complete every pass."
USC players were confident but perplexed. "He had laser accuracy," defensive tackle Shaun Cody said. "They were dinkin' and dunkin' us the whole game."
Said linebacker Dallas Sartz: "It was, 'Here's a five-yard out here, here's a five-yard out there. Now back to the flat.' It wasn't like it was a landslide."
But the Trojans were frustrated.
"On the sideline, you're talking about it," defensive end Lawrence Jackson said. "'We've got to do something about this.'"
They were talking on the field as well.
"We were in the huddle and I remember one of the defensive linemen turned around and he was like, 'What the hell are you guys doing back there?'" cornerback Kevin Arbet said. "And we were like,'It's on you. It's the pressure.'
"We almost started to fight, and we never did that. We were like, 'What the hell is this?'"
Rodgers and the Golden Bears seemed to exploit the Trojans' bend-but-don't break defensive philosophy.
"We felt like they were freaking sitting in on our freaking [team] meeting," cornerback Justin Wyatt said, adding that Rodgers capitalized on the areas the Trojans conceded. "He was like, 'I'm going to take every single one of them.' And he took every single one of them."
The late Keith Jackson and Hall of Fame quarterback Dan Fouts broadcast the game for ABC. Fouts, looking back, said their thoughts regarding Rodgers were the same as USC's players and coaches.
"When you're on a roll like that," Fouts said, "We're just, you know, when's he going to miss?"
::
Rodgers' 23rd completion — which tied a record set by Tennessee's Tee Martin — went to McArthur with 11 minutes left to play, and USC leading, 23-10.
Two minutes later, he was forced to throw the ball out of bounds.
"I think the guy in the first row [of the stands] caught the pass," Cal receiver Chase Lyman said, laughing. "He still didn't put the ball on the ground."
The streak was over, but Rodgers remained hot. A Marshawn Lynch touchdown run made it 23-17 in the fourth quarter. The next time the Bears had the ball, Rodgers found Jonathan Makonnen, then threw away another pass. After two more passes, the Bears missed a 36-yard field goal attempt.
But USC went three and out, and Cal got the ball with 4:31 left, giving Rodgers a final chance.
"Aaron just exudes confidence," said Manderino, the fullback. "He was just, 'No stress, no panic. Let's just go do what we do.'"
Rodgers scrambled for a first down and then completed two more passes before he found McArthur to give the Bears a first down at the nine-yard line with 1:47 left.
"I knew I was 29 for 31, with two throwaways," Rodgers said, "… and had a chance to not only do something special statistically, but more importantly we had a chance to be beat the No. 1 team in the country."
Leinart, watching for the sideline, could feel it too.
"I remember being so nervous," he said. "So nervous."
::
Lyman had left the game because of a knee injury and McArthur was sidelined temporarily because of cramps. On first down, Rodgers rolled right and barely misfired on a pass into the end zone for freshman Noah Smith.
On second down, USC defensive lineman Manuel Wright burst into the backfield and disrupted a play that was intended to be a shovel pass from Rodgers to Arrington. Wright sacked Rodgers for a five-yard loss.
The roar from the Coliseum crowd was deafening. "It was almost like my ears couldn't take it all in at once," USC safety Scott Ware said. "It came in waves of energy."
On third down, McArthur reentered the game. Rodgers dropped back and then scrambled to his left. "Was kind of in between running it or not," he said. "Tried to fit one in to McArthur."
With cornerback Eric Wright in tight coverage, the ball sailed through the end zone. "I just never saw it," McArthur said. "Maybe his velocity was too crazy. I never had a chance to really grab it. I put my hands out like, 'Here's to nothing.'"
Rodgers called Cal's final timeout before fourth down. "I was feeling good," he said. "I felt like we were going to complete a pass and win the game."
On Rodgers' earlier touchdown pass to McArthur, Arbet had missed a tackle that enabled the receiver to reach the end zone. "I had a feeling they were going to come at me," Arbet said.
Makonnen lined up in the slot on the left side and broke upfield on the snap.
"Rolled left and tried to anticipate the throw, and he actually ran a good route," Rodgers said.
Linebacker Lofa Tatupu had dropped into coverage, preventing Rodgers from getting a clear line. Makonnen slipped as he cut toward the middle, making him just late to the ball.
"I was happy," Arbet said.
Not Makonnen.
"I still think about it," he said. "I feel like if I didn't have that misstep we would have beat them. … That slight second caused us to be off."
Rodgers can still replay the entire four-play sequence in detail, including the last play. "If I had anything back maybe just, just hold it a tick longer and maybe extend the play," he said. "But I was trying to anticipate to Jonathan.
"He ran a good route. He just slipped on it."
::
Rodgers completed 29 of 34 passes for 267 yards and a touchdown in a loss that further elevated the Cal program, and Rodgers.
"The game helped put us on the map, and myself on the map, because of the consecutive completions," he said.
USC won seven more games and then demolished Oklahoma in the BCS title game.
"That [Cal] game just kind of helped us get better as a team and win the national championship," said Leinart, who won the Heisman Trophy.
The Bears also went unbeaten the rest of the regular season. They finished 10-1 and appeared on their way to their first Rose Bowl appearance since 1959. But Texas got the bid over Cal after controversial movement in polls that were used at the time as part of the BCS formula.
"The disappointment that season was that we went 10-1 and didn't get a chance to go to the Rose Bowl," Rodgers said. "At that time, and still to this day, Cal hasn't been to the Rose Bowl since the 50s, so I know it meant a lot to our team to be able to go. … Unfortunately, there was some sketchy coaches poll votes that kept us out."
Rodgers declared for the draft, and then famously waited in the NFL draft green room until the Packers finally selected him with the 24th pick.
After succeeding future Hall of Famer Brett Favre as the starter in 2008, Rodgers has led the Packers to eight playoff appearances and a Super Bowl title. Before this season, he signed a record-breaking, four-year, $134-million contract extension.
The NCAA Football Bowl Subdivision record for consecutive passes completed in a game is now 26, set by East Carolina's Dominique Davis in 2011.
The NFL record is 22, shared by Mark Brunell and David Carr.
Rodgers has not completed more than 13 consecutive passes during his NFL career.
But then again, he's never played at the Coliseum as a pro.
Until Sunday.
About this story: The Times interviewed 20 former USC and California players and coaches who participated in the 2004 game at the Coliseum. The Packers did not make Aaron Rodgers available to Los Angeles reporters this week, but they did accept questions from The Times about this story, and provided an audio file of Rodgers' responses.
Follow Gary Klein on Twitter @latimesklein
---
Get the latest on L.A.'s teams in the daily Sports Report newsletter.
You may occasionally receive promotional content from the Los Angeles Times.