Rams receiver Josh Reynolds steals the spotlight in return from injury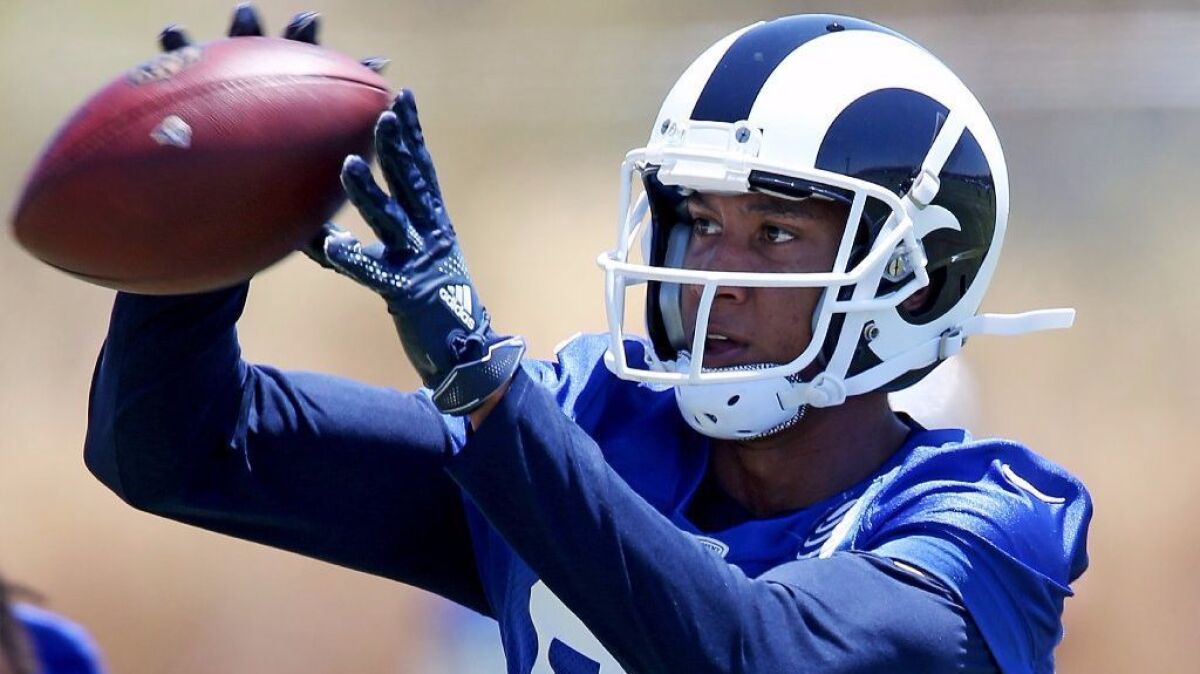 He hauled in passes on deep routes, won contested end zone balls for touchdowns, and wowed defenders and coaches alike with sideline grabs and receptions over the middle.
It wasn't new Rams receiver Sammy Watkins putting on a show Tuesday.
It was rookie Josh Reynolds.
The fourth-round pick from Texas A&M had been sidelined for nearly two weeks because of a quadriceps injury. But he put that behind and made a variety of acrobatic catches throughout a full-pads workout.
"I'm tough on myself, so all that stuff is expected," said Reynolds, the Rams' tallest receiver at 6 feet 3 inches. "Even the passes I did catch, there's still stuff to work on."
Reynolds was drafted a round after the Rams chose receiver Cooper Kupp, who is on track to start as a slot receiver.
The rangy Reynolds was regarded as a possible deep threat.
"I think I'm showing I'm much more versatile than just jump balls and being a deep-ball kind of guy," he said. "I'm just trying to elevate my game.
"The game changes every year. There's better guys, more athletic guys. I'm just trying to keep up with the trend and get better every day."
After Tuesday's workout, coach Sean McVay described Reynolds as "deceivingly fast."
Reynolds had been limited for most of training camp because of the quadriceps strain suffered in the first few days.
"Before he had the injury he was starting to flash," receivers coach Eric Yarber said. "Now that he's healthy, he's picking up where he left off."
Yarber said Reynolds' quickness enables him to get out of jams at the line of scrimmage and get an edge on defensive backs.
"You usually see that in smaller guys, but he he's a guy that's 6-3 that can do it," Yarber said. "And then down the field he's a big target.
"All you got to do is put it in his area code and he'll go get it."
A physically sound Reynolds gives the Rams another weapon to go along with Watkins, Kupp, Robert Woods and Tavon Austin, who remains sidelined because of a hamstring injury.
Reynolds recalled watching Woods and Watkins when they were playing in college at USC and Clemson, respectively.
"Being able to come out and play with these guys and learn what they have and what they've been through all these years in the league is a great opportunity for me," Reynolds said.
After mostly watching and participating only in individual drills Monday, Watkins took part in team drills but still appeared to be acclimating to the offense.
The fourth-year pro, acquired in a trade with the Buffalo Bills on Friday, has been studying the playbook nearly around the clock when he is not on the field, Yarber said.
Neither Watkins nor Reynolds played in last week's preseason victory over the Dallas Cowboys.
McVay said both would play Saturday against the Oakland Raiders.
"Standing on the sideline last Saturday was not a good feeling," Reynolds said, "So I'm extremely excited."
Picked off
A day after he had three passes intercepted, quarterback Jared Goff had two more picked off.
Safety Cody Davis got one, and rookie John Johnson, who was playing nickel cornerback, the other.
Goff also had several notable completions.
McVay said interceptions were an "occupational hazard" for quarterbacks.
"What separates the good ones from the great ones is really their ability to respond," McVay said. "The one thing you do appreciate about him, appreciate about Jared, is that when mistakes occur you don't sense that he's fazed by it, he's able to take it for what it is and then try to correct it moving forward."
Etc.
Cornerbacks Dominique Hatfield and Aarion Penton intercepted passes by backup quarterback Sean Mannion…. Running back Aaron Green participated in practice. Green had hand surgery last week, McVay said…. Cornerback Nickell Robey-Coleman and rookie linebacker Ejuan Price were among players held out of practice.
Follow Gary Klein on Twitter @latimesklein
---
Get the latest on L.A.'s teams in the daily Sports Report newsletter.
You may occasionally receive promotional content from the Los Angeles Times.