Rams might limit Aaron Donald's snaps against the Washington Redskins on Sunday, but in practice he seemed up to speed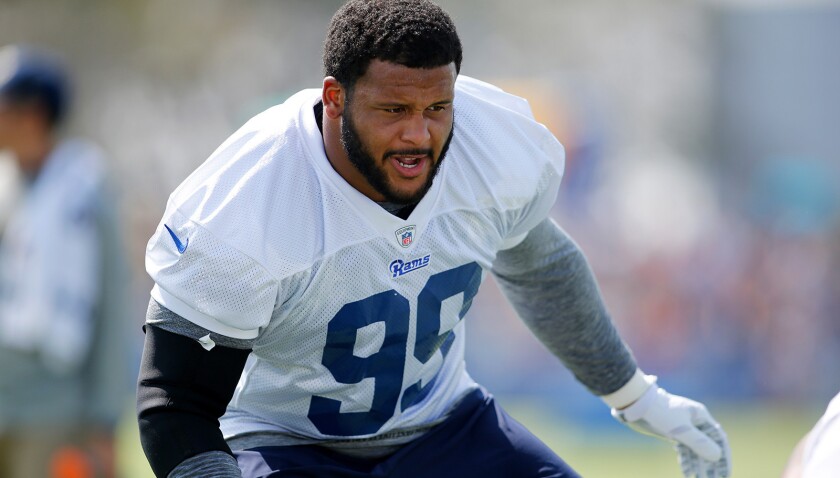 With only three practices to prepare for his season debut, Aaron Donald will play a limited role Sunday when the Rams face the Washington Redskins at the Coliseum.
Defensive coordinator Wade Phillips on Thursday likened the plan for the star defensive lineman to a "pitch count" a baseball manager would employ with a pitcher.
"I won't say Dodger pitchers because they haven't been doing well lately," Phillips said, before correctly noting, "They're still in first place."
So are the Rams, the only NFC West team to win its opener.
The Rams routed the Andrew Luck-less Indianapolis Colts, 46-9, with an efficient offense and a dominant and highly productive defense.
The Rams returned two interceptions for touchdowns and also recorded a safety.
What can the defense improve after scoring 16 points?
"We want more," Phillips said.
Donald can help if he is close to being in game shape. The three-time Pro Bowl selection sat out training camp and Sunday's opener because of a yet-to-be-settled contract dispute.
"It just kind of energized our team and our players that he's back playing football," Phillips said. "He is a great player, but the mental part of it I think helped everybody."
Donald, one of the NFL's most disruptive defensive players with 28 sacks in three seasons, joins a pass-rushing unit that also includes tackle Michael Brockers and linebackers Robert Quinn and Connor Barwin.
Phillips has installed a 3-4 defense, which technically makes Donald an end. But Donald most often will line up where he did as a tackle in a 4-3 scheme.
"When he goes in there, we tell him, 'Go.' It's not real complicated for him," Phillips said, adding, "He knows the defense pretty well already.
"There's a few things that he had to clean up, but a lot of his play is one-on-one, beat the guy in front of you."
The Rams practiced in full pads Thursday, and running back Todd Gurley said that on one play Donald was in the backfield before the quarterback could hand the ball off to fullback Sam Rogers.
Despite sitting out offseason workouts and training camp, Donald might be able to play at top speed against the Redskins.
"He's built different," Gurley said. "He's one of a kind."
Donald will continue to be evaluated by team trainers and coaches as the Rams move closer to game day. Coach Sean McVay said this week that the plan was for Donald to start.
"We're kind of right on track," McVay said Thursday.
Sunday's game matches McVay against mentor Jay Gruden and many of the coaches and players he worked with as the Redskins' offensive coordinator.
Phillips, 70, also has a close connection to the Redskins. His son, Wes, is the tight ends coach. Jordan Reed and Vernon Davis are among the players who are part of a talented position group.
"I'm proud of my son, obviously. I think he's a great coach," Phillips said. "He does a great job with those guys, so it'll be a challenge."
The Rams are adding Donald to a lineup that played well in Week 1, but cornerback Kayvon Webster's status for Sunday's game is uncertain because of a shoulder injury.
Webster did not play during the preseason so that he would be physically sound for the opener. He started opposite Trumaine Johnson, who scored a touchdown on an interception return, but was injured and did not return.
He has not practiced this week.
If Webster is unavailable, Nickell Robey-Coleman will start in his place against an offense that features quarterback Kirk Cousins.
The 5-foot-8, 178-pound Robey has mainly played as a slot corner during his NFL career but said he would be ready if called upon to play on the outside.
"It's a different world for me than inside," he said. "I'm still feisty, I'm still all out, but I have to play smarter because of my size.
"When I'm on the inside, I'm more bold with it because I know how to use my length in little spaces. That outside world is still the same but competitively you have to play smarter."
Etc.
Barwin, safety Maurice Alexander and offensive lineman Andrew Whitworth returned to full participation at practice, the Rams' injury report said. ... Redskins wide receiver Josh Doctson (hamstring) was listed as limited.
Follow Gary Klein on Twitter @latimesklein
---
Get the latest on L.A.'s teams in the daily Sports Report newsletter.
You may occasionally receive promotional content from the Los Angeles Times.