Jared Goff continues to make progress during Rams scrimmage at the Coliseum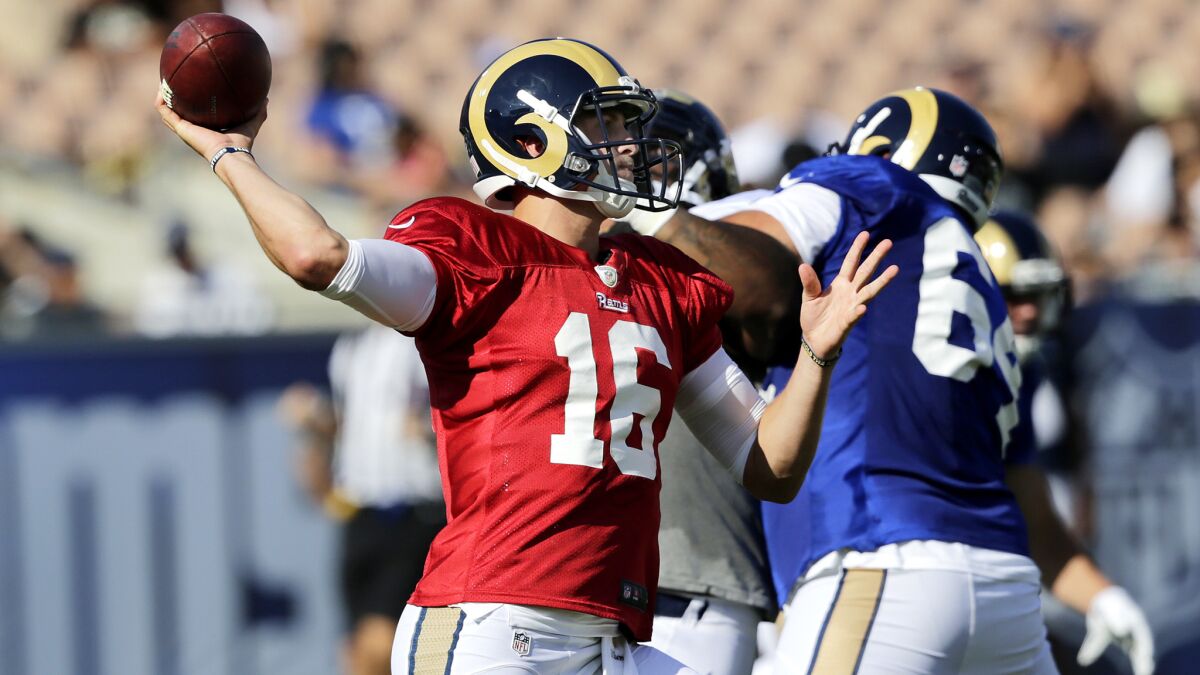 He has yet to take a first-team snap in a training-camp practice.
He has not stared across the line of scrimmage at middle linebacker Alec Ogletree, felt pressure from two-time Pro Bowl tackle Aaron Donald or tried to fit a pass by franchise cornerback Trumaine Johnson.
But Rams rookie quarterback Jared Goff is making progress.
He took another step Saturday during a workout at the Coliseum, which doubled as a showcase before tens of thousands of fans.
"I'm starting to settle in a little bit," Goff said.
The crowd cheered just about every move the Rams made during a 2 1/2-hour workout that ended with players signing autographs.
The Coliseum, home to USC, was outfitted with Rams signage.
The Rams transformed the Coliseum into their home field Saturday for a trial run before hosting the Cowboys in a preseason game next week. Gary Klein, Sam Farmer and Lindsey Thiry recap the practice. 
"Walking down the tunnel for the first time, for some of these guys, was a cool experience," said Coach Jeff Fisher, who played defensive back at USC and coached in the stadium as an NFL assistant.
Goff was the main attraction for many fans.
He ran onto the field to cheers and received more after he completed a long pass to rookie receiver Michael Thomas. Goff was nearly perfect during a two-minute drill that ended with a touchdown pass to rookie receiver Duke Williams.
Goff's next test comes Saturday night when the Dallas Cowboys visit the Coliseum for the near sold-out exhibition opener that might have the buildup and electricity of a playoff game. It will be the first NFL game at the Coliseum since 1994, the Raiders' final season in Los Angeles.
After going through pre-draft workouts, rookie orientation, organized team activities and nearly two weeks of training-camp activities, Goff, the No. 1 pick in the NFL draft, is eager to finally play in a game.
"It seems like a long time coming," he said.
Fisher said this week that Case Keenum would start against the Cowboys and that Goff would probably play a half.
Keenum had one pass intercepted Saturday but otherwise performed efficiently and connected with receivers and tight ends for several touchdowns during drills.
Fisher said Goff has worked with the first-team offense during walk-throughs and that he may get some work with the starters during practice this week.
He pointed to Saturday's two-minute drill as an example of how far Goff has come.
"He was locked in, focused and he knew exactly where the play clock was," Fisher said, adding, "It was good for him to finish up on a really good note.
"And now he can get his mind right for next weekend."
Goff anticipates another strong reception from fans when the Rams play the Cowboys.
"Right now they're very happy to see us," he said, "and hopefully we can keep it that way."
Star power
Running back Todd Gurley was one of the last players to come out onto the field, and fans had no trouble recognizing him.
"It was cool just to be able to play in the Coliseum for our first time and get a reaction," Gurley said.
Gurley went through drills but he is expected to play sparingly during the exhibition season as the Rams attempt to protect one of their most valuable assets.
Gurley, the 10th pick in the 2015 draft, did not take an exhibition snap last season as he was still recovering from a knee injury suffered during his final season at Georgia.
Leg up
Kicker Greg Zuerlein wowed the crowd by kicking a 64-yard field goal.
Zuerlein made 20 of 30 field-goal attempts last season.
Fisher said in March that Zuerlein needed to compete for the spot this season.
Taylor Bertolet, who played at Texas A&M, also is in camp.
Notes
Third-team quarterback Sean Mannion completed a touchdown pass to receiver Nelson Spruce during a live tackling drill for younger players at the end of practice…. Cornerback E.J. Gaines remained sidelined because of a hamstring issue…. The Rams are off Sunday. They will resume practice Monday at UC Irvine.
gary.klein@latimes.com
Twitter: @LATimesklein
Get the latest on L.A.'s teams in the daily Sports Report newsletter.
You may occasionally receive promotional content from the Los Angeles Times.