Aaron Donald, Rams agree to six-year, $135-million contract extension
Aaron Donald is not publicly sentimental or emotional. But the reigning NFL defensive player of the year broke a bit Friday.
It was only a few hours after the Rams gave Donald the richest contract for a defensive player in NFL history, a six-year, $135-million extension with $87 million in guarantees.
The tackle said his "ultimate goal" had been to earn enough money to enable his parents to retire. So calling them to tell them they no longer had to work was the "best feeling ever."
"I told them they can just relax," he said. "It's on me now."
The signing of Donald ends a saga that lasted more than a year. The four-time Pro Bowl player stayed away from training camp in 2017 and again this season to coax the Rams into compensating him for outperforming his rookie contract.
Donald, the 13th pick in the 2014 draft, has amassed 39 sacks and is regarded as perhaps the most disruptive defensive player in the NFL. He earned $1.7 million in 2017 and will earn $6.9 million this season before the extension kicks in.
"Guy deserves to be — and he's earned it — to be on Rams Mt. Rushmore," general manager Les Snead said, adding, "That was our goal when this started about 18 months ago."
Coach Sean McVay endured queries about Donald nearly every day during two training camps and preseasons. Now Donald finally has joined a remade Rams defense that features new cornerbacks Marcus Peters and Aqib Talib, and defensive tackle Ndamukong Suh.
"This has been a long time coming," McVay said, adding, "This is a player that from a production standpoint really played unbelievably since he's been here. … He's a pro's pro."
After news about Donald's extension broke, quarterback Jared Goff tweeted, "LET'S GO!" Suh tweeted a picture of him, Donald and Michael Brockers in uniform. "As @mbrockers says WE COMPLETE NOW!! WE COMPLETE NOW!!" he wrote.
Donald looked fit as he went through a one-hour workout with teammates for the first time since before last January's playoff loss to Atlanta.
Wearing a white No. 99 jersey over a blue hoodie, he joked with other defensive lineman between reps. Donald took his turns from the back of the line, allowing rookies and players that have been with the team since offseason workouts to go ahead of him.
Afterward, he smiled broadly as he approached a podium to take questions.
"I feel good right now to be back out here playing football again," he said. "That's what it's all about."
For much of the last 18 months, the subtext to everything regarding Donald was money, specifically how much the Rams were willing to spend on a player seemingly bound for the Hall of Fame and beloved by teammates for his personality, talent and work ethic.
"Everyone with common sense knew Aaron was, at minimum, going to be the highest-paid defensive player in football," Snead said. "And from there you had to figure it out. … That was the base."
Snead said that Kevin Demoff, the Rams' vice-president for football operations and chief operating officer, and Tony Pastoors, vice president of football and business administration, made trips to Atlanta to meet with Donald's agents.
"[Demoff] will get on a red-eye Southwest Airlines middle seat to get to Atlanta and drag Tony with him," Snead said. "They did that a good bit through that whole process. They were very proactive in trying to get this thing completed."
Donald did the same thing he did last year: He worked out in hometown Pittsburgh and waited.
"A lot of things go through your head," he said.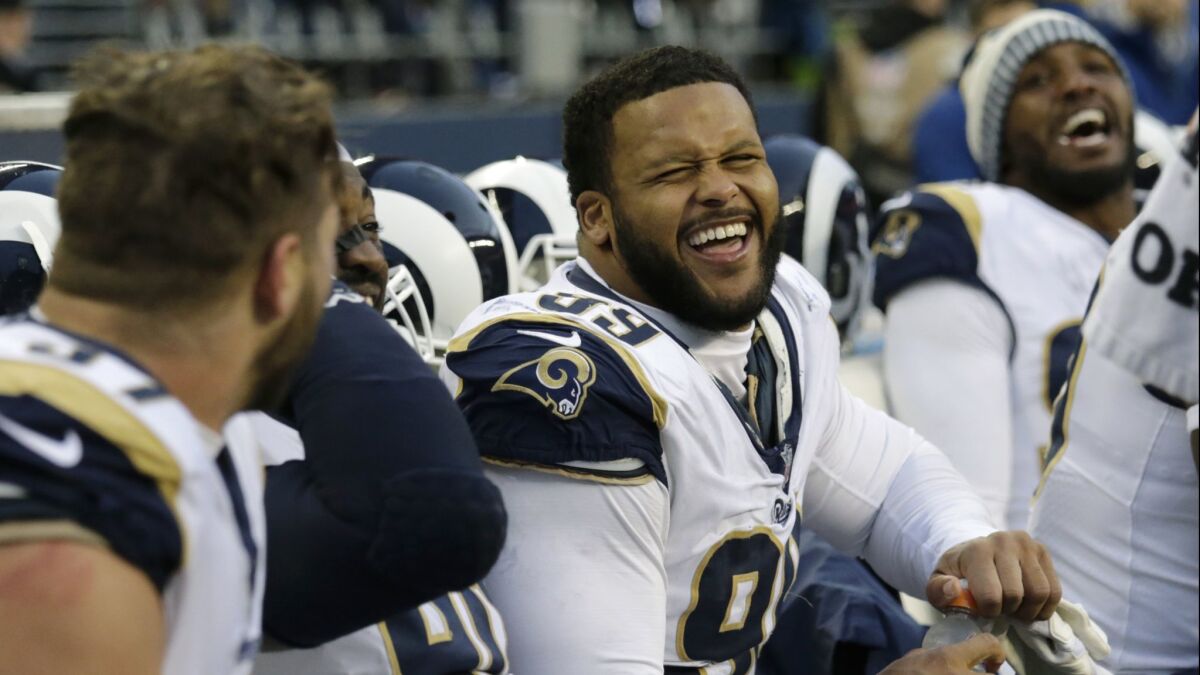 This summer, while Donald waited for his deal, the Rams signed Brandin Cooks, Todd Gurley and Rob Havenstein to extensions worth a combined $172.5 million.
Before a preseason game in Baltimore, Snead said the two sides were "in the same ZIP Code, area code, ballpark." This week they inched closer to reaching an agreement, so close that McVay hinted a deal was close to done.
The final elements were in place late Thursday night and completed Friday.
"Growing up, thinking about playing in the NFL, you never think that big and expect something like that," Donald said of being the highest-paid defensive player in history. "But like I said, my dad told me since Day 1, 'Hard work pays off' and just putting the body work in, continuing to put the body work in. I'm going to continue to work nonstop."
Cuts
The Rams released 22 players as they trim the roster from 90 to 53 by Saturday. Offensive tackles Cornelius Lucas and Darrell Williams and kicker Sam Ficken were among the cuts. Defensive lineman/linebacker Ryan Davis and defensive end Morgan Fox were placed on injured reserve.
Twitter: @latimesklein
Get the latest on L.A.'s teams in the daily Sports Report newsletter.
You may occasionally receive promotional content from the Los Angeles Times.