The Rams' Wade Phillips is the Mr. Fixit of NFL defenses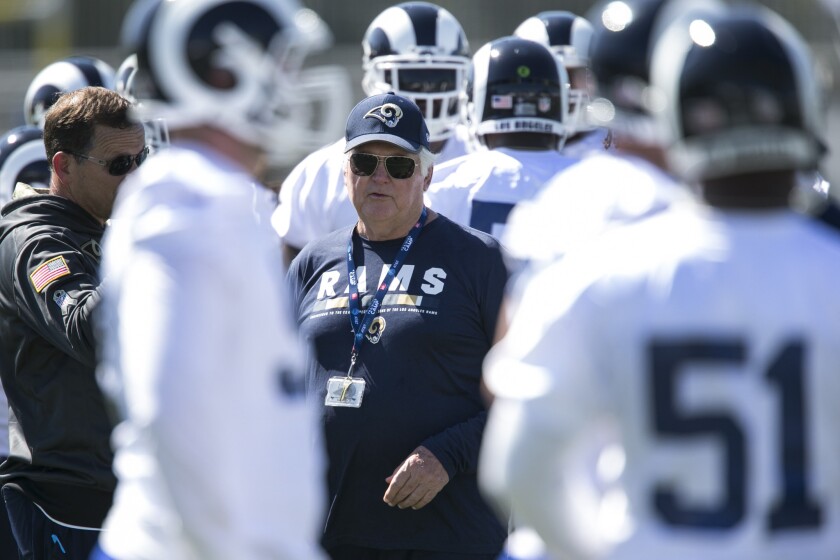 Rams defensive tackle Michael Brockers sat on the team bus in Oakland feeling bored.
So he looked across the aisle to Wade Phillips for entertainment.
Phillips, the Rams' 70-year-old defensive coordinator, fired up his Twitter and sent out a tweet that featured a looping video of two men swirling chunky gold chains around their necks, along with a dog also wearing a gold chain.
"Me and Brock drippin' after Raiders victory [that's me in red hat]," Phillips wrote.
"Drippin'," for the uninitiated, is a lyric by rapper Future. Loose translation: You are really cool and possess some swag.
It was another example of a Phillips' ability to connect with players about half a century younger.
"He's older, but don't get it twisted," cornerback Nickell Robey-Coleman says. "He's cool."
Phillips learned the value of staying current during an NFL coaching career that spans four decades.
He followed his father, the late Bum Phillips, into coaching. Bum coached Wade's high school and college teams and later coached the Houston Oilers. Bum hired Wade for his first NFL gig in 1976, and he spent 10 seasons coaching with his dad.
Phillips has been a head coach or defensive coordinator for nine NFL organizations and has coached five Hall of Famers and 31 players selected to the Pro Bowl.
His ability to relate to players and his reputation for quickly improving defenses have made him an NFL fixture.
Cornerback Trumaine Johnson says Phillips is an "O.G.," referring to an original gangster. "Cool, calm and collected," Johnson says.
Players laugh while recounting how Phillips' humor surprises them. Phillips says he simply observes and listens.
"You're around their culture a lot and so it rubs off," he says. "If I hear something I'll say some line that they said on the song.... It's just for fun."
Sometimes in meetings the white-haired Phillips accessorizes his usual look of wearing a ball cap, shorts and long-sleeve T-shirt by donning thick gold chains. He recites lyrics from rappers such as Drake and Future. He danced to a mariachi band that played in a training camp meeting.
"He's got more swag than you would think," coach Sean McVay says.
McVay met Phillips in 2014, when McVay was a Washington Redskins assistant on a staff that included Phillips' son, Wes.
Before McVay interviewed with the Rams, he asked Phillips if he would join him as defensive coordinator.
"I said, 'Sure, yeah, 30-year-old guy, you're going to get a head coaching job,'" Phillips recalls, chuckling and adding, "Then all of a sudden he said, 'I got the job.' I said 'Wow, great.'"
The two coaches share good-natured jabs about their age difference.
"Rams have the only staff with DC on Medicare and HC in Daycare," Phillips tweeted during Super Bowl week.
McVay took it in stride.
"He's just got a good way about himself," says McVay. "He can kind of get away with saying things because of the way that he does it."
And, perhaps, because he is a proven coordinator. Every defense Phillips has taken over since 1989 has shown dramatic improvement within the first year.
With the Rams, Phillips is charged with improving a defense that ranked ninth in yardage last season but gave up 24.6 points per game.
The Rams spent more than a decade in a 4-3 defense, but Phillips has installed his trademark 3-4, which he used with devastating results en route to a Super Bowl title with the Denver Broncos in the 2015 season. The attacking scheme is designed to put the secondary in position to make plays.
Players hesitant to make the transition felt at ease after reviewing film of Phillips' Denver defense.
Brockers, once fearful he wasn't suited to play in a 3-4, shed his doubt after Phillips' explanation that he still wanted the lineman to get into the backfield and wreak havoc.
"I'm loving it," Brockers says.
Phillips has implemented his defense without three-time Pro Bowl lineman Aaron Donald, who did not report to training camp because of a contract dispute.
The Rams signed linebacker Connor Barwin and cornerback Kayvon Webster to fit the system. Barwin played for Phillips in Houston, and Webster in Denver.
As part of the transition, Robert Quinn moved from end to outside linebacker, and Lamarcus Joyner from cornerback to safety.
"They're learning quickly," Phillips says. "We still got a lot of work to do. We've still got to get some things done, but I'm pleased with where we are right now."
While Phillips is quick to enliven a room, players say he's not so lighthearted when it comes to perfecting their craft. A mistake is OK, but ones made repeatedly are not tolerated.
The players are enjoying Phillips' mix of accountability and humor.
"He wants his time on the field or in the classroom to be perfect," Quinn says. "That's why it's so fun to come to work, because you get a little of both worlds with him."
Twitter: @LindseyThiry
---
Get the latest on L.A.'s teams in the daily Sports Report newsletter.
You may occasionally receive promotional content from the Los Angeles Times.