Robert Woods feels he's capable of doing even more for Rams in 2019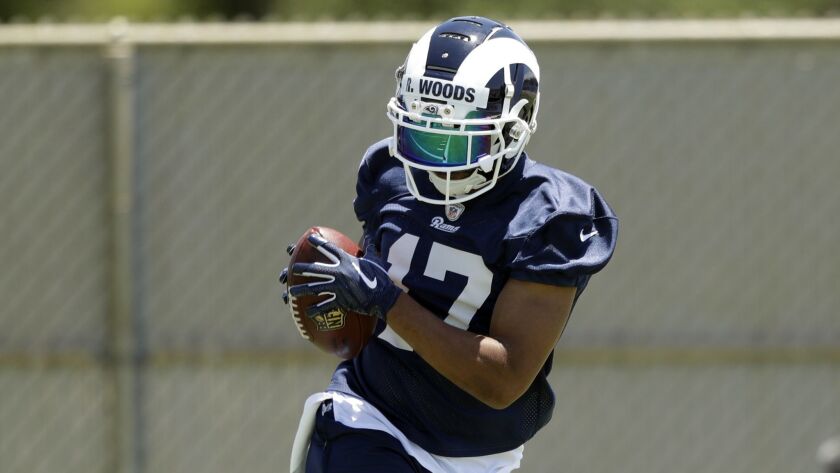 The numbers made sense to Robert Woods.
After playing four seasons in a run-first offense with the Buffalo Bills, the receiver in March 2017 was happy to sign a five-year, $34-million contract with the Rams.
Woods thought it was a fair deal — but also that he was worth more. He only needed an opportunity to show it.
In his two seasons with the Rams, the Southern California native has proved his point.
In 2018, as part of a position group that included fellow starters Brandin Cooks and Cooper Kupp as well as ascending Josh Reynolds, Woods led the Rams in catches and eclipsed 1,000 yards receiving for the first time.
"Just the start of it," Woods said last week as the Rams concluded voluntary offseason workouts, "I feel like last year was a taste of what I knew I had, what other people saw a glimpse of."
Along with establishing himself as a go-to receiver, Woods cemented his status as one of the NFL's best bargains.
Woods, 27, carries a salary cap number of $7.2 million in 2019. His contract does not rank among the top 30 for NFL receivers in average yearly compensation, according to the website overthecap.com.
Odell Beckham Jr. of the Cleveland Browns is first at $18 million. Cooks is tied for fourth at $16.2 million. Sammy Watkins, Woods' former Bills and Rams teammate, ranks fifth at $16 million going into his second season with the Kansas City Chiefs.
Others that rank ahead of him include Marqise Lee of the Jacksonville Jaguars ($8.5 million) and Paul Richardson — Woods' former teammate at Serra — of the Washington Redskins ($8 million).
Whether the Rams adjust Woods' contract before this season or next — or at all — remains to be seen.
Regardless, the former USC star said he would continue to work at perfecting his craft and helping the Rams return to the Super Bowl.
The Rams will hold a mandatory minicamp Tuesday. It will be the team's last workout before regrouping for training camp in late July.
"Just come out and tear it up," Woods said of his plan for the upcoming season. "Be myself, play every game and really do a lot of damage and prove to be the best — and get the price to match."
Woods wasted no time establishing his value for the Rams.
In 2017 — despite being sidelined three games because of a shoulder injury and being held out of the finale with other starters — he finished with 56 catches for 781 yards and five touchdowns. In a playoff loss to the Atlanta Falcons, he caught nine passes for 142 yards.
Watkins caught only 39 passes — eight for touchdowns — but he struck it big after the season, signing a three-year, $48-million contract with the Chiefs. A few weeks later, the Rams traded for Cooks. And before the then-three-time, 1,000-yard receiver took a snap for the Rams, the team gave him five-year, $81-million extension that included more than $50 million in guarantees.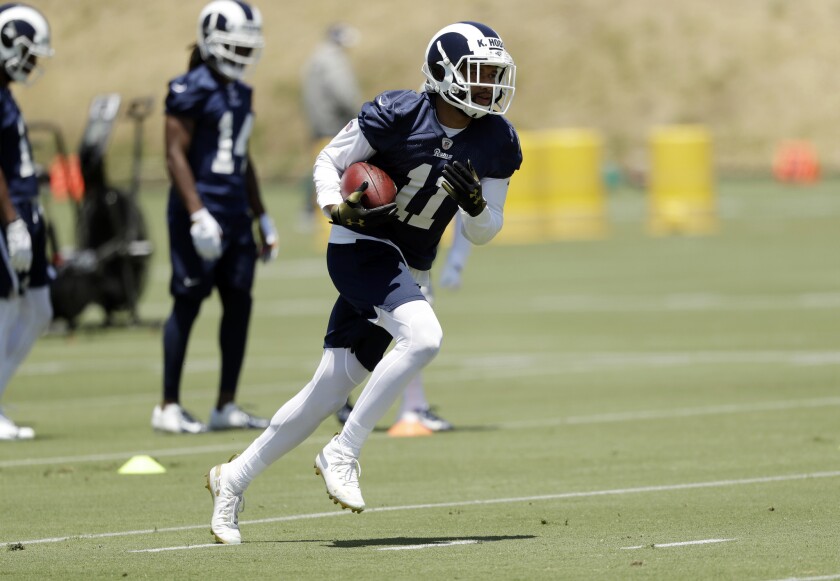 "I said, 'I'm next,' " Woods said, chuckling. "You're always happy for your teammates and other receivers making money."
Last season, Woods caught 86 passes for 1,219 yards and six touchdowns. Cooks caught 80 passes for 1,204 yards and five touchdowns.
Woods produced despite changing positions after Kupp suffered a season-ending knee injury.
"He's shown that he's probably one of the most versatile and complete receivers in the league," receivers coach Eric Yarber said of Woods.
Said Rams coach Sean McVay: "Does as much as any receiver in the league in terms of the amount of things that we ask him to do, and a guy that's gotten better."
Sign up for our daily sports newsletter »
After the 2017 season, Woods worked to improve catching the ball away from his body. This offseason, he has improved his upper-body strength so that he can more effectively shed defenders and increase yards gained after catches.
Woods said there have been no discussions with the Rams about making an adjustment in his contract before the season. But he is confident that, in time, his contributions to the team's culture and record will be rewarded, be it this year or next.
"I go out and compete every single day, and work to be the best," he said, "and I just think my play will show it all.
"I feel like I will get what I deserve."
Follow Gary Klein on Twitter @latimesklein
---
Get the latest on L.A.'s teams in the daily Sports Report newsletter.
You may occasionally receive promotional content from the Los Angeles Times.