Matthew Stafford's worst start for Rams too much to recover from in loss to Titans
Matthew Stafford could not escape.
Early in Sunday night's game against the Tennessee Titans, the Rams' quarterback was sacked twice on consecutive plays. He also had passes intercepted on two plays in a row, one that was returned for a touchdown.
He looked nothing like the subject of NFL most-valuable-player conversation, and everything like Jared Goff during those stretches when the Rams' former quarterback made coach Sean McVay's blood boil and melted his hair gel.
Stafford is regarded as one of the best comeback quarterbacks in the NFL. But this time the hole was bigger than the one that was dug to build $5-billion SoFi Stadium.
The Rams' four-game winning streak ended with a 28-16 defeat before a crowd of 71,785.
Garbage-time touchdown comes too late to save Rams from 28-16 loss
Sony Michel scored a last-minute touchdown on a three-yard pass from Matthew Stafford, but it was too little, too late to prevent the Rams from losing 28-16 to the Tennessee Titans at SoFi Stadium on Sunday.
The touchdown came at the end of a 14-play, 75-yard drive that was mostly an exercise in futility after an Adrian Peterson touchdown late in the fourth quarter sealed the victory for the Titans (7-2).
The Rams committed 115 yards in penalties and two costly interceptions from Stafford in the first half led to Titans touchdowns. The Tennessee defense limited the Rams to three Matt Gay field goals until the final 30 seconds.
Stafford completed 31 of 48 passes for 294 yards, but turnovers in and around the red zone meant the Titans' 194 yards of total offense was much more effective than the Rams' bloated total of 347. Ryan Tannehill completed 19 of 27 passes for 143 yards, with a touchdown and an interception.
Robert Woods made seven catches for 98 yards and Darrell Henderson had 55 yards on 11 carries for the Rams (7-2).
The Rams play at the San Francisco Giants on Monday night next week before heading into the bye.
Titans take 28-9 lead over Rams on Adrian Peterson touchdown
Adrian Peterson, making his season debut in his 15th season in the league, scored his 125th career touchdown to help give the Tennessee Titans a 28-9 lead with three minutes left to play.
The one-yard touchdown run came at the end of a seven-play, 59-yard drive aided by two roughing the passer calls against the Rams and a 16-yard catch by A.J. Brown.
The Rams' inability to sustain drives and score touchdowns is annihilating their chances at victory.
Rams fail to convert on fourth down, ending promising drive
The Rams failed to convert on fourth-and-one with 6:39 left in the fourth quarter when good pressure from the Titans' defensive front forced Matthew Stafford to toss an incomplete pass toward Van Jefferson.
The Titans took over on downs at the Tennessee 42, ending another promising drive that included 22- and 13-yard catches by Robert Woods. Stafford walked off the field a bit gingerly after rolling his ankle while being brought down by Titans linebacker Joe Jones. However, it looks like he'll be fine.
On Tennessee's ensuing possession, roughing the passer calls on Aaron Donald and Ogbonnia Okoronkwo helped the Titans quickly drive into Rams territory.
Matt Gay kicks another field goal to make it 21-9 Titans
Matt Gay kicked his third field goal of the game for the Rams, hitting a 54-yarder on the first play of the fourth quarter to make it 21-9 Titans.
The Rams' second drive of the second half wasn't as good as their previous possession, with things sputtering out as the Rams got into Tennessee territory.
So far, the Rams' defense has been able to keep Ryan Tannehill and the Titans' offense at bay for most of the game. They'll need to continue to do the same to give the Rams a chance at a comeback.
Rams settle for field goal after touchdown called back on review
Matthew Stafford and the Rams are starting to show some life on offense, but they missed out on a touchdown by the narrowest of margins.
Matt Gay kicked a 22-yard field goal for the Rams to make it 21-6 Titans with 8:15 remaining in the third quarter after a Tyler Higbee touchdown catch was reversed upon review. It was determined the tight end went out of bounds before making the catch in the back of the end zone.
The field goal was a disappointing end for what was by far the best four minutes of football the Rams have showcased tonight, with Stafford escaping pressure on multiple plays by channeling his inner Houdini while unleashing well-placed zips and lobs to receivers in tight coverage.
Stafford has completed 17 of 28 passes for 173 yards and two interceptions so far, and Darrell Henderson has 11 carries for 55 yards.
Titans quarterback Ryan Tannehill is 15 for 21 with 96 yards with a touchdown and a pick.
Ryan Tannehill trots into the end zone on fourth down to extend Titans' lead
The Tennessee Titans pieced together the best drive of the game so far, and fooled the Rams' defense big time on fourth down to score their third touchdown of the game.
On fourth-and-goal from the one, Titans quarterback Ryan Tannehill looped back on the keeper and ran into the end zone untouched to give Tennessee a 21-3 lead with 2:10 left in the second quarter.
Tannehill's touchdown capped off the best-looking drive of the game so far, a 14-play, 64-yard march that chipped away at the Rams and ran 7:39 off the game clock.
Matthew Stafford and the Rams are struggling to generate offensive tempo. Stafford has been sacked three times and has two interceptions, including a pick-six. The Rams last four possessions have ended with an interception or a three-and-out.
Matthew Stafford throws pick-six to give Titans 14-3 lead
The Titans have scored two touchdowns as a result of a pair of Matthew Stafford interceptions.
After a red-zone interception by David Long Jr. set up the Titans' first touchdown, Tennessee safety Kevin Byard scored on a 24-yard interception return to give the Titans a 14-3 lead with 12:10 left in the second quarter.
Titans take the lead after Matthew Stafford throws costly interception
Great defensive pressure by the Titans leads to a costly mistake for the Rams and a touchdown for Tennessee.
The Titans took a 7-3 lead with 12:21 second quarter when quarterback Ryan Tannehill connected on a two-yard touchdown lob to tight end Geoff Swaim.
The touchdown came one play after Matthew Stafford threw an interception from the end zone as he was about to be sacked by Jeffery Simmons. As he was spun around by Simmonds, Stafford chucked the ball, and David Long Jr. picked off the desperation dart.
Replays showed Stafford's forward progress would have prevented the play from being a safety if he just went down with the ball — but it was close and almost impossible to determine in the moment.
Rams jump out to 3-0 lead over Titans in first quarter
Matt Gay kicked a 34-yard field goal to give the Rams a 3-0 lead over the Titans with 3:46 left in the first quarter.
A 12-yard catch by Cooper Kupp followed by a 14-yard run by Darrell Henderson and a 12-yard scramble by Matthew Stafford helped set up the touchdown. The Rams benefited from good field position when Jalen Ramsey intercepted Ryan Tannehill's second pass of the game on an outbreaking cut on the Titans' first possession.
The Rams' first drive fizzled at midfield after Denico Autry and Jeffery Simmons recorded back-to-back sacks on Matthew Stafford.
Marquee Rams-Titans matchup has turned into war of attrition
Last May, on the day the NFL released its schedule, the game involving the Rams and the Tennessee Titans looked like a classic matchup.
Could star defensive lineman Aaron Donald and the Rams' front stop Titans running back Derrick Henry, the league's rushing leader the last two seasons?
Henry appeared to be on his way to another rushing title this season before suffering a season-ending foot injury last Sunday against the Indianapolis Colts. The Titans signed 36-year-old Adrian Peterson this week to replace Henry, and the future Hall of Famer will play Sunday at SoFi Stadium.
But the sheen is off the matchup.
And the Titans are not the only team dealing with injuries.
Von Miller will not make his debut for the Rams vs. Titans tonight
Von Miller will have to wait at least a week to make his Rams debut.
The star outside linebacker, acquired last Monday in a trade with the Denver Broncos, was among the players announced as inactive for Sunday night's game against the Tennessee Titans at SoFi Stadium.
Miller has been nursing an ankle injury suffered Oct. 21 in a game against the Cleveland Browns.
Other Rams inactives are quarterback Bryce Perkins, outside linebacker Chris Garrett, offensive lineman Alaric Jackson, offensive lineman Tremayne Anchrum and tight end Brycen Hopkins.
Aaron Donald can't stop smiling about Rams' prospects with addition of Von Miller
The Rams traded for outside linebacker Von Miller three days before, but star defensive lineman Aaron Donald obviously was still feeling the initial effects Thursday.
"I ain't stopped smiling yet," he said, grinning broadly and chuckling, after practice.
Donald is a three-time NFL defensive player of the year. The six-time All-Pro has done just fine in his seven-plus NFL seasons, amassing 90½ sacks, including five this season.
But no Rams player might benefit more from the arrival of Miller, an eight-time Pro Bowl player who has 110½ sacks.
Rams vs. Titans matchups: In prime time, L.A. faces tougher opponent
Breaking down how the Rams (7-1) and the Tennessee Titans (6-2) match up heading into their game at 5:20 PST on Sunday at SoFi Stadium in Inglewood. The game will be carried on NBC (Channel 4).
When Rams have the ball: Quarterback Matthew Stafford sat out two days of practice because of back stiffness and was limited Friday but will play Sunday. Stafford has passed for 22 touchdowns, with four interceptions. Receiver Cooper Kupp was named NFC offensive player of the month for the second time after amassing 63 catches for 924 yards receiving and 10 touchdowns. The Rams released receiver DeSean Jackson, and rookie Tutu Atwell suffered a season-ending shoulder injury. So Kupp, Robert Woods and Van Jefferson will be backed up by rookies Ben Skowronek and Jacob Harris, and J.J. Koski. Woods is nursing a foot injury that caused him to sit out two days of practice but is expected to play. Running back Darrell Henderson is emerging as a dual threat after running for a touchdown and catching another touchdown pass last Sunday in a 38-22 victory over the Houston Texans. Veteran left tackle Andrew Whitworth could return after sitting out against the Texans because of a knee injury. Harold Landry III has amassed 8½ sacks, tied for second-most in the NFL, and fellow linebacker David Long has a team-best 60 tackles. Safety Kevin Byard has intercepted four passes.
Rams vs. Tennessee Titans: NFL betting lines, odds and picks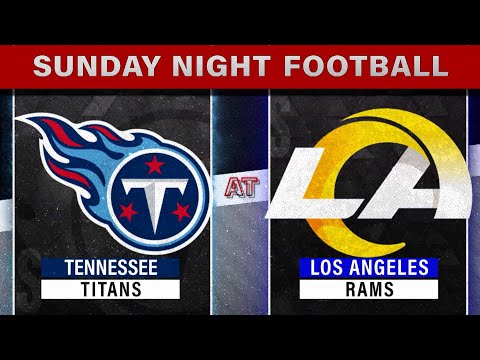 Tennessee Titans at Los Angeles Rams (-7.5, 54)
Tennessee 's running game takes a huge hit because of Henry's absence, as the Titans come into the week ranked first in rushing attempts and second in yards. The reliance on Henry wasn't all about how great of a player he is, as the Titans have also dealt with injuries to wide receivers A.J. Brown and Julio Jones. Both players will have to figure out how to get on the field and stay productive.
There is also some added pressure on quarterback Ryan Tannehill, who really hasn't played well this season while dealing with the injuries to his wideouts. Tannehill has already matched last year's total interceptions with seven in just half of the games. He threw 33 touchdown passes last season and had over 3,800 passing yards. He's nowhere near that pace this season.