Column: Champions League final proves Real Madrid, Spain are still dominant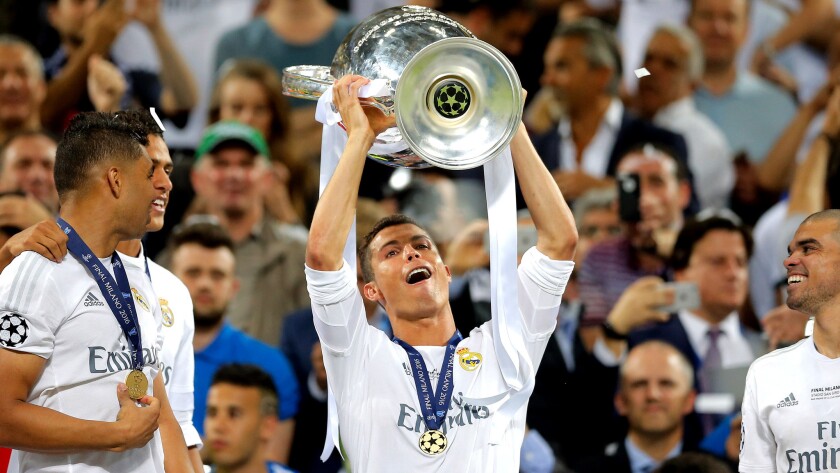 If there was a lesson to be learned from Saturday's UEFA Champions League final between Real Madrid and Atletico Madrid it is this: the reign of Spain is clearly now insane.
Real Madrid won the title, 5-3, on penalty kicks, with Cristiano Ronaldo, physically drained after playing more than 120 minutes, ending an emotional evening by calmly slotting his shot to the back of the net, giving Real Madrid a record 11th continental championship in dramatic fashion.
It also marked the second time in three years that Real Madrid has beaten its cross-town rival in a Champions League final that went to overtime. That, however, was important mainly in the Spanish capital, where the teams play in stadiums less than 10 miles apart. For the rest of Europe the greater significance was the fact that, for the second time in three seasons, the Champions League final featured only teams from Madrid.
Barcelona won the one in between, giving Spain five titles in the last eight editions of world soccer's most prestigious club competition. And in the Europa League, the slightly-less-important cousin of the Champions League, Sevilla's win earlier this month was its third in a row, giving Spain a three-year sweep of Europe's top club competitions.
Add in the national team's victories in the last two Euros and the 2010 World Cup, and Spain has won three of the last four most important international tournaments while La Liga teams were winning six of the continent's last eight most prestigious club events.
Spanish dominance of international soccer is no longer in doubt, said Liverpool Coach Juergen Klopp, whose team lost to Sevilla in the Europa League final.
"It's the best football country," he said in a news conference earlier this month. "[It's] a combination of good managers, scouting, good education of players.
"There are a lot of reasons, but at this moment La Liga is the highest level and it is the job of everybody else to reach this level and pass them."
Unai Emery, Sevilla's Spanish-born coach, took the compliment, then added his own theory.
"Spanish teams compete passionately," he said. "They are able to reach the highest levels of European soccer and we have been able to win against teams better than us."
It's tempting to attribute some of that success to La Liga's ability to attract great players such as Ronaldo, Lionel Messi, Luis Suarez and Gareth Bale. But that overlooks the fact that nine players in Saturday's final were homegrown – as are nearly 60% of the players on La Liga rosters, by far the best percentage in Europe's top five leagues.
At the same time Spain has been sending players to the rest of Europe, with a Soccer America survey finding only France exports more players to the continent's top five leagues.
The Spanish model was on display in Saturday's final in Milan, which began as a physical defensive battle. But in the 15th minute Real Madrid took advantage of Atletico's shaky play on set pieces to take a 1-0 lead on a questionable goal from Sergio Ramos.
The sequence began with a long Toni Kross free kick into the penalty area that a leaping Bale flicking the ball forward. Defender Stefan Savic had a fistful of Ramos' jersey but Ramos stuck his left foot in front of the ball and deflected it past keeper Jan Oblak, becoming the first defender to score in two Champions League finals.
Replays suggested he may have been offside, though.
Atletico's next big mistake came in the opening minutes of the second half when Antoine Griezmann, gifted with a penalty kick, put the ball off the underside of the crossbar.
Atletico finally got the equalizer with 11 minutes left in regulation, when a Juanfran volley from the right wing found second-half substitute Yannick Carrasco in front of the goal. Carrasco, who was being pulled down by Real's Lucas Vazquez, still managed to get enough of the ball to get it by keeper Keylor Navas.
That sent the game to overtime, which were a nervous 30 minutes for Real Madrid. First-year Coach Zinedine Zidane, who replaced Rafa Benitez five months ago, ran out of substitutions before the tying goal and had to stick with several players – including Ronaldo and Bale – who were clearly cramping up.
Both received attention on the sideline before the penalty-kick shootout, which was even through three rounds. But after Ramos made his try to start the fourth round Atletico's Juanfran pushed his shot off the upright, giving Ronaldo the chance to become a hero.
And Ronaldo, who was invisible for most of the game, didn't waste the opportunity, coolly sending his right-footed shot into the center of the net before ripping off his jersey in celebration.
"I knew I was going to score the winning penalty," Ronaldo told reporters after winning his third Champions League title. "I was confident."
Spain should feel the same way.
Twitter: @kbaxter11
---
All about the beautiful game
Go inside the L.A. pro soccer scene and beyond in Kevin Baxter's weekly newsletter.
You may occasionally receive promotional content from the Los Angeles Times.