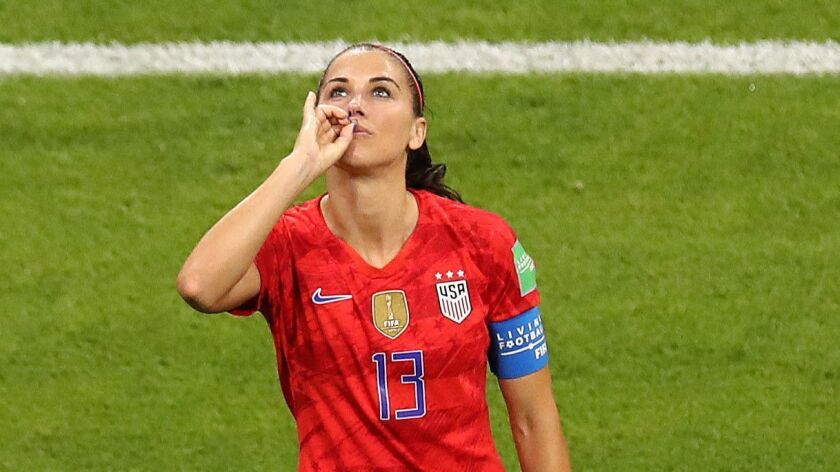 Reporting from LYON, France —
Alex Morgan stepped out of the U.S. team hotel Wednesday afternoon carrying a cup of coffee which, given the way she celebrated her game-winning goal against England the night before, you would have figured wasn't her cup of tea.
After heading in a perfect feed from Lindsey Horan to give the U.S. a lead it wouldn't relinquish in a Women's World Cup semifinal, Morgan calmly jogged to the edge of the penalty area, pressed the index finger and thumb of her right hand together, stood erect and mimicked drinking from a cup of team, pinkie properly extended.
The team party ended when Morgan, the team captain, was engulfed by teammates Rose Lavelle and Tobin Heath.
"I don't know why she did that," teammate Kelley O'Hara said. "But it was pretty funny."
The reason why wasn't all that hard to figure out.
Women's World Cup on TV: Sweden and Netherlands vie for spot in final »
The English had been trolling the Americans all week, accusing them of scouting their team hotel, claiming they had the formula to beating the defending champions and basically displaying the kind of swagger and confidence Morgan and her team are famous for. Her goal essentially ended all that, sending the U.S. on to its third straight Women's World Cup final.
"I wanted to keep it interesting," Morgan said. "I know [teammate] Megan Rapinoe has the best celebration. So I had to try to step up this game."
Asked if her gesture was aimed at the English — who else, after all, drinks that much tea? — Morgan played it coy.
"I didn't say it," she told reporters. "You guys did."
Was it planned?
"I don't know. I can't remember," she said, pretending to wrack her brain.
Sign up for our weekly soccer newsletter »
Morgan, whose game-winning goal came on her 30th birthday, then turned serious.
"I was thinking of all the noise in the background and the fact that this team has persevered through so much, not taking the easy route through this World Cup. And playing quite a difficult path through to the World Cup final," she said.
"It was just a little pinkie's up."
By the way, when Morgan finished her coffee Wednesday she boarded the U.S. team bus for the short trip to their new hotel. England has already moved out.
Wonder if they left any tea behind?
kevin.baxter@latimes.com | Twitter: @kbaxter11
---