Women's World Cup: U.S. defeats England with Megan Rapinoe sidelined
U.S. players celebrate at the end of the France 2019 Women's World Cup semi-final football match between England and USA.
(PHILIPPE DESMAZES / AFP/Getty Images)
Alex Morgan celebra su gol -sexto en el torneo- antes del intermedio y en el día en que cumplió 30 años. No había marcado desde que consiguió cinco dianas en la paliza de 13-0 sobre Tailandia, con la que Estados Unidos comenzó su participación en Francia.
(Richard Heathcote / Getty Images)
La pelea por el control del balón fue intensa de principio a fin...
(Franck Fife / Getty Images)
Reporting from Lyon, France —
Ask Jill Ellis and she'll say her United States women's national soccer team wins so often because it has something no other team has.
No, not the best players. The last three world players of the year have all played for someone else. No, not the best club teams to draw from, because those are all in Europe now.
What Ellis' team has is intangible. Can't see it, touch it or feel it. But it was on full display again Tuesday when the U.S. gutted out a 2-1 semifinal win over England to advance to a third straight Women's World Cup final Sunday. The U.S. will play the winner of the second semifinal today between Sweden and the Netherlands.
"There's something to be said for always believing that you can win," Ellis said. "We look at the game as every moment is there to seize. So whatever it takes has kind of been the mentality and the mind-set of this team.
"Finding a way to win is straight up. It doesn't matter to me how."
Here's how they did it this time:
When Megan Rapinoe, who had all four U.S. goals in the previous two games, is unable to go because of a hamstring issue, Christen Press starts in her place, scores a goal and sets up the other.
When Alyssa Naeher is called upon in the closing minutes to stop a penalty kick that could have tied the score and possibly sent the game to overtime, she dives directly into the path of English captain Steph Houghton's shot, saving the game and potentially the World Cup.
"Everyone is willing to step up. That's the mentality of this entire team," midfielder Julie Ertz said. "Whatever's thrown at us, we're going to take."
And more often than not, beat.
The Americans' semifinal win is the 11th in a row in Women's World Cup play. No team has won more. It also ran their unbeaten streak in the tournament to a record 16 games dating to 2011, when they began their string of three straight trips to the final.
That too has never been done before. And the U.S. has been tested like no other team along the way.
"This is the hardest route to the final that a team's probably ever taken in terms of the level of competition," said Ellis, who is unbeaten in 13 games as a World Cup coach which is — you guessed it — a record.
"They find a way. I attribute that to just the mental strength of the culture, the environment, the history, the tradition."
And Naeher.
Press gave the U.S. the lead in the 10th minute when she got away from English defender Lucy Bronze in the penalty area and headed in a perfect cross from Kelley O'Hara into the right corner of the net. It was the sixth time in as many games the U.S. took a lead in the first 12 minutes.
The shot beat backup goalie Carly Telford, who was starting in place of Karen Bardsley after England lost its star to a hamstring injury. Bardsley had given up only one goal in five games and Telford lasted just 12 minutes before matching that.
But Ellen White picked up her teammate in the 19th minute, slicing between U.S. defenders Abby Dahlkemper and Becky Sauerbrunn to deflect in Beth Mead's low cross from the left side for her sixth goal of the tournament and tie the score.
Alex Morgan, who has been bruised, battered and beaten up all tournament, climbed off the turf again to score what proved to be the deciding goal in the 31st minute. Again Press, Rapinoe's understudy, made it happen.
A booming Dahlkemper ball from the far side of the midfield stripe seemed headed out along the left side when Press floated underneath and chested it to the ground. She then sent it on to Lindsey Horan, whose perfect chip hit a leaping Morgan in stride for another header and a 2-1 lead.
Afterward Morgan, who turned 30 Tuesday, celebrated by pretending to drink from a cup of tea. A dig at the English, perhaps, who had made so much this week about catching up to the top-ranked Americans?
"I didn't say it," she answered. "You guys did.
"I was thinking of all the noise in the background and the fact that this team has persevered through so much, not taking the easy route through this World Cup. It was just a little 'pinkie's up.' "
Morgan's celebration nearly proved premature. Minutes after an apparent tying goal from White was taken off the board when video replay showed she was barely offside, White was clipped from behind in the box by Sauerbrunn. This time a lengthy replay review ended with Brazilian referee Edina Alves Batista awarding a penalty kick.
"When we got the penalty I said, 'We're going to win it,'" English coach Phil Neville said. "But it was not to be."
It was not to be because Naeher was not about to be beaten, diving low and to her right, directly into the path of Houghton's shot in the 84th minute.
Asked if it was the best save she's made, Naeher's face brightened into a huge smile.
"It's probably up there," she said.
And with that a team that has spent its World Cup fielding questions about arrogance for running up the score against Thailand, about the ongoing gender discrimination lawsuit against its federation, and about whether it will visit the White House after the tournament was left with one question — is it still the best team in the world?
Ellis promises we'll get the answer Sunday.
"We are here for one thing. That's it," she said. "Not lawsuits. Not silly trumped-up things. Not external noise. We're here for one thing: that's to win."
It doesn't matter how.
England fails to score on penalty kick
VAR takenth and VAR giventh right back. Almost.
After England's Ellen White is denied a goal by a video replay that showed she was offside, another video replay gave teammate Steph Houghton a penalty kick after it was determined she was clipped from behind by U.S. defender Becky Sauerbrunn deep in the box.
But U.S. keeper Alyssa Naeher smothers the try at the left post. U.S. still leads 2-1 in the 84th minute.
Minutes later, Millie Bright's second yellow card for a dangerous challenge on Alex Morgan gets her sent off in the 87th minute. England will try to come back while down a player.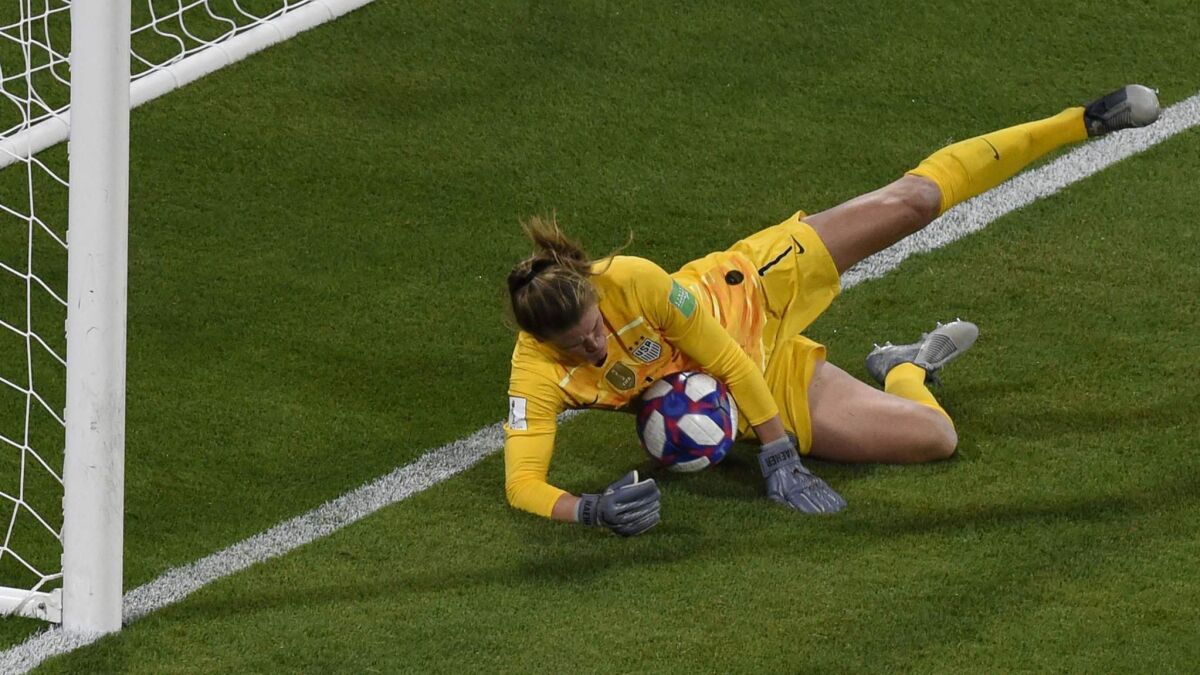 Kevin Baxter | 1:41 p.m.
England just a bit offsides
England appears to tie the game on another Ellen White goal in the 67th minute, but after the goal is taken away, play is halted for a video review. White was just the slightest offside — too close for the sideline official to pick it up, but clear to the video assistant review.
U.S. continues to lead 2-1. But just barely.
Kevin Baxter | 1:28 p.m.
Big save keeps U.S. ahead 2-1
U.S. goalkeeper Alyssa Naeher made arguably the save of the tournament on England's Ellen White at the goal line.
A long free kick to the far post turned into a battle for the loose ball, which bounced around for a while before landing in front of White, who tried to put it back over her shoulder and over the line, just a yard or two behind her. But Naeher calmly reached up and snagged the ball out of the air as White continued kicking at it.
U.S. still leads 2-1 in the 53rd minute.
Kevin Baxter | 1:10 p.m.
Lindsey Horan draws yellow card
The teams come out for the second half with the stadium dancing to "La Macarena."
The U.S. is leading 2-1 on goals from Christen Press and Alex Morgan. No substitutes for either side. So we're 45 minutes from determining the first participant in Sunday's final.
The half starts with the U.S.' Lindsey Horan drawing a yellow in the opening seconds of the second half.
Kevin Baxter | 1 p.m.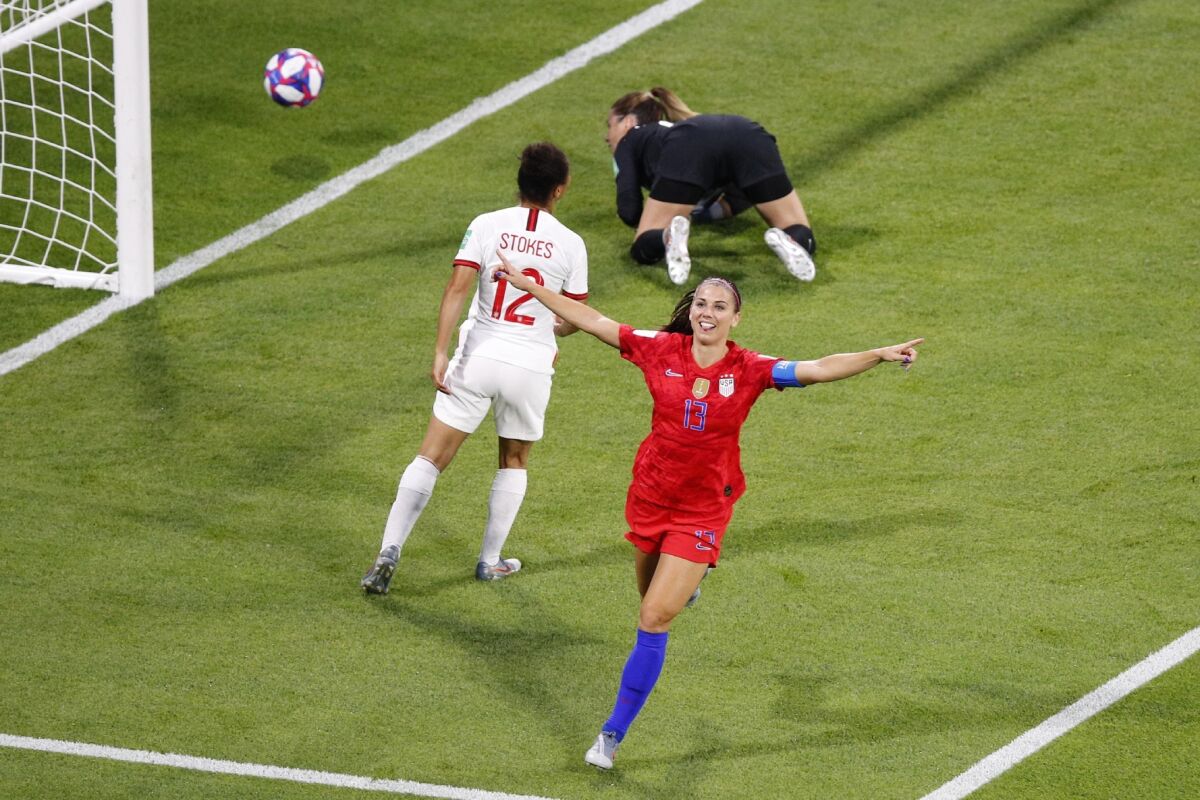 U.S. leads England 2-1 at halftime
The U.S. holds a one-goal lead with Megan Rapinoe and Carli Lloyd both lurking in the shadows on the bench.
This is the first time since the second game of group play that the U.S. has scored twice in the first half. Christen Press, a surprise starter in place of Rapinoe, has been involved in both, scoring the first and helping set up the second.
Both goals have been on headers, and the two goals are double the number England had allowed in its first five games of the World Cup.
Regular goalkeeper Karen Bardsley, who had four straight shutouts, isn't playing. She reportedly is dealing with a hamstring injury. Her replacement, Carly Telford, has really struggled with headers. So the U.S. continues to keep the ball high in front of the goal.
Through the first 45 minutes, time of possession is equal but the U.S. has been far more active in front of the goal, taking nine shots to England's two and putting four on goal.
Kevin Baxter | 12:47 p.m.
U.S. jumps back into the lead with a beautiful goal
Alex Morgan puts the U.S. in front 2-1 in the 31st minute. It's her sixth goal of the tournament, tying England's Ellen White, who scored 10 minutes earlier. It's also Morgan's first goal since the United States' opening win over Thailand.
The sequence started with a long pass out of the U.S. end to Christen Press on the left touchline. She sent the ball on to Lindsey Horan, whose right-footed feed led Morgan perfectly to the center of the area. She finished from there with a header.
The crowd then sang "Happy Birthday" — Tuesday is Morgan's 30th birthday.
England quickly tried to strike back, but U.S. keeper Alyssa Naeher made a splendid save to preserve the lead.
Press's goal in the 10th minute means the U.S. has scored in the opening 12 minutes of all six of its games in this Women's World Cup. England coach Phil Neville said he would expressly warn his team against giving up an early goal. So much for that.
But White's equalizer in the 19th minute means England has scored in the first 20 minutes five times in six games. And two of the three goals the U.S. have allowed have come in the first 20 minutes.
Kevin Baxter | 12:36 p.m.
England strikes back with tying goal
It's a new ball game with Ellen White tying the game for England in the 19th minute. It was a bolt that took just two set-up passes, the second a left-footed cross from Beth Mead on the left wing to White, charging through the U.S. defense into the penalty area.
The ball eluded U.S. defender Abby Dahlkemper and White stuck her right foot out to volley it home, tying the game. It was White's sixth goal on the tournament, which leads all players.
Kevin Baxter | 12:23 p.m.
U.S. takes a 1-0 lead over England
Christen Press, the surprise starter, gives the U.S. a 1-0 lead inside of 10 minutes. A long cross from Kelley O'Hara on the left wing went across the front of the goal to Press, wide open on the left edge of the six-yard box. Her high header easily got over the outstretch arm of leaping English keeper Carly Telford at the near post.
The U.S. has been at the front from the opening whistle. Early on Tobin Heath did a great job to beat England's Demi Stokes to a ball up the right wing, winning the first corner of the game. Rose Lavelle took the corner, then seconds later dribbled through three defenders to take the first shot of the game, which was fisted down with both hands by Telford.
The rebound bounced around six-yard box before winding up in front of Alex Morgan's right in front. She skied her shot well over the net.
About a minute later a Press free kick was about a half-foot too high for Morgan.
Kevin Baxter | 12:15 p.m.
American fans outnumbering English fans
Stade de Lyon, an NFL-sized venue and the largest stadium in the Women's World Cup, holds more than 57,000 people. The early guesses are that the U.S. will have about 20,000 fans here, the English about 2,500. The French will make up the swing vote and English coach Phil Neville said earlier in the week he thinks they'll go with the English over the Americans.
We'll see. The U.S. crowd can be pretty loud and I don't know if the French can match that passion cheering a team that is not their own.
Speaking of a team that is not their own, U.S. coach Jill Ellis, who was born in England but is a naturalized American citizen, said she was looking forward to the national anthems, which are about to begin, because "obviously I know the words to" them.
The U.S. is in its red jersey and red shorts with blue socks, blue-and-white trim and blue numbers. Goalkeeper Alyssa Naeher is all in yellow.
England will wear white kits with red numerals. Coach Phil Neville is again wearing a waistcoat over a light-blue long-sleeve shirt and tie.
Kevin Baxter | 11:55 a.m.
Megan Rapinoe benched ahead of U.S.-England match
The U.S. is going into the biggest game of this Women's World Cup without its biggest player, benching forward Megan Rapinoe going into the semifinal with England.
Rapinoe scored all four U.S. goals in 2-1 wins over Spain and France in the elimination rounds, becoming the only player with four straight goals for the Americans in a Women's World Cup. She is co-leader in the tournament with five goals overall.
Christen Press will start in her place, but the mystery is what's wrong with Rapinoe?
A U.S. Soccer spokesman said he could not divulge why Rapinoe was benched other than to clarify it was not for disciplinary reasons. When Becky Sauerbrunn and Julie Ertz were held out of the lineup earlier in the tournament, U.S. Soccer immediately explained both had minor injuries.
Rapinoe did not participate in warmups before the game, standing on the sideline with her arms crossed, watching her teammates.
England also made a big change to its lineup, starting Carly Telford in goal rather than Karen Bardsley, who has four shutouts, allowing just one goal in the tournament, and has a 371-minute scoreless streak.
Bardsley reportedly has a hamstring injury.
Sign up for our weekly soccer newsletter »
The U.S. will go with Alyssa Naeher in goal behind a back line of Crystal Dunn, Abby Dahlkemper, Becky Sauerbrunn and Kelley O'Hara. Lindsey Horgan joins a midfield of Rose Lavelle and Julie Ertz with Tobin Heath, Alex Morgan and Press up front.
Morgan will wear the captain's armband.
England coach Phil Neville has also changed formations from the quarterfinal, going to a 4-4-2 with Lucy Bronze, captain Steph Houghton and Millie Bright and Demi Stokes on defense. Jill Scott, Keira Walsh, Rachel Daly and Beth Mead are the midfielders with Nikita Parris joining Ellen White up front.
Kevin Baxter | 11:05 a.m.
---
All about the beautiful game
Go inside the L.A. pro soccer scene and beyond in Kevin Baxter's weekly newsletter.
You may occasionally receive promotional content from the Los Angeles Times.