Column: Barcelona still looking good, even if results show otherwise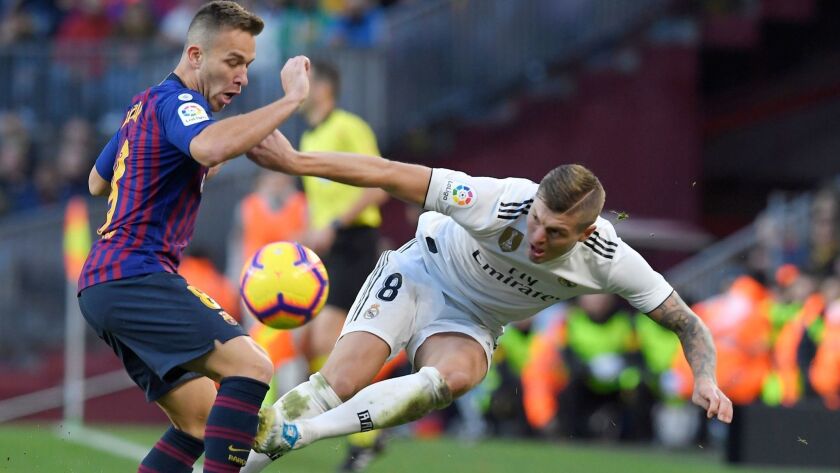 There are no style points in soccer. But if you believe Josep Maria Bartomeu, president of Spanish superclub Barcelona, form counts.
"We at Barca, we don't look only at [results]," he said. "It's important. But first of all we look at the capacity of creating and playing football that is going to be nice for your eyes.
"The objective is always to play well. If then we win, perfect. But first of all we have to put our energies into playing well."
Measured by those standards Barcelona is off to a good, but not perfect, start this season. The team went into the final international break of 2018 atop the Spanish table and leading Spain's La Liga in goals. But the team's two losses in 12 games are double the total from all of last season. And its last game was a 4-3 loss to Real Betis at Camp Nou, ending Barcelona's 42-match league unbeaten streak at home.
Bartomeu anticipated this would be a season of transition, since the team is playing without midfield magician Andres Iniesta, 34, in its starting lineup for the first time since 2004. And that's likely just the start of a years-long overhaul that will drastically alter the way the team looks.
But not, Bartomeu promised, the way the team plays.
Five starters — Sergio Busquets, Gerard Pique, Ivan Rakitic, Luis Suarez and Lionel Messi — are at least 30. So Barcelona began reinvigorating its lineup with players such as Malcolm, a 21-year-old Brazilian forward, and Arthur, a 22-year Brazilian midfielder. And both Carles Alena, 20, and Oriol Busquets, 19, products of Barcelona's youth system, are about to join them, although Busquets' progress has been slowed by a serious knee injury.
"Every year it's a different way of facing the season," Bartomeu said. "So all this brings new energy to the team."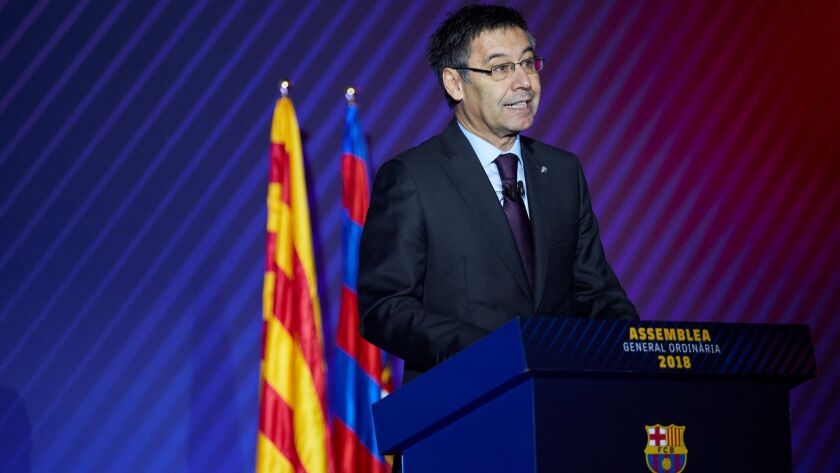 Besides, it's not like the sky is falling in Barcelona. Yes, the team has lost twice this season but that's only significant because it is coming off a historic season in which it was unbeaten through the first 36 match days, finishing 28-1-9.
Barcelona, which has won three of the last four league titles, remains atop the table and has already advanced to the knockout stage of the Champions League, a tournament it won in 2015.
Barcelona's famed youth academy, La Masia, is key to making the team's transition work. Barcelona's possession-oriented, short-passing, tiki-taka playing style relies on a deep and creative midfield and puts a premium on chemistry. That's not something that can be learned or implemented overnight.
Barcelona, which recently spent $115 million expanding La Masia, drills kids as young as 10 in its style of play, assuring that if they graduate to the first team — as Messi, Iniesta and Pique did before them — they will have mastered a philosophy Bartomeu considers more important than winning.
"We have a unique way of playing. So we try to promote this with a combination of how we see and understand football," the president said. "One of our main goals as Barca is really to transform and to give to people this game of football."
The style isn't new. The Spanish national team, with nine La Masia products playing key roles, used it to win two European Championships and a World Cup beginning a decade ago. It remains the gold standard for teams that want to play attractive, attacking soccer.
"Every time I give football examples," said Bob Bradley, the Los Angeles Football Club coach, "I use Barcelona."
The bigger problem for Barcelona is the pipeline that rushed players from La Masia to Camp Nou has slowed. In 2011, the team started an entire lineup of academy products. Since then, defender Sergi Roberto is the only player to rise from La Masia to an established first-team role.
The club is hoping that will soon change. Barcelona won last year's UEFA's Youth League championship and some players from that team, including teenage defenders Juan Miranda and Jorge Cuenca, have already played first-team minutes this season.
"We have young players, very young players. We just have to prepare and introduce the new players to our style," Roberto said. "The style is very different for players that come in from other teams so they have to adapt."
In the meantime Barcelona is continuing to rely on Messi and Suarez, who are tied for the La Liga lead with nine goals each. Messi also has a share of the league lead in assists with five.
One thing Roberto said won't change during the transition is the importance of wearing the Barcelona crest, something that is also instilled at La Masia.
"It's a point of pride. To play for Barca is a dream," said Roberto, who entered the academy at 14. "People all over the world know Barca, so it's a pleasure and an honor to put on this shirt and wear this crest.
"Barca is very different from other teams."
Bartomeu intends to keep it that way.
kevin.baxter@latimes.com | Twitter: @kbaxter11
---
Get our high school sports newsletter
Prep Rally is devoted to the SoCal high school sports experience, bringing you scores, stories and a behind-the-scenes look at what makes prep sports so popular.
You may occasionally receive promotional content from the Los Angeles Times.